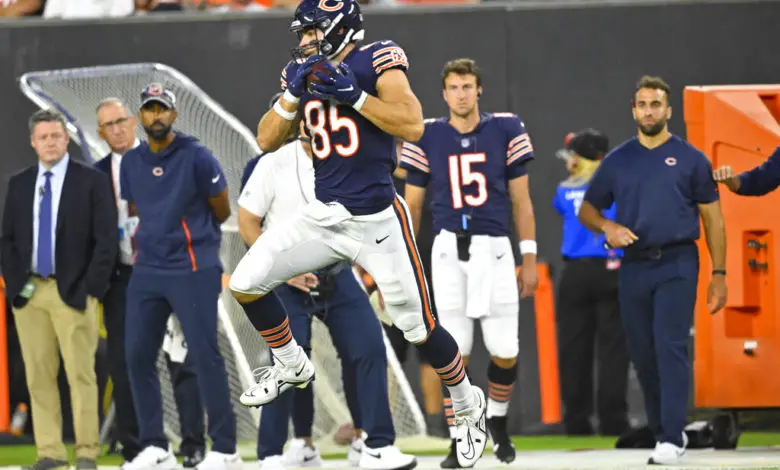 First & Long: Bears Finish Preseason With Win Over Cleveland, Starting Defense Looked Strong, Commanders Running Back in Stable Condition After Shooting
The Bears finished the preseason with a 3-0 record thanks to Saturday's 21-20 win over the Browns. The game was a nice change of pace because it was the first time Chicago's starting unit dominated its opponent. Justin Fields had the best game of his career, going 14-16 for 156 yards and three touchdowns. He finished with a passer rating of 146.9 and more importantly, the second-year quarterback didn't throw an interception. In fact, he finished the exhibition slate without a single turnover.
"I think [Fields and his teammates] feel positive about the performance," head coach Matt Eberflus said. "When you have a good performance or you have an OK performance or whatever that performance is, you can always learn from it. Let's take it play-by-play. What can we learn from each play to get better as a football team?"
The naysayers will complain that Fields did most of his damage against Cleveland's second unit. The Browns were a bit depleted on the defensive line. Myles Garrett and Jadeveon Clowney did not play and that helped Fields immensely. The two combined to sack Chicago's quarterback 6.5 times in a Week 3 loss last season. That was the young man's first professional start, and it's fair to say Fields looked much more polished Saturday night.
The Browns were also without middle linebacker Jacob Phillips and cornerbacks Denzel Ward and Greg Newsome. That said, Fields showed improved pocket presence, his footwork was the best it's been this season, and he hit 10 different receivers on the night, five on his first touchdown drive.
Cole Kmet had a big night as well. The third-year tight end looks very comfortable in the new offensive scheme and had a huge touchdown catch on a play where the nearest defender was six yards away. Fields looked like he was going to run when he spotted Kmet and hit him for the score.
If this Justin Fields-Cole Kmet connection translates to the regular season, I'm going to be insufferable. pic.twitter.com/lzrPMvE1wi

— Dave Kluge (@DaveKluge) August 28, 2022
Teven Jenkins had another big game, too. The tackle-turned-guard flattened a defender on at least two occasions and has suddenly become the Bears' best offensive lineman. Six weeks ago Willie Wright sat atop the depth chart at right guard, so the Bears signed Michael Schofield. Jenkins has been so good since switching positions that Schofield will probably get cut on Tuesday unless the Bears can designate him with an injury.
It's true exhibition contests are meaningless, but Fields, Kmet, and Jenkins should start the season with a great deal of confidence after Saturday's win. Other than Darnell Mooney, each of those players will determine if Luke Getsy's offense fails or succeeds. In fact, Kmet should help prevent defenses from keying on Mooney. The arrow is pointing north right now, and Chicago's quarterback said there is still room for improvement.
"I just think we are continually getting better," Fields said. "We're just building off the previous days and we are ready to get back to work next week and keep going."
Justin Fields' growth this preseason is directly linked to his coaches building their SCHEME TO HIS STRENGTHS. Lots of movement, boots/keepers and play action pass. His patented accuracy and footwork that made him a star at Ohio State have shown up. Da Bears fans have hope.

— Robert Griffin III (@RGIII) August 28, 2022
The Bears open the 2022-23 season two weeks from today with a home tilt against the 49ers. Let's hope the win against the Browns was a preview of what's to come.
Bears News & Notes
Fields looks like a completely different player this year compared to last. He's improved his footwork, his mechanics are much better, and he exhibits better pocket awareness. More importantly, he walks and talks the part of a team leader.
The second-year quarterback called Saturday's game a "turning point" for Chicago's offense.
Lost in all the hype surrounding Fields was the return of running back David Montgomery. After sitting out wins over the Chiefs and Seahawks, Montgomery rushed for 28 yards on nine carries and had a nifty 24-yard scamper nullified by a penalty.
Assuming the Bears keep seven wide receivers, Eberflus and Getsy will start the season with Mooney, Tajae Sharpe, Equanimeous St. Brown, Byron Pringle, Dante Pettis, N'Keal Harry, and Velus Jones Jr. manning the receiver room.
Keep an eye on what the Bears do with Harry. If the Bears place him on IR before Tuesday at 3 p.m. he will not be eligible to return this season.
Jenkins has been a revelation at the right guard, so don't put a lot of stock in any trade rumors.
The starting defense had a stellar game too. Defensive tackle Justin Jones said the front seven is ready to hit the ground running. The Bears held the Browns to 68 yards on 19 plays (3.6 yards per play) during their first four drives — three three-and-outs and a missed 58-yard field-goal attempt.
The Bears were also missing a few key players last night. Roquan Smith was supposed to play but he sat due to "tightness," though Eberflus didn't get very specific. The first-year head coach also said free safety Eddie Jackson, who didn't play, is "day to day" without specifying why. Defensive end Robert Quinn was allowed to sit out because "he's a veteran who doesn't need to prove he can bend the edge and beat some of the best offensive tackles," per Brad Biggs of the Chicago Tribune. Eberflus also diagnosed cornerback Jaylon Johnson with "tightness," although Johnson came down with a case of that earlier in the week.
The game at First Energy Stadium was a bit of a homecoming for rookie Dominique Robinson. The rookie edge rusher was a fifth-round draft pick out of Miami (Ohio) University. Unfortunately, Robinson's homecoming was cut short. He sustained a leg injury and didn't return for the rest of the game. Hopefully, D-Rob is okay.
The Bears have until 3:00 PM Tuesday to reduce their roster from 80 to 53 players. The front office and coaching staff will have some difficult choices to make at linebacker and on the offensive line.
Linebacker Jack Sanborn has done all he can to earn a spot on the team he grew up rooting for as a young boy in Lake Zurich. Now, it's out of his hands. He and Pettis emptied the tank on Saturday night. Pettis has already earned his roster spot, and it's going to be awfully hard to cut Sanborn. The undrafted rookie was a human highlight machine in each of Chicago's three exhibition games.
Sanborn, along with seventh-round pick Elijah Hicks and fifth-round pick Braxton Jones, could be early proof of the talent-evaluation ability of the Bears' new front office. There is a high level of confidence in top draft picks Kyler Gordon, Jaquan Brisker, and Jones Jr. That said, how Poles faired at the bottom of the draft will determine if he is as good at evaluating college players as his pedigree suggests.
Despite a successful preseason, the Bears continue to get little love from sportsbooks. They currently sit at 6.5 wins and the folks at USA Today say bettors should take the under. Veteran bettor Bill Krackomberger said the Bears are a franchise not willing to seriously compete. He placed a $7,250 wager on the under.
Luke Easterling of Draft Wire dropped his latest 2023 mock draft, and he has the Bears selecting WR Jaxon Smith-Njigba of Ohio State at No. 4 overall. Easterling predicts Chicago will select OT Dawand Jones in Round Two. Jones and Smith-Njigba are teammates on the Buckyes.
If you didn't get a chance to catch the Browns game, you can see all of the Bears' best plays on their YouTube channel.
There's a Flag…On the Play
Ryan Poles was with the Chiefs last season, but his biggest complaint coming into his first season was the lack of accountability by the Bears' offensive linemen last season. What a difference a new year and a new regime make. That said, the NFL has to do a better job of protecting Fields against late hits. It happened far too often last year, and it's already happened three times this preseason.
.@ChicagoBears @justnfields gets hit late; and the Bodyguards come running to protect the QB…it's the way it has to be. Great early sign in this game #DaBears #BaldysBreakdowns pic.twitter.com/dwdIzfpIsy

— Brian Baldinger (@BaldyNFL) August 28, 2022
Northern Exposure
Green Bay: According to NFL Network's Ian Rapoport, the Packers are cutting inside linebacker Ty Summers. The four-year veteran has been a regular on special teams in recent years, but the impressive play of Isaiah McDuffie this summer made it unlikely Summers would make the 53-man roster.
Detroit: The Lions are getting a lot of love this summer, but head coach Dan Campbell said he's more of a "realist" when it comes to the overall talent of his roster. The Lions have been dealt several tough blows on the defensive side of the ball from an injury standpoint. Levi Onwuzurike, Jerry Jacobs, Ifeatu Melifonwu, Romeo Okwara, and Julian Okwara are dealing with injuries.
Minnesota: If the Vikings ever decide to move on from star running back Dalvin Cook, they may have a better-than-decent replacement in rookie Ty Chandler.
NFL News & Notes
Commanders rookie running back Brian Robinson Jr. was shot multiple times Sunday evening during a reported attempted robbery in Washington, D.C., according to a police spokesperson. He remains hospitalized with non-life threatening injuries.
Jets WR Denzel Mims, a 2nd-round pick in 2020, requested a trade yesterday. Mims has fallen down the Jets' depth chart as he has dealt with illnesses, injuries, and inconsistent play during his two seasons in New York. In two years with the Jets, the 24-year-old has caught 31 passes for 490 yards and zero touchdowns.
The Bills have released rookie punter Matt Araiza two days after a civil lawsuit was filed alleging he and two of his former San Diego State teammates gang raped a minor.
Buffalo General Manager Brandon Beane said on Saturday that he had no idea Araiza had been accused of rape when the team drafted him.
The Bills made the right decision in releasing Araiza, but at some point, the Bills are going to have to answer inquiries regarding the incident and how much their front office really knew before selecting him.
Four-time All-Pro Wes Walker is very angry that the NFL denied him Line of Duty Disability benefits. Sadly, the league has a history of denying retired players payments for injuries sustained while playing the game. Walker played for the Jets from 1977 to 1989.
Tom Brady held a press conference to discuss his absence from training camp. The Buccaneers QB said he's "45 years old and has a lot of shit going on."
Expect a number of trades as teams rush to trim rosters from 80 to 53 players by Tuesday afternoon.
Three Yards and a Cloud of Dust
Fields finished the preseason hitting 23 of 30 targets for 243 yards with three touchdowns. He was sacked twice and his passer rating was 133.1.
Terrell Owens was clocked at 4.38 in the 40-yard dash this week. He is 48 years old.
The Ravens have won an unprecedented 23 straight preseason games.
From the Podium
"I think it's just execution on all parts. I think the O-Line did a great job protecting today, and I told them that multiple times. The receivers did a great job with scramble drill just running the right routes, the right depth, and stuff like that. So again, just protection-wise, running the football and that'll open everything up with our play-action and bootleg plays." – Fields
"I left it all out there. Whatever happens, happens. But I'm going to be happy with how I played. I'm happy with how I performed, Yeah, I don't know. I guess. It's my first year doing this. But I definitely would rather stay. We'll see what happens." – Sanborn
"Everybody wasn't out there today, which is okay. But you're starting to see the DNA of our defense. Even if a tackle is missed, you see 10-12 guys — notice I said '12' — running to the ball, flying to the ball, and making it seem like we have more players on the field than there actually are. That's the key to success. The effort to the ball and making sure everybody's in the camera." – J. Jones
"[Montgomery] practiced really well this week, so it's no surprise [he had a big game]. You play how you practice. He was excited all week to do it, and he performed tonight. We're excited about where he is." – Eberflus
Running Out the Clock
Summer is ending soon, but September 17 marks the halfway point to St. Patrick's Day. Once we get past the Super Bowl signs of spring are virtually everywhere. The Bears won't play in this year's main event, but it looks like they're finally on the right path.