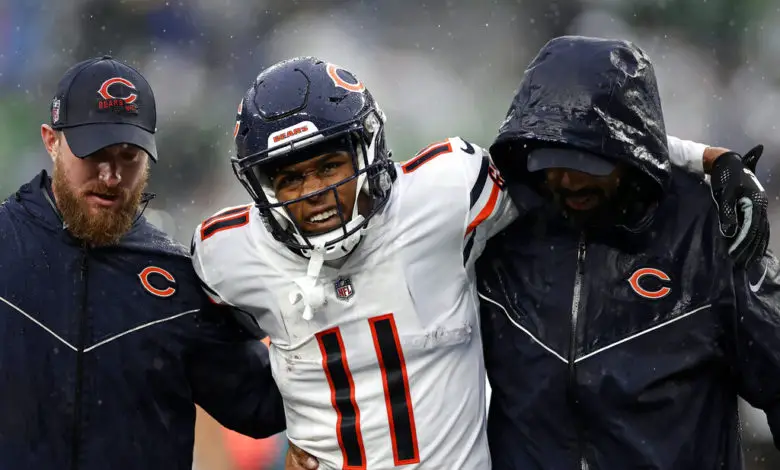 First & Long: Bears Battered in New York, Mooney Could Be Done for Season, Rodgers Hurt in Loss to Eagles
If you didn't know any better, you'd think Ryan Pace and Matt Nagy were back leading the Bears. There was some confusion shortly before game time on Sunday. Reports indicated that quarterback Trevor Siemian had an oblique injury and would be replaced by Nathan Peterman. That news dropped shortly after Justin Fields was seen warming up on the Met Life Stadium field. When Chicago's offense took the field for the first time, Siemian was leading them.
The second stringer looked good at first but was no match for Jets backup QB Mike White. New York amassed a whopping 466 yards behind White, wide receiver Garrett Wilson, and running backs Zonovan Knight, Ty Johnson, and Michael Carter. To add insult to, er, injury, five Bears regulars left the game after getting hurt. Darnell Mooney injured his ankle and could miss the rest of the season. Eddie Jackson (foot), Dane Cruikshank (hamstring), Larry Borom (lower leg injury), and Riley Reiff (shoulder) also left Sunday's game.
The Bears are now 3-9, the roster is getting thinner with each loss, and a good chance exists that they could lose their final five games. Chicago will host Green Bay on Sunday. They'll host the Eagles on December 18 after a bye week, and then close out the season with home games against the Bills and Vikings with a road tilt at Detroit in between. A 3-14 finish would satisfy most of the pundits who projected a three-win season back in August. The Bears will not be favored in any of those games, whether Fields plays or not.
Blame that on a defense incapable of stopping anybody.
GM Ryan Poles has a lot of work to do once this year's champion has been crowned. But at least he has a franchise quarterback and team leader in Fields.
Bears News & Notes
There's a Flag…On the Play
The Commanders continually find ways to reach new lows.
This is the Sean Taylor "statue" that was just unveiled on the 15th anniversary of his tragic death.

Another embarrassing moment for the Washington franchise. Unreal.

(🎥 @Scott7news)pic.twitter.com/LhF9j8DU2N

— Ari Meirov (@MySportsUpdate) November 27, 2022
Scout Team
Film Room
Love may start against the Bears, and considering Chicago's defense, it would be an optimal game to build on the young man's confidence.
Jordan Love to Christian Watson for a 63-yard TD 🔥

— NFL Stats (@NFL_Stats) November 28, 2022
Northern Exposure
Minnesota: The Vikings will clinch the NFC North if they beat the Jets on Sunday and the Lions lose to the Jaguars.
Detroit: Nobody is happier by the Rams' unexpected collapse than Lions fans. Detroit received the Rams' 2023 first-round selection in the Matthew Stafford trade. The Los Angeles pick would be No. 3 overall if the season ended today.
Green Bay: The Packers' struggles this year are starting to hurt the local Green Bay economy.
NFL News & Notes
Odell Beckham Jr. was removed from his flight on Sunday because he was allegedly in and out of consciousness and flight attendants couldn't get him to fasten his safety belt.
Beckham was scheduled to visit the Bills and Giants this week.
This week's Thanksgiving Day games set television viewership records.
The Texans continue to play uninspired, losing football, but may land Alabama quarterback Bryce Young as a result.
The NFL will reinstate Browns quarterback Deshaun Watson on Monday. Watson has spent the last two weeks on Cleveland's scout team.
All four NFC East teams are on pace to make the playoffs.
The Seahawks are likely to land a top-five draft pick thanks to the Russell Wilson trade.
It seems like Patrick Mahomes and Travis Kelce set new NFL records on a weekly basis.
It is never too early to play around with the Pro Football Network mock draft simulator.
Halftime Entertainment
I've got nothing.
"Boss, we don't have room on the field for a band."

"Bullshit, put them in the end zone." pic.twitter.com/oAz5dM9tfN

— Super 70s Sports (@Super70sSports) November 28, 2022
Three Yards and a Cloud of Dust
The Eagles are 10-1 after beating the Packers Sunday night. The last team to start a season with 10 wins in 11 games and win the Super Bowl was the 2017-18 Eagles.
Philadelphia and Green Bay combined for 47 points in the first half, the highest-scoring first half in an NFL game this season.
White is the first QB in NFL history to have multiple games with at least a 75% completion percentage, 300 passing yards, and three passing TD within his first four career starts.
From the Podium
"Both of those guys are really good players. Eddie [Jackson] has been a really good player this year. Darnell [Mooney] is our leading receiver and he's done a great job. When you lose the production of those guys, number one, that always hurts, and also the leadership part of it. Those guys have been great in the locker room. They are great teammates. They really are encouraging to others and they really model the behavior we wish to see." – Eberflus

"Of course, I'm not going to sacrifice playing in this game for me risking that I might not be able to play later in games. Again, just [see] how my body feels, [listen] to my body, and [make] sure I'm not forcing anything and stuff like that. Just seeing how it goes."

– Fields
Running Out the Clock
Give the Bears credit for continuing to fight.