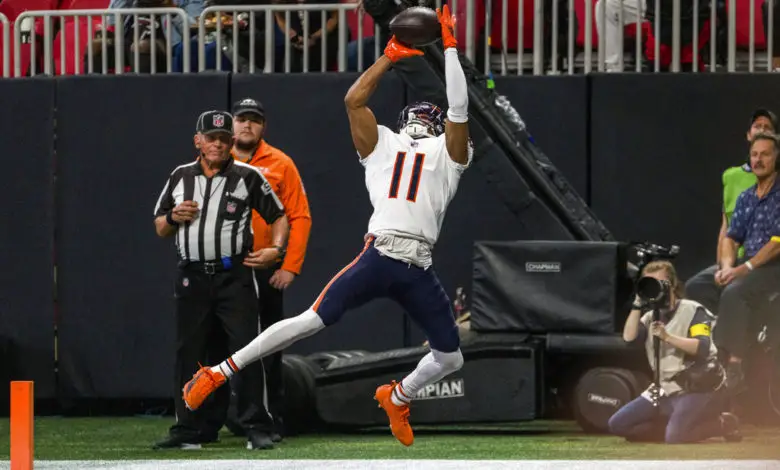 Darnell Mooney Likely to Miss Rest of Season
The Bears' 53-man is starting to look a lot like a M*A*S*H unit, and no, that does not mean that Cubs prospect Matt Mervis is being recruited as a tight end. Chicago started the day with Justin Fields on the sidelines due to a shoulder injury. Jaquan Brisker and Kyler Gordon are in concussion protocol. Khalil Herbert is on the IR and Lucas Patrick is out for the year because he needs toe surgery.
Darnell Mooney may also miss the rest of the season due to an ankle injury he suffered in Sunday's 31-10 loss to the Jets. Ian Rapoport of Rap Sheet and Tom Pelissro of NFL Network tweeted the bad news. Nothing has been officially confirmed by the Bears, and Matt Eberflus won't comment much until he gets Mooney's medicals.
Darnell Mooney likely needs season-ending surgery to repair torn ligaments, sources say. A tough end to the season for the promising receiver. https://t.co/OATNCIYQmb

— Ian Rapoport (@RapSheet) November 28, 2022
Mooney went down early in the third quarter when he was blocking, and a player rolled up on his legs from behind. It was a disappointing finish to a disappointing day. Mooney exited the game with no catches and no targets. Chase Claypool and Cole Kmet were the primary targets of backup quarterback Trevor Siemian. Claypool will presumably replace Mooney on the depth chart.
"It stinks," Siemian said. "As a player, [it's] terrible. But if you spent any time with Darnell, he's one of the best dudes in the locker room. That's a part of the game that stinks. But he's a strong dude. [It's bad] when anybody gets hurt, but especially Darnell, it's tough to see."
Mooney has 40 catches for 493 yards and two touchdowns this year. He's playing in the third year of his rookie contract. He and Fields worked on building chemistry almost immediately after the 2021 season ended. Claypool can provide similar production, but he's still building that bond with Chicago's quarterbacks. He left the field unable to put any weight on his leg.
Bears WR Darnell Mooney is doubtful to return with an ankle injury.

📺: FOX pic.twitter.com/QyQ5k92U5Q

— FOX Sports: NFL (@NFLonFOX) November 27, 2022
Eddie Jackson (foot), Dane Cruikshank (hamstring), Larry Borom (lower leg injury), and Riley Reiff (shoulder) also left Sunday's games with injuries. Mooney's injury hurts the most, especially if the reports are true. Jackson injured his foot on a non-contact play that resulted in a touchdown pass from Mike White to Garrett Wilson. The starting safety was also unable to put any weight on his leg.
"Both of those guys are really good players," said coach Matt Eberflus. "Eddie has been a really good player this year. Darnell is our leading receiver and he's done a great job. When you lose the production of those guys, number one, that always hurts, and also the leadership part of it. Those guys have been great in the locker room. They are great teammates. They really are encouraging to others and they really model the behavior we wish to see."
"You hate to see for us offensively a guy like 'Moon' go down," said tight end Cole Kmet. "Just a bright vibrant guy in the huddle and obviously a big playmaker. So when you lose him it's tough, for sure."
The non-contact nature of Jackson's injury on MetLife Stadium's slit-film artificial turf could put more focus on the NFL Players Association's recent criticism of artificial turf as dangerous for players. According to the NFLPA, studies show that from 2012 to '18, NFL players had a 28% higher rate of non-contact injuries than on grass.
"He's a [bleeping] leader, man," said DT Justin Jones. "He's a hell of a player. I hope he's OK. I just hope he comes back soon because we need him on defense. We really do."
The Bears face the Packers at home on Sunday before finally getting their bye week. Fields is hoping he can return next week, and Gordon and Brisker should be available. DeAndre Houston-Carson will replace Jackson if he can't go against Green Bay.