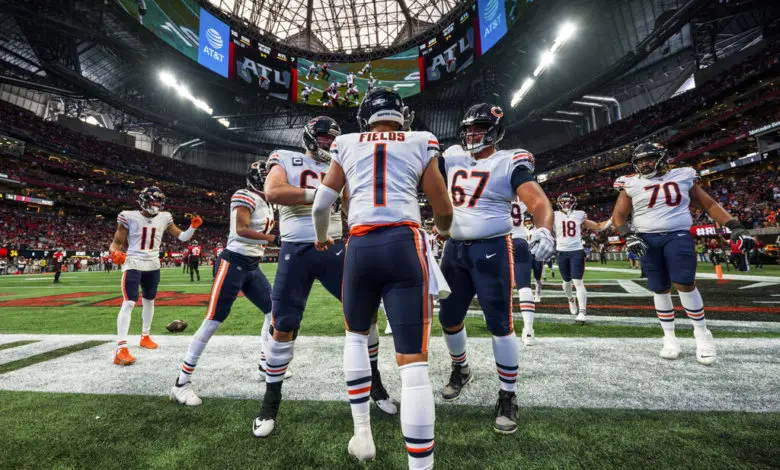 Bears Game Day: 'Twas Always Thus, and Always Thus Will Be
Most analysts predicted the Bears would finish no better than 3-14 this season, and most of us scoffed at that notion. At 3-8, the Bears have a very good chance to run the table with a string of losses that would make those projections as real as they are ugly. Those chances increased considerably when Justin Fields was ruled out for Sunday's game.
The Jets provide a good litmus this afternoon. They averaged 2.77 inches per play in the second half against the Patriots last Sunday. Yes, that's inches, not yards. If Chicago's defense cannot stop New York's offense, the Bears will not win another game this season.
We expected the offensive line to be pitiful this year. We didn't have high hopes for the receiving corps, either. Most just wanted to see Fields make significant progress over the 2022 season. He's done that. However, nobody expected Chicago's defense to be this bad. In fact, rookies Jaquan Brisker, Kyler Gordon, Jack Sanborn, and Dominique Robinson are the only locks to return as defensive starters in 2023. I'd keep Justin Jones and Eddie Jackson, but everybody else should be worried about their jobs.
Who would have thought the Bears would be this bad after hiring a defensive-minded head coach and drafting defensive players with their top two picks? Chicago has scored 115 points in its last four games and lost all of them. Their opponents have outscored them by grand total of seven points in the last three. The Bears would be 6-4 with just one more defensive stop in each of those games. We'd be talking playoffs instead of draft picks today.
The Bears are destined to finish third or (probably) last in the NFC North, so we can make an educated guess at who'll they'll play next season. The first 14 games are locks.
Home and road games against the Vikings, Packers, and Lions.
They'll play against teams from the NFC South, so that's the Buccaneers, Panthers, Falcons, and Saints.
They'll play four games against the AFC West. Those teams are the Chiefs, Chargers, Raiders, and Broncos.
One game each against the Commanders and Rams based on current standings. The Giants and Cardinals are the third-place teams in those divisions.
One game at one of the last-place AFC teams that are not from the West division. That would mean the Steelers, Texans, or Jets based on today's standings. If the Bears finish in third place, they'd play one of the Patriots, Browns, or Jaguars.
The Bears are 6.5-point underdogs, though the line may still move prior to kickoff with Fields out. The line has already moved two points since Trevor Siemian was announced as the starter. Chicago is +210 on the money line (bet $100 to win $210 if the Bears win outright), and the over/under is 38.5. Take the Jets minus the points and bet the over. It's not going to be a pretty game. Conventional wisdom says to take the under given that backup starters will lead both teams. I just don't trust Chicago's defense to stop anybody.
Field Conditions
It's expected to be cool and rainy today, with a high of 51 and a 93% chance of showers by the time both teams take the field in the second half. The Bears have a stronger running game, so they may have a slight advantage. Chicago needs a clean game from their special teams and the conditions will not help.
Bears Trends
David Montgomery ties it 24-24 in Atlanta!

📺: #CHIvsATL on FOX
📱: Stream on NFL+ https://t.co/IaVHvq433O pic.twitter.com/nvnjWrnaJn

— NFL (@NFL) November 20, 2022
Chicago has scored at least 24 points in five straight games, but they don't have Fields today. David Montgomery will be the focal point of the Bears' offense today. I would expect Luke Getsy to get Velus Jones and Equanimeous St. Brown involved in the running game, too. Cole Kmet is tied for second in touchdown receptions among tight ends. He has a career-high five on the season, and all have come in the last three games.
The Bears have split two games against AFC East opponents this season. Chicago beat the Patriots 33-14 and lost 35-32 to the Dolphins three weeks ago. The Bears have lost three straight by a combined total of seven points, so they should keep it close. They've covered the over in six of their previous seven matches. Chicago has the NFL's top rushing offense, though again, they're missing Fields. Chicago is 0-5 when they have a chance to win with less than two minutes remaining.
The Bears' defense allows an average of 7.3 yards per completion and has struggled to get after opposing quarterbacks all season. While Jets QB Mike White may not have a monster day, he should have the chance to find receivers. Chicago has offered little resistance to opposing quarterbacks, no matter how good or bad, for most of the season. Jackson leads the team with four picks, tied for third in the league.
The Bears have won nine of 12 games against the Jets all time. The Bears are 4-1-1 against the spread in their last 6 games following an ATS loss.
Jets Trends
Guys… Breece Hall is becoming a star in front of our eyes. pic.twitter.com/F8Y0TH71oF

— Ari Meirov (@MySportsUpdate) October 23, 2022
The Jets (6-4) have lost two of three but remain in the hunt to stop an 11-year hiatus from the playoffs. Benching Zach Wilson in favor of  White brings some uncertainty to the offense, but Chicago's linebackers are weak in coverage, and Gordon and Brisker are in concussion protocol. The Jets have split their past four games after a 4-2 start. During that span, they've surrendered no more than 22 points as each contest has been a one-score game.
Garrett Wilson is New York's leading receiver and could have a big game with Chicago's secondary decimated by injuries.
New York's defense ranks fourth in the NFL with 32 sacks – including 17 in their last three games – and is second with 81 quarterback hits, so the Jets figure to make things rough for Siemian. New York is a top 10 defensive team in rushing yards, passing yards, and points allowed. The unit is ranked No. 8 overall. DT Quinnen Williams leads the team with a career-high eight sacks.
Both teams enter play with a plus-one turnover differential. The Jets are 4-0 ATS in their last 4 games following an ATS loss. New York lost to the Patriots last week after surrendering a punt return touchdown in the final seconds of the game.
Why the Bears Will Win
Eddie Jackson with an interception! Bears with a chance to extend their lead 🚨pic.twitter.com/NiCSsmfJqS

— The Draft Network (@TheDraftNetwork) September 11, 2022
The Bears need a huge game from Montgomery, have to stop the Jets' defense, win the turnover battle, and control the clock. That's a lot to ask. Nathan Peterman will take over if Siemian gets hurt. More importantly, the Bears have to keep the score low to have a shot at winning. Even if they succeed in that respect, the Bears need to figure out how to close a game.
If the Bears' offensive line can stop Williams, Carl Lawson, and John Franklin-Myers, keep Siemian upright and play a clean, disciplined game, Chicago can pull this off. That said, New York has the best defense the Bears have faced all year. Siemian might be able to exploit New York's secondary if he has time to throw and keeps the ball away from Sauce Gardner. He can't scramble like Fields, but he may not have to. Expect Luke Getsy to use more screens and fewer designated runs. It sure would be nice if Chase Claypool could have a big game. It would be even better to see Getsy deploy more slants and crossing patterns.
On the defensive side of the ball, the Bears need big games from Robinson, Sanborn, Trevis Gipson, and Jackson. DeAndre Houston-Carson will replace Brisker and he's genuinely underrated. An early pick-six by Jackson or Jaylon Johnson would be a nice way to spur the defense.
Why the Jets Will Win
.@carllawson55 playing bully ball 😤😤😤#NYJvsNE on CBS pic.twitter.com/pbuikCa1mJ

— New York Jets (@nyjets) November 20, 2022
Defense is the word of the day, and the Jets are one of the best. If New York jumps out to an early lead and forces Siemian to throw, the Jets' front seven will have a monster game. The Bears allowed four sacks last week and Fields was hit all game. It's going to be worse for Chicago on Sunday. If the Jets stop Chicago's ground game, they will win handily.
There's not much to like about New York's offense, but Chicago's defense struggles against everybody. Hall should have a big game today, and the passing combination of White and Wilson facing the likes of Kindle Vildor and Jaylon Jones is too scary to think about. The Bears linebackers are weak in pass coverage, so expect TE Tyler Conklin to have a big game. White is considered an excellent leader but has started just three times. Jets fans don't ever want to let go of his 405-yard, three-TD performance last season in their team's upset of the Bengals. He could go off on the Bears today, too.
Injuries
Predictions
Sean Holland called for a 16-13 Jets win when he previewed today's contest on Friday. I don't think the Bears will keep it that close. Give the Jets a 31-14 win in a game that might not even be that close. Until the Bears can show they can shut down an offense, I have to take the over. Chicago's defense showed a few glimpses in Sunday's loss to the Falcons, but nothing convincing. The Jets' defense should manhandle the Bears today.