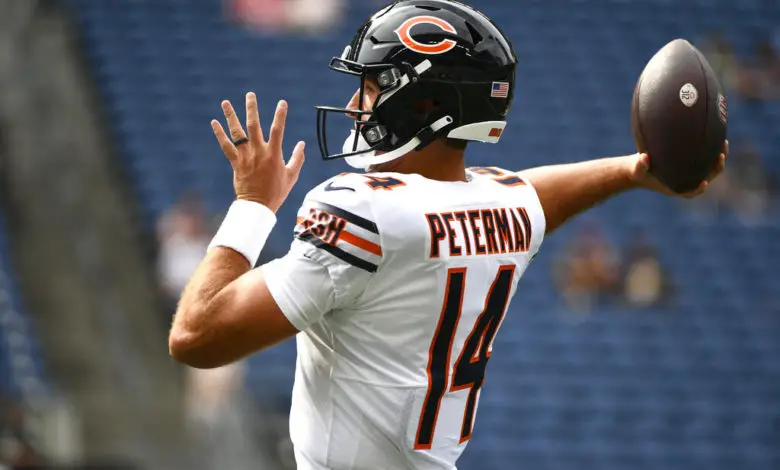 Bears-Jets Backup QB Battle Could Be 2023 Audition, Though Siemian Not Expected to Play
Note: As I was finishing this article it was mentioned on CBS Sports that Siemian suffered an oblique injury and will miss today's game. That means Nathan Peterman would get the start. Peterman was flexed from the practice squad on Saturday to backup Siemian.
Nathan Peterman now will be the Bears starting QB today. Trevor Siemian, who was supposed to start, hurt his oblique during warmups and now will serve as the No. 2 to Peterman. David Montgomery will be the Bears' emergency QB.

— Adam Schefter (@AdamSchefter) November 27, 2022
Bears QB Justin Fields will not play today because of a mon-throwing shoulder injury. Zach Wilson was benched by the Jets after a pathetic offensive performance against the Patriots and because the second-year QB lacked accountability afterward. Trevor Sieman will start for Chicago today, and the Jets will go with backup Mile White. Both will be free agents after this season, and today's battle could be an audition of sorts to see who backs up Fields next season.
Neither Siemian nor White should expect to land a starting gig next season, though stranger things have happened. Siemian has 29 starts under his belt, White has three. Both are considered great leaders and capable backups. White currently plays under offensive coordinator Mike LaFleur, who is the younger brother of Packers head coach Matt LaFleur. Bears OC Luke Getsy coached in Green Bay under the older sibling, and all are well versed in the Kyle Shanahan offense all three teams run. It's not too difficult to connect the dots.
It's Trevor Siemian szn pic.twitter.com/PppG2knmrH

— Bears Nation (@BearsNationCHI) November 22, 2022
Siemian was a 7th-round pick by the Broncos in 2015. He played college ball at Northwestern, and the journeyman has had stops with the Jets and Saints before landing in Chicago. He's 13-16-0 as a starter. Siemian's best game as a starter came against the Bengals in 2016. He was 23-of-35 for 314 yards and four dimes in a 29-17 road win. Siemian had a second four-touchdown game against the Cowboys in 2017.
White was a 5th-round pick out of Western Kentucky in 2021. The Cowboys drafted him but he failed to make the team and was traded to the Jets. White had three starts in 2012, going 1-2. The win was his most memorable game. The rookie was 37-of-45 for 405 yards with three touchdowns and two interceptions in a 34-31 win over Super Bowl runner-up Cincinnati. Throughout his time in New York, White has rotated between the official roster and the practice squad a total of seven times.
Quick reminder that Mike White was cooking on primetime last year before he got hurt #Jets pic.twitter.com/7On1k8kmbB

— Optimistic Jets (@OptimisticJets) November 23, 2022
White thrives in a short passing game. In his breakout game against the Bengals, he did not attempt a single pass of more than 15 yards. He heavily targets running backs and tight ends and is more of a game manager than a guy who will light it up. White was the exact opposite at Western Kentucky. He led the Hilltoppers to 17 wins over two seasons and was more of a run-and-gun quarterback.
White is also a comfortable runner. He's dangerous outside the pocket, keeps his head up while scrambling, and can beat teams with his legs when asked to. The Jets may be limiting his potential with a conservative game plan. White excels at taking the top off of a defense, dropping deep passes into the bucket with minimal exertion. It's a little strange that he's been contained by New York's coaching staff. That may change against the Bears this afternoon. Somebody needs to unlock his potential.
Siemian is the more cerebral of the two. He was drafted by Denver specifically to succeed Peyton Manning. He missed the scouting combine that year due to an ACL injury. However, he wasn't a full-time starter until his final season because Northwestern operated a two-QB system which required him to split duties with the more mobile Kain Colter. He did earn a ring as a rookie serving as Manning's primary backup.
Siemian became a starter in 2016, beating out Mark Sanchez and Paxton Lynch to get the gig. He won his first four starts and seemed to be Denver's diamond in the rough. The sophomore ended up making 14 starts, winning eight of them, as he passed for 3,401 yards and 18 touchdowns with only 10 interceptions. After starting 8-4, the Broncos faltered down the stretch, missing the playoffs.
Siemian does not possess a rocket arm but has adequate arm strength. He's proven capable of having success on the deep ball. He'll probably be trusted more to manage the game this afternoon than be a deep threat. That's because Siemein tends to underthrow his receivers at times. He can also get lazy when throwing to the sidelines. Siemian tends to throw picks when he forgets to put some zip on those passes. He also struggles to make tight-window throws, especially in the red zone.
The biggest concern with Siemian when pressured is that he'll often bail out of throws. The Jets have 17 sacks in their previous three games. If they get to the backup QB today, he may be prone to turning the ball over.
Keep an eye on today's battle. It may go a long way toward determining whether or not Siemian remains in Chicago after this season. If Peterman starts and plays well, he may also earn an opportunity to supplant Siemian next year.