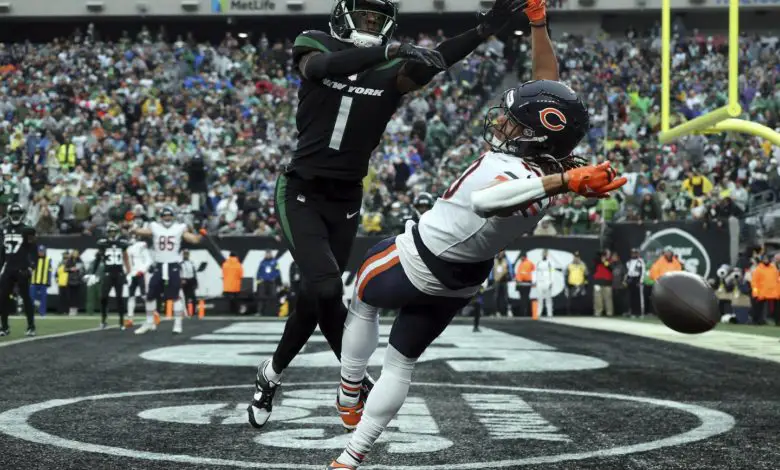 Chicago Bears Score and Recap (Week 12): Jets 31, Bears 10 – New York Rain Points on Bears
The Bears brought their undermanned team to a rain-soaked MetLife Stadium to battle the Jets on Sunday. Amazingly, the road team suffered even more significant injuries and the overmatched back up quarterback was no match for a quality defense.
Quarterback Mike White, making his first start for New York this season, led his team down the field on the opening drive for a touchdown on a pass to Garrett Wilson. Chicago's new QB Trevor Siemian also came out of the gate strong, engineering a long drive that ended in a Cairo Santos field goal.
The Bears were even more successful on their second drive of the game. Siemian had two long pass plays with Chase Claypool to move down the field and then hit Byron Pringle for a 4-yard touchdown.
The 10-7 advantage turned out to be the high watermark for Chicago Sunday. White hit Garrett Wilson again for a long touchdown in the second quarter. Wilson was able to score after Bears safety Eddie Jackson suffered a non-contact foot injury during the play leaving the back end of the field wide open.
The Jets did not look back from there, blowing the game wide-open in the second half. Elijah Moore pulled in a 22-yard touchdown pass and rookie running back Ty Johnson ran for a 32-yard score and a 31-10 lead.
Siemian and the Bears offense completely shut down after the first quarter and the game was never really close after halftime. (Box score)
Why the Bears Lost
The Bears defense continues to lose players and honestly wasn't very effective even when fully healthy. The offense struggled without the star power of Justin Fields to make up for the many other shortcomings of that unit.
Key Moment
The go-ahead touchdown to Garrett Wilson is probably the key moment but, honestly, the Bears didn't have much of a chance Sunday anyway.
Stats That Matter
Trevor Siemian threw for 179 yards but 120 of them were in the first quarter. The Jets completely shut him down after that quarter.
David Montgomery ran for 79 yards but didn't have much of an impact.
The Bears top receiver, Darnell Mooney, appeared to suffer a serious leg injury in the third quarter and had to leave the game.
Bottom Line
Without Fields, Chicago is a very bad football team in 2022. If he does miss the rest of the season, the Bears will have an excellent chance to pick in the top five of the 2023 NFL Draft.
Next Up
Chicago heads back home to battle an equally beat up Green Bay Packers team week 13.The game is Sunday, December 4 at 12:00pm CT on FOX.