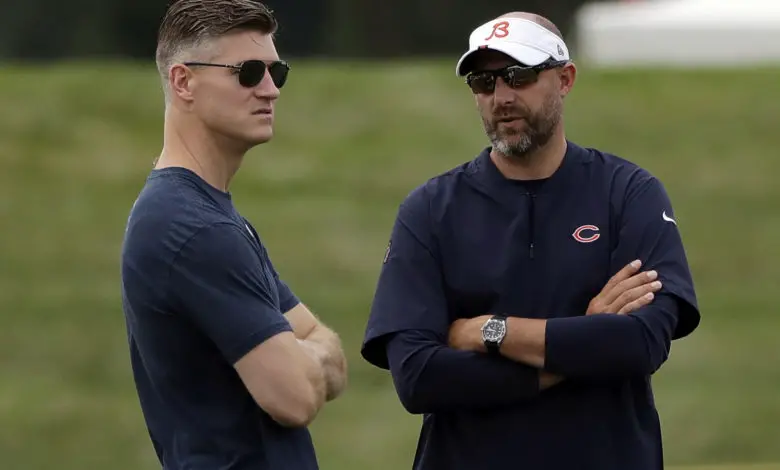 First and Long: Communication Issues Could Cost Matt Nagy, Theo Epstein Suggested as Ted Phillips Replacement, Bears Place Two on Reserve/COVID-19 List
"We can fix this. Hand me my left-handed monkey wrench, it'll fix anything." – My Dad, and presumably many fathers trying to hoodwink their unsuspecting children.
Bears head coach Matt Nagy met with the media yesterday and of course the topic of job security came up. The third-year head coach believes the McCaskey family still has faith in him said he feels like his job is safe for now.
Bears coach Matt Nagy "not" worried about job after fifth loss in a rowhttps://t.co/DIkTMVcxWm pic.twitter.com/9R3J8ODN1L

— Around The NFL (@AroundTheNFL) November 30, 2020
Nagy said he has not had any specific discussions with chairman George McCaskey or president/CEO Ted Phillips about his short- or long-term role with the team, but noted that the lines of communication he shares with both men and GM Ryan Pace are open and strong.
I'm always wary when people use a lot of words, run-on sentences, and unnecessary sidebars to convey a single thought or two, and Nagy is a little more verbose than his peers. At times, he even sounds a little obtuse in his pressers.
"And in regards to Ryan [Pace], when things are easy and you're on winning streaks and things are going well, the communication is always good," said the hapless coach. "But when things aren't going well, that's probably, to tell you the truth, like right now, when we're struggling, and we're going through [a bad stretch], and we're trying so hard to get things right because we care so much, the communication gets even tighter."
In fairness, Nagy has been snake-bitten at times, which would drive any head coach a little batty, though the Bears' issues often come from the coach's own bad decisions in critical situations. The Bears did everything right leading up to the final three minutes of Sunday's game. They minimized penalties, took care of the football, established the run, and carefully attacked Detroit's zone defense. All of their hard work was undone late by a Mitch Trubisky fumble, which allowed the Lions to score their second touchdown in a 41-second span to win the game.
Earlier this year it was reported that Nagy and Nick Foles were struggling to see eye-to-eye and Trubisky recently admitted that he and his head coach rarely spoke after he was benched in favor of Foles. I don't want to say Nagy is sugar-coating his relationship with his bosses, but the more he elaborates the less believable he sounds.
Chicago's wide receivers were reportedly frustrated with Nagy a little over a week ago. It's also been reported that his defensive players may have quit on him. His recent tirades show unexpected irascibility and could be sending mixed messages to his team. It's obvious that Chicago's failures go much deeper than their six-game losing streak, and that contrasts with running a successful operation.
---
---
Bears News & Notes
There's a Flag…On the Play
I can't speak to the veracity of this rumor and tweet because I did not listen to David Kaplan's radio show on ESPN. That said, Phillips stepping down would be the first step toward establishing legitimacy at Halas Hall, provided the McCaskeys bring in a genuine leader with proven NFL success.
According to @thekapman, rumor is that Ted Phillips is considering retiring after this season. #DaBears

— Quinten Krzysko (@ButkusStats) December 7, 2020
Northern Exposure
An improved pass rush could be just the thing the Packers need heading into the home stretch of the season and the playoffs.
They haven't officially clinched the NFC North, but the Pack could wrap up their seventh division crown in 10 years if the Vikings lose to the Buccaneers on Sunday.
The Vikings currently hold the seventh and final NFC playoff spot, just ahead of the Arizona Cardinals.
Vikings head coach Mike Zimmer said his improving team has yet to play a complete game, but they're getting close.
Lions interim head coach Darrell Bevell talked about a five-game audition for himself and his players and believes Detroit (5-7) has a legitimate chance to make the playoffs if they win out.
Lions team president Rod Wood is now part of a six-man decision-making group that has met regularly to discuss and carry out transactions since the firing of Bob Quinn and Matt Patricia last month, but Wood said his role in the group is purely as a facilitator.
Shooting the Gap
The Washington Football Team ended the Steelers' perfect season yesterday. Somewhere Larry Csonka is celebrating.
THEY HAVE DONE IT! UPSET COMPLETE!

The Football team takes down the undefeated Steelers! pic.twitter.com/USNRZ2fHSs

— FOX Sports: NFL (@NFLonFOX) December 8, 2020
NFL News & Notes
The Washington Football Team has improved since head coach Ron Rivera ended his cancer treatments, and though they are just 5-7, they are playing outstanding football and could be peaking at the right time.
Steelers head coach Mike Tomlin appeared to be almost relieved his team finally lost.
Panthers head coach Matt Rhule said Monday that he's "hopeful" Christian McCaffrey will suit up Sunday against the Broncos. The running back has been sidelined since injuring his shoulder in Week 9 and has played just three games this year.
After a 45-0 loss to the Patriots on Sunday, Chargers head coach Anthony Lynn could be in danger of losing his job.
New England has won four of their last five and is now back in the AFC playoff race.
Ravens QB Lamar Jackson has been activated from the team's Reserve/COVID-19 list and is eligible to play  Tuesday night against the Browns.
Fumblerooski
I love Theo Epstein as much as the next Cubs fan and I know Paul DePodesta has had success with the Browns as their Chief Strategy Officer, but this is a ludicrous suggestion. If it were my choice I'd hire Eric DeCosta (Ravens) to replace Phillips, Omar Khan (Steelers) to replace Pace, and Eric Bieniemy (Chiefs) to replace Nagy.
Should the #Bears hire Theo Epstein?

It's not a crazy thought. But it's also not realistic to hope for, writes @JJStankevitz: https://t.co/JB1tCnxAyi

— Bears Talk (@NBCSBears) December 7, 2020
At The Podium
"At the end of the game there in the fourth quarter … that's where we've got to be able to finish as an offense. In that type of game, get first downs, make them use their timeouts there at the end, and not even give them the ball back or have the ability for the sack/fumble which occurred." -Matt Nagy
"I saw some [hirings] and firings in my time in Chicago, none of which happened mid season. I wonder what the tipping point is and who ultimately makes the decision." – Kyle Long
Halftime Entertainment
The Highwaymen by The Highwaymen featuring Willie Nelson, Johnny Cash, Waylon Jennings, and Kris Kristofferson – One of the finest live performance collaborations you'll ever see. It's like country music's version of Dan Hampton, Steve McMichael, Richard Dent, and Mike Hartenstine. I miss the days when the Bears were truly the Monsters of the Midway.