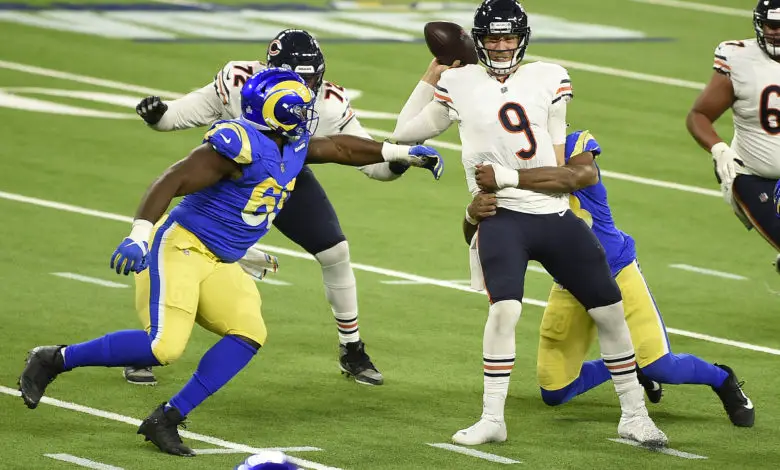 Nick Foles Explains Damning Indictment of Miscommunication with Matt Nagy Revealed During MNF Broadcast
Watching the Bears being systematically dismantled by the Rams in nearly every facet of the game Monday night may have had you feeling a little green, since the Bears are who we thought they were. Well, who some of us thought they were, and we let 'em off the hook due to their 5-1 record. Excuses ran dry pretty quickly in LA, however, as Matt Nagy's team offered plenty of ugly without so much as a hint of winning.
Skinny jeans have roomier pockets than the ones Nick Foles was forced to navigate as he was hit eight times and took four sacks. That pressure from the Rams' pass rushers, highlighted by former Bear Leonard Floyd's three QB hits and two sacks, meant Foles rarely had open receivers downfield. Even when a white jersey happened to break free, the quarterback had virtually no time to set his feet and make an accurate throw.
At the same time, the play calling remained unimaginative and lacked necessary adjustments to the Rams' game plan or execution. Those have been hallmarks of Matt Nagy's time as a play-caller dating back to his days in Kansas City, where Andy Reid took those duties back from his then-assistant. Nagy and his quarterback don't seem to be on the same page, with the coach still calling plays as though the more fleet-footed Mitchell Trubisky is under center.
If the coach hasn't made adjustments after several games, you have to wonder whether and how he can adequately make them in real time during the game. As ESPN's Brian Griese shared during the fourth quarter, Foles may be wondering the same thing.
"We were talking to Nick Foles yesterday, [and] he said, 'You know, sometimes play calls come in and I know that I don't have time to execute that play call. You know, I'm the one out here getting hit. Sometimes the guy calling the plays, Matt Nagy, he doesn't know how much time there is back here,'" Griese relayed. "So that's something that they have to get worked out."
That is a damning indictment on a number of levels, the most obvious of which is that the quarterback doesn't agree with the calls coming in. But even worse is that Foles is reinforcing the notion that Nagy lacks the situational awareness to competently handle the duties he's stubbornly clung to despite mounting evidence that he needs to cede control.
As you might expect, Nagy was taken somewhat aback when asked about his QB's comments.
"We've never had that conversation," the coach told reporters after the game. "I don't know. You'll have [ask Foles]. Nick and I have a pretty good relationship and he hasn't said that. I'm sure he'll explain what he meant by that."
Foles indeed addressed the conversation with Griese, which was part of the typical pre-game prep in which players meet with the broadcast team to provide more context and insight for the game. Whether something got misconstrued in the process or perhaps the broadcaster intentionally painted the quarterback's words in a certain light, which has surely never happened before, Foles adamantly downplayed any friction between himself and his coach.
"Matt and I have a great relationship on the sideline," Foles explained. "In that situation with Brian, it was just a miscommunication because that's not what I was trying to bring across in that conversation.
"Part of that was [that sometimes I say], 'Hey, maybe we don't have the time right now for this type of drop because of what they're bringing, the pressures they're bringing.' It's easier with that to go, 'Hey, 1, 2, 3, ball out.' That's where the miscommunication lies."
That's all well and good, but I can't help wondering whether Foles was looking at Griese, himself a former Bears quarterback, as something of a lifeline. Like maybe things aren't being heard or put into play from those conversations in practice or on the sideline, so Foles wanted to turn up the pressure and force a little change. That's admittedly got kind of a conspiratorial bent, but it's not beyond the realm of possibility.
Or it could be that the conversation was supposed to have been more off the record, with Foles confiding in someone who could commiserate with his plight. If that's the case, Griese might have burned a bridge in favor of getting a little juice. Not that it really matters much, since he probably figures he won't have to broadcast many more Bears games with Foles at quarterback for Monday Night Football.
Wherever the truth actually lies, all that matters in the end is that something isn't right with the Bears when it comes to plays being called and executed. As elementary as that sounds, the calls themselves have a tremendous impact on their execution. So unless and until Nagy and Foles get on the same page, like immediately, we're going to keep seeing the same frustrating results.