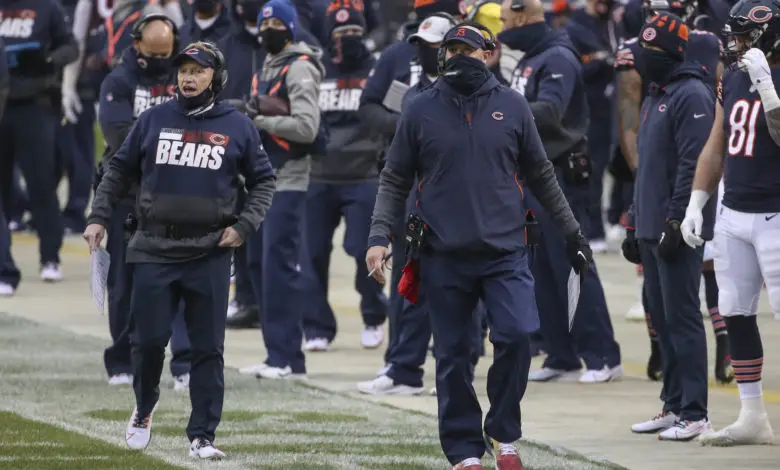 Playing Scared Cost Cowardly Bears in Late Loss to Lions
Matt Nagy is a man without answers, admitting after Sunday's embarrassing loss to Detroit that he doesn't know why the Bears have fallen apart the last two seasons. That's actually worse than knowing what the problem is and not getting it fixed, which would at least indicate some form of analysis is being done that could lead to adjustments. Instead, the Bears continue to fly blindly through yet another disappointing season in what has now become three decades of futility.
After being shut out yet again in the 3rd quarter, the 10th time they've gone scoreless in 12 games, the Bears left the door open for a Lions comeback sealed by two touchdowns within 41 seconds of the 4th quarter. Just to clarify before moving on, the Bears have only scored one offensive TD over 180 minutes of 3rd-quarter action. The other score came on a Cordarrelle Patterson kick return. Every other team in football averages at least 2.5 times as many points as the Bears coming out of the half.
It's not as though they simply fail to adjust to what their opponents have done in the first two quarters, it's that they completely abandon what worked for them over that span. In the first half of Sunday's game, David Montgomery rushed 11 times for 64 yards and two touchdowns. Patterson carried the ball seven times for 41 yards and a TD. The Bears led 23-13. In the second half, Montgomery had six carries for eight yards while Patterson had three carries for 18 yards as the Bears were outscored 21-7.
For a team that otherwise seemed to be playing not to lose, shifting more to the passing game was a perplexing choice. It was not, however, Nagy's most boneheaded choice. For the purposes of the theme here, we're not even going to discuss why Darnell Mooney was back with no blockers to receive the kickoff that would eventually lead to Mitchell Trubisky's huge fumble while Patterson was up as part of a hands unit expecting an onside kick. That special teams snafu resulted in a 5-yard return and eventually gift-wrapped the Lions a TD.
Just a few minutes earlier, Bilal Nichols had gotten a big-man interception that he returned seven yards to set the offense up in Detroit territory. What would have been a first-down run by David Montgomery was erased by a holding penalty, after which the Bears got to 4th and 4 at Detroit's 40. With a 10 point lead, the run game working effectively, and the defense stoked after the pick, Nagy could have gone for it and potentially sealed the win.
Instead, he opted for the conservative route and punted. Based on the "Surrender Index," that choice ranks in the 94th percentile of cowardly punts of the 2020 season and the 92nd percentile of all punts since 2009. But here's the even bigger issue: The Bears are terrible in general when it comes to 4th-down decisions.
CHI decided to punt to DET from the DET 40 on 4th & 4 with 7:22 remaining in the 4th while winning 30 to 20.

With a Surrender Index of 9.64, this punt ranks at the 94th percentile of cowardly punts of the 2020 season, and the 92nd percentile of all punts since 2009.

— Surrender Index 90 (@surrender_idx90) December 6, 2020
In fact, they're the worst team in the NFL by a wide margin. As Ben Baldwin of The Athletic Seattle laid out, no team goes for it on 4th down when they should less often than the Bears. It's worth checking out Baldwin's entire explanation of the topic in order to get more context, but suffice to say this tracks with the poor decision-making we've come to expect from this team.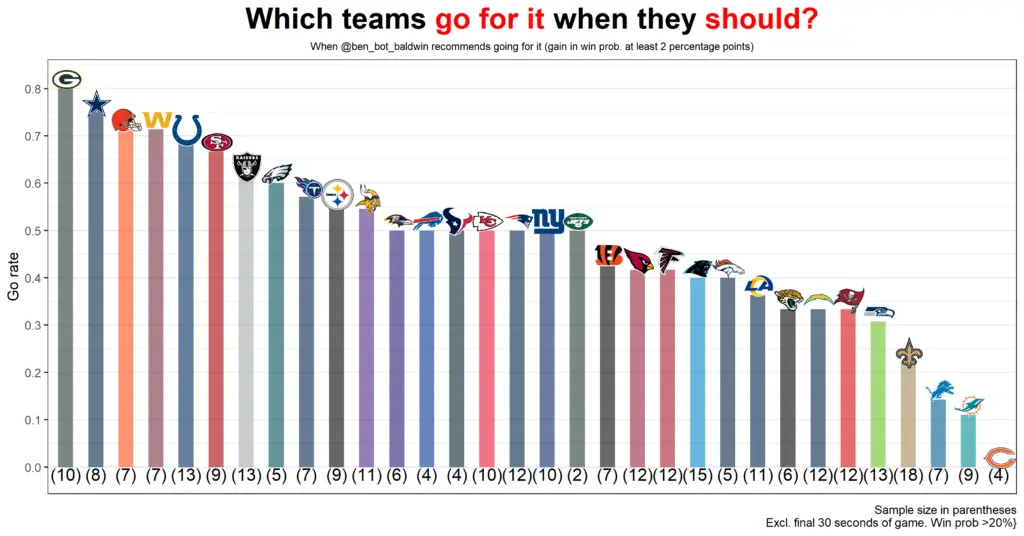 A team that came into the game with five consecutive losses should have been willing to pull out all the stops and keep pushing until the clock had run out with them ahead on the scoreboard. Instead, Nagy was intent to coach a tentative game that saw players on both sides of the ball adopting that same philosophy. Like when Anthony Miller went out of bounds late in the 4th rather than letting the clock run. Or when Allen Robinson failed to get to the marker on 3rd and 5 at the end of the game.
This team seems to be playing with neither direction nor discipline, clear symptoms of a lack of leadership or a fear of actually choosing a lane and staying in it. Nagy has failed for two and a half years to establish an offensive identity and that failure was on full display Sunday afternoon as the Bears played scared in the second half.
Speaking of cowardly, check out this unfortunate play. Yikes.
Coward got blown up on that extra-point attempt. pic.twitter.com/aBz23HRRYJ

— dan durkin (@djdurkin) December 6, 2020
The best option at this point is that the Bears fire Nagy, Ryan Pace, and Ted Phillips immediately, though the organization never fires anyone mid-season and probably isn't going to start now. Nor is it reasonable to believe ownership will actually part ways with Phillips after all this time, so we can really just hope the coach and GM are replaced. A competent organization that was truly concerned with winning would hire a president or director of football operations and let Phillips still to the business side, but that would require the McCaskeys spending more money.
Unless there's a change of heart at the top, the Bears may simply be putting a band-aid on a bullet wound at the conclusion of the season. That's better than nothing, but it's not enough to solve the problems that have been festering for decades.