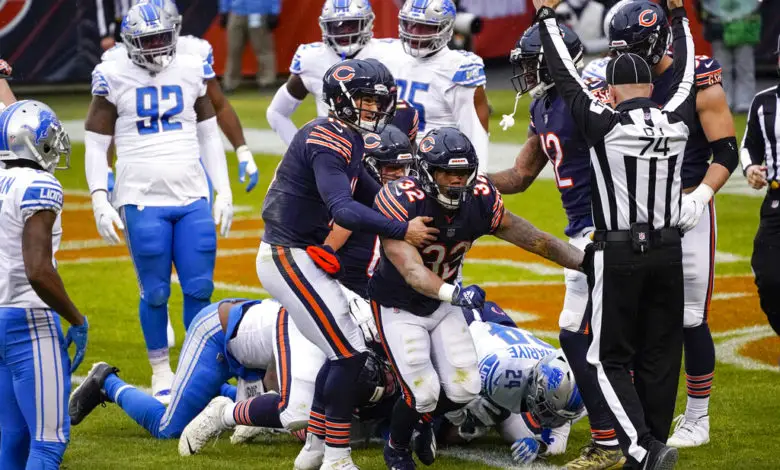 Chicago Bears Score and Recap (Week 13): Lions 34, Bears 30 – Bears Collapse Late, Lose Must-Win Game
The Chicago Bears had to have Sunday's game against the last-place Detroit Lions to keep their meager playoff hopes alive. For most of the contest it looked as if they would get that win, but then the bottom fell out. The Lions scored 14 unanswered in the final five minutes of the game — within 41 seconds, to be exact — to erase a 10-point deficit.
Why the Bears Lost
The Bears defense let the struggling Matthew Stafford throw for over 400 yards to lead his team to 34 points. Chicago's rare 30-point outburst went for naught with the soft defense in the secondary exposed. (Box score)
Key Moment 
The Bears led 30-27 with under two minutes left in the 4th quarter. On 3rd and 4 from their own 17, Mitchell Trubisky was strip-sacked by Romeo Okwara. The Lions recovered and scored the game-winning touchdown on an Adrian Peterson run.
Stats That Matter
Trubisky was good before the late blunder, putting up 267 yards and a TD for a 108 passer rating.
David Montgomery and Cordarrelle Patterson combined for 140 yards on the ground. For some unknown reason, Matt Nagy largely abandoned the run in the second half.
Bottom Line
This ugly meltdown mercifully ends the Bears' postseason chances with a sixth consecutive loss. Honestly, they are what their record says they are and that is a last-place team. Some major changes are needed to get this team headed back in the right direction after looking like they'd figured something out in 2018.
Next Up
Chicago welcomes the Houston Texans to Soldier Field for a Week 14 matchup Sunday, December 13 at 12:05pm CT on CBS.