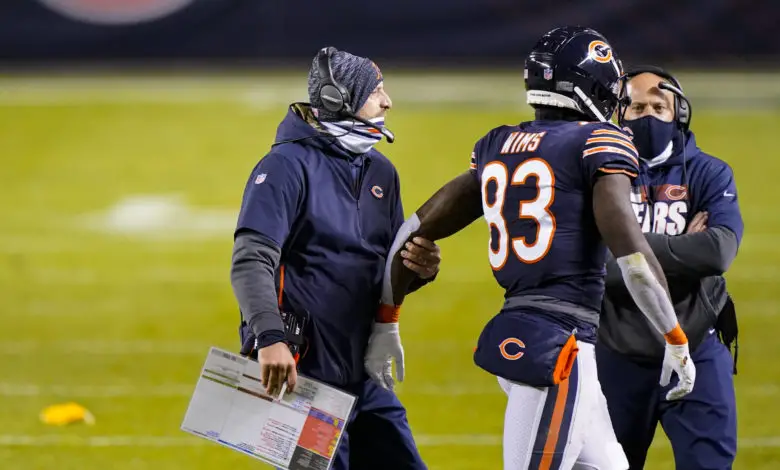 First and Long: Bears Need to Launch Javon Wims, NFL Reinstates Josh Gordon, Happy Anniversary Super Bowl Shuffle
In yesterday's First and Long column, I linked to an NBC Sports Chicago article that mentioned Bears receivers Allen Robinson, Anthony Miller, and Javon Wims having some playful fun at the team's expense via Twitter. Recapping:
Wims liked a tweet stating that "Chicago is where receivers go to die";
Miller liked a tweet suggesting he go to New England; and
Robinson liked three tweets, each one suggesting a different NFC powerhouse that he should play for next season.
All this from offensive players who have been shamed by the defense all season. Though Robinson is having a great season and Miller has played decently, Wims, in case you forgot, is the guy who took a swing at the head of Saints DB C.J. Johnson-Gardner in Chicago's 26-23 loss to New Orleans back on November 1.
Javon Wims took a shot at C.J. Gardner-Johnson 😳https://t.co/JfNGPH0jvS

— NFL Stats (@NFL_Stats) November 1, 2020
The cheap shot upset head coach Matt Nagy so much that he used the word "bothered" three times in his 20-word assessment of the infraction. Wims was suspended for a game when he should have been cut and now he's acting like a 12-year-old on social media. How does this man still have a job, especially given the fact that he is inarguably the least talented receiver on the team?
Wims has five receptions for 35 yards and a TD in eight games this season, which most good wide receivers can do within the first two offensive drives of a game. The third-year receiver out of Georgia has caught just 27 of 52 targets throughout his career with the Bears. If he truly believes Chicago is where receivers go to die, perhaps he should ask the team medics to find his pulse. No pass catcher in the NFL is less alive on gamedays than Wims.
Maybe I'm old and out of touch, but shouldn't Nagy put the hammer down and make an example of Wims? I mean, how many other Bears players are walking all over the head coach behind his back while he's trying to stop the season from fully coming off the rails? I know we live in a world where athletes drive their brands through social media, but I believe that they need to exercise some degree of professionalism and that coaches need to make those players accountable when they do not. George Halas would have cut Wims immediately after the Saints game. Mike Ditka would have needed restraints had he got wind of those tweets.
Chicago just doesn't need players like Wims if they want to prove to their fans they are serious about winning. The organization can do without his immature antics on and off the field and they certainly do not need a guy whose character is more maddening than his proclivity to drop passes.
Bears News & Notes
Calling an Audible
Is it just me, or does Nagy have a little Dave Wannstedt with just a hint of Tony Siragusa in him when he addresses the media?
Eight in the Box
I'd love to see Ron Rivera coaching the Bears if/when the team cans Nagy. Who would you choose?
There's a Flag…On the Play
As long as Seahawks WR Josh Gordon passes his COVID test, he will suit up for Sunday's game against the Giants. Gordon has been suspended five times in his nine-year career.
The NFL has reinstated Josh Gordon from his indefinite suspension, and he's eligible to play in Week 16, a source confirmed to ESPN. First reported by Fox Sports. pic.twitter.com/lKLxfsYK12

— SportsCenter (@SportsCenter) December 3, 2020
Northern Exposure
Though the Packers have a commanding lead in the NFC North, they'll need to tighten up on defense if they are hoping for an extended postseason run.
Aaron Rodgers turned 37 yesterday and took a walk down memory lane with hopes that the inevitable end of his time with the organization won't come too soon.
WR Justin Jefferson has been a pleasant surprise for the Vikings this season and is even getting some media mentions as a darkhorse for Rookie of the Year honors (video).
Minnesota QB Kirk Cousins has quietly turned his season around. Cousins earned NFC Player of the Week honors for his performance on Sunday.
The Lions know that in order to beat the Bears on Sunday, they'll have to contain Trubisky and stop running back David Montgomery.
Lions fans are hoping for a winless end to their season followed by a trade to rid the team of QB Matthew Stafford.
NFL News & Notes
Though the Saints lost veteran signal-caller Drew Brees to rib injuries a few weeks ago, they haven't missed a beat with Taysom Hill starting in his place.
The Chiefs, Steelers, and Saints can all clinch playoff berths this weekend.
Jets coach Adam Gase admitted he has failed to help third-year QB Sam Darnold reach his full potential.
The NFL and the NCAA have different playbooks when it comes to protecting players from C-19, and each seems somewhat dubious.
Tyreek Hill once thought Patrick Mahomes was "trash," but now they're the NFL's true dynamic duo.
The Colts will be allowed to host up to 12,500 fans for their December 20 game against the Texans.
The undefeated Steelers are the number 1 team in ESPN's latest power rankings. At number 19, the Bears may actually be ranked just a bit too high.
Fumblerooski
"I would have won, too, if my partner was better."
Walter Payton was as good a dancer as he was a football player, but Sweetness was never better than when he was carrying the football and punishing defenders.
Amazingly, Walter Payton only missed one regular season game (rookie year) in his 13 year career and it was a coach's decision and not due to injury. #DaBears #NFLTalk #NFL

— Let's Talk NFL 🏈 (@TalkFootball34) November 28, 2020
At the Podium
"I was on a team [2015 Chiefs] in a previous life where we lost five in a row,. We lost five in a row and we went ahead and [then] won 10 in a row, and I remember the feeling of what it was like, and it was very similar to right now. And so, at that point in time though, we got that one win and, man, it felt different going into that next week for everybody." – Matt Nagy
Halftime Entertainment
Super Bowl Shuffle by the Chicago Bears Shufflin' Crew – The Super Bowl XX champs released this song and video on December 3, 1985, the day after the Dolphins handed them their only loss of the season. The song peaked at number 41 on the Billboard Charts the week after the Bears beat the Patriots 46-10 in the title game. Walter Payton was great at a lot of things, but singing wasn't one of them.