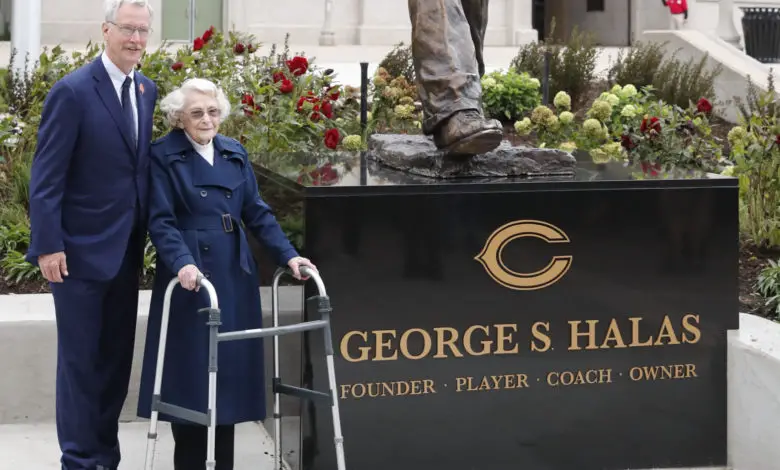 First and Long: Bears' Issues Start with Ownership, Mitch Trubisky May Start Sunday Night, Ravens Suffer COVID-19 Outbreak
Thanksgiving weekend is traditionally the greatest stretch of the year for professional football, though the league's schedule makers probably wish they had done a better job selecting the games that were played yesterday. Talk about meaningless football.
It seems like it's been months since the Bears last played, which is unfortunately nowhere near as upsetting as it sounds. The Bears are half a football team right now, with a legit defense complemented by a piss-poor offense that has completely wasted one of the more unexpected 5-1 starts. They still have a shot at the playoffs, a long one, and they'll need to finish with at least nine wins to even think about this year's postseason tournament. Between four division games left on the schedule, plus tilts against the Jaguars (1-9) and Texans (4-7), it's feasible that this team could finish with as few as six wins.
If the Bears do not beat the Packers on Sunday night and again when the two teams meet in Chicago on January 3, they have little chance of winning the division. Losses in those two games would likely eliminate Chicago from any chance at a postseason berth, too.
The reality is that the Bears are never going to be a Super Bowl-caliber team as long as the McCaskeys own the franchise. The Monsters of the Midway have reached the playoffs just six times since 1992, the year they fired Mike Ditka and are trending more toward another rebuild than they are toward the 2020 playoffs. Sadly, demanding a change of ownership and an executive team led by the McCaskeys and Ted Phillips would be a futile request at best.
Since Ted Phillips took over as CEO of #DaBears in 1999, they have accumulated a record of 168-178 (.486).

They have had consecutive winning seasons 1x, and consecutive seasons at .500 or better only 5x in 20 yrs.

— Quinten Krzysko (@ButkusStats) November 20, 2020
Virginia McCaskey and her son George tend to value their familial connection to team founder George Halas much more than they value championships. The Bears haven't won one of those since 1985, technically under McCaskey ownership, but built by the people who preceded the family's ascension within the organization. The storied franchise, now in its 101st year since Halas founded the NFL, is a laughingstock. They'll likely clean house again after this season, but it will be nothing more than change for the sake of change.
The McCaskeys and Phillips have historically refused to spend money on a proven coach or general manager and none of the executive team truly knows enough about the game to make the types of good decisions winning organizations do. In fact, since Halas died in 1983, the Bears have employed four de facto general managers — Bill Tobin (1987-92), Rod Graves (93-96), Dave Wannstedt (co-defacto GM in '93), and Mark Hatley (97-2000). In 20 seasons since, Jerry Angelo, Phil Emery, and Ryan Pace have managed the team to a 157-157 record with five trips to the playoffs, the lone highlight being Chicago's 29-17 loss to the Colts in Super Bowl XLI.
Every now and then, news leaks that some of the younger members of the McCaskey family would like for Virginia to sell the team. But the 97-year-old matriarch isn't going anywhere, which means, sadly, neither are the Bears. It's difficult to be positive about Chicago's chances after two decades of genuine mediocrity, an ownership team that is a real burden to the organization, and no chance they'll ever sell the team.
Bears News & Notes
There's a Flag…On the Play
Last night's Ravens-Steelers game was postponed because of a COVID-19 outbreak in Baltimore, which includes star QB Lamar Jackson. The Ravens will not be allowed to enter their team facility until Monday at the earliest. Sunday's game, which was scheduled for 1:15 pm on NBC after last night's postponement, now appears likely to be rescheduled again.
Lamar Jackson tests positive for COVID-19 https://t.co/USkKgokiXg

— ProFootballTalk (@ProFootballTalk) November 27, 2020
Northern Exposure
Packers WR Davante Adams did not practice on Thursday, but he is expected to play against the Bears on Sunday night. The Packers have listed 21 players on their injury report for this week.
With or without fans, Rodgers would like to see the Packers continue some of their home field traditions, including the Lambeau Leap.
RB Dalvin Cook has set the Vikings up for a possible playoff run (video).
Titans RB Derrick Henry says Cook is the best in the game.
The Texans embarrassed the Lions 41-25 yesterday, Detroit's fourth straight loss in their annual Thanksgiving Day game.
Detroit fans, some of the team's beat writers, and even retired Lions RB Reggie Bush are calling on the team to fire head coach Matt Patricia.
League News & Notes
CBS announcer Jim Nantz said the Texans were playing sandlot football in their win against the Lions yesterday.
With yesterday's win against the Cowboys, the Washington Football Team (4-7) now has sole possession of first place in the NFC East, a half-game ahead of the 3-6-1 Eagles. Philadelphia will play the Seahawks on Monday night and would leapfrog Washington with a win.
Washington head coach Ron Rivera delivered an amazing post-game speech after yesterday's win.
On Wednesday evening, the Cowboys announced that strength and conditioning coach Markus Paul passed away at the age of 54. Paul was a defensive back with the Bears during his playing days, chosen in the 4th round of the 1989 draft out of Syracuse.
Cardinals wide receiver Larry Fitzgerald has reportedly been placed on the reserve/COVID-19 list, although the club has not officially announced it.
If Drew Lock leads the Broncos to a win over the Saints on Sunday, he'll become the first Denver quarterback to win his eighth career start by his 14th game with the team.
Taysom Hill will once again start at quarterback for the Saints in place of the injured Drew Brees on Sunday.
Buccaneers offensive lineman A.Q. Shipley may have suffered a career-ending neck injury.
ESPN has officially fired studio analyst Trey Wingo.
Fumblerooski
This was one of the dumbest play calls I've ever seen and even Nagy is above this. Cowboys head coach Mike McCarthy believes he made the right call in that situation. I'd love to hear what team owner Jerry Jones thought.
Dallas tried a fake punt in the 4th Qtr.

…

…

It did not work.

(via @thecheckdown) pic.twitter.com/DoiPCV08cp

— FOX Sports: NFL (@NFLonFOX) November 27, 2020
At the Podium
"I'm very, very impressed with how [Trubisky] has grown week-to-week. It wasn't easy those first couple of weeks. It was hard. It was out of place for him and for us, but he kind of got to tack a step back and see where he's at. If he is going [to start], what I would say is this, 'I have all the confidence in the world in him.'"– Matt Nagy
"I understood that [sitting out in concussion protocol] had to happen. If I would have forced myself to play… it could affect me long term in my life for when I have my children, when I have my family. That's one thing that I don't ever want to do. I don't want to ever regret [having] an injury and not communicating [truthfully to the doctors] because I want to be like a tough guy. I know how tough I am." – David Montgomery
Halftime Entertainment
Go by Pearl Jam – The Bears-Packers rivalry is still the best in football, if not all sports.