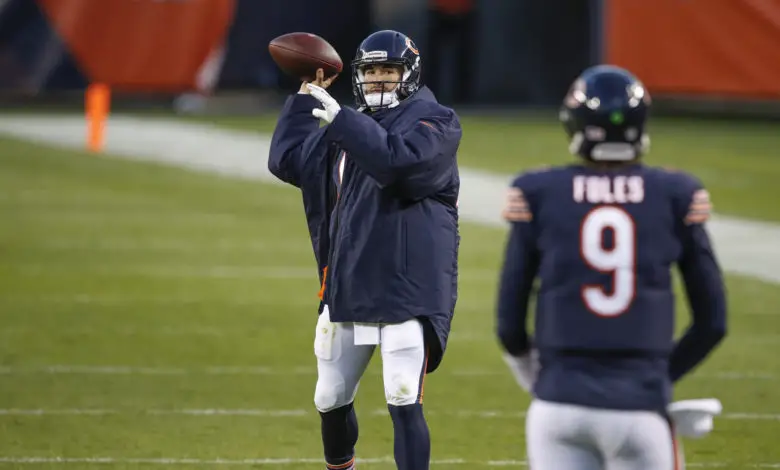 Matt Nagy 'Very Impressed' by Mitch Trubisky's Growth, Coyly Indicates Sunday Start
Running a close second to "I'll have to check the tape" on the list of Matt Nagy tropes is the idea that a player is getting better every week or every day. That was the case with Cole Kmet as the rookie learned the ropes of an offense that won't target him and it was true for Lamar Miller as the running back worked his way from the practice squad after missing 2019 with a torn ACL.
And now, with Nick Foles still unable to practice due to hip and glute injuries suffered against the Vikings, Nagy is lauding Mitch Trubisky with his pet complimentary phrase.
"I'm very, very impressed with how he's grown week to week," Nagy said of his former/future starter. "I mean that. It wasn't easy by any means those first couple weeks.
"If he is going, what I would say is this: I have all the confidence in the world in him."
Though the coach was obviously being coy about the situation, perhaps as a token measure of gamesmanship, it seems pretty clear Foles isn't expected to suit up against the Packers. Not that it will really matter either way with the way the Bears have been playing over the last few weeks. Foles wasn't very mobile even when his legs were working, so having him at less than 100% would be even more disastrous.
I know that's like saying a car with four flat tires will go slower when you engage the e-brake, but still.
A lot of translating is required from today's Zoom call with #Bears coach Matt Nagy.

But it's clear that Nick Foles isn't healthy. Nagy also praised Mitch Trubisky a ton, including citing his growth as a quarterback.

In other words, I think you can expect No. 10 to start.

— Adam Jahns (@adamjahns) November 25, 2020
Then again, Trubisky lost his starting spot for a reason and then hurt his shoulder on the only snap he's gotten since. The Bears have one of the NFL's most anemic offenses and they're at their worst in the 1st and 3rd quarters, a damning indictment of their ability to game plan and make halftime adjustments.
But hey, maybe they'll buck the trends of the last three years and will have figured something out after two weeks to prep for the Packers. It'll help to have David Montgomery in the backfield against a defense that allows 4.4 yards per rushing attempt, so Nagy and offensive coordinator Bill Lazor had damn well better be committed to the run. That will not only exploit weaknesses in the Packers D, it'll aid in time of possession and might actually give the Bears D a little time to rest.
At the end of the day, there's really not much you can do as a fan other than cross your fingers and hope that Nagy isn't just spouting platitudes about a QB who's only playing because the starter — who's been at least as ineffective — is hurt.