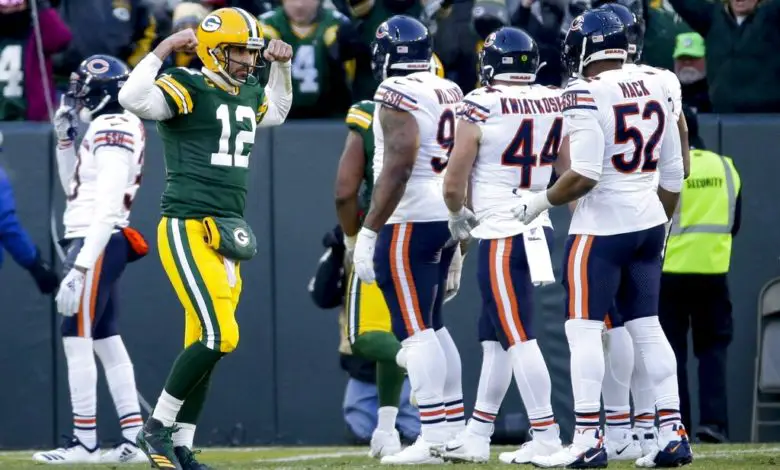 Chicago Bears' Path to Playoffs Goes Through Green Bay…As Usual
The Chicago Bears have had a rough few weeks, losing four straight games to fall to .500 on the season after their unexpected 5-1 start. The bye week has given the team and their coaches a chance to step back from the chaos and make tweaks where needed, but the only way to make meaningful changes is to execute. That's something we've yet to see happen.
One thing we do know for certain is that there's almost no way the Bears can make the playoffs this season without beating the Green Bay Packers at least once. And yes, that's almost always the case for the Bears, but this year it's particularly amplified.
---
---
The Bears have a 5-5 record with six games remaining, two of which are against the division-leading Packers. That might not offer much reason for hope on the surface, but the Packers haven't exactly been infallible so far this season. After starting off the season 4-0, they're 3-3 since with losses to the Buccaneers (38-10), Vikings (28-22), and Colts (34-31).
The Packers' offense is averaging 30.8 points per game, which is 3rd in the NFL. Their defense, however, ranks 17th in the league by surrendering 25.8 points per game.
The Bears have already played four teams whose offenses ranked in the top 10 in scoring: Buccaneers (29.6 PPG), Saints (26 PPG), Titans (27.9 PPG), and Colts (27.6 PPG). In each game, the Bears were able to stop those teams from scoring their average point totals. Of course, they also managed just a 1-3 record in those games because they scored an average of just under 18 points.
The good news, if there is any, is that the Packers' defense has been highly suspect all season. If the Bears can limit Aaron Rodgers and force at least two turnovers and/or maintain a field-position advantage, even one of the worst offenses in the league should be able to move the ball enough to score against Green Bay.
The bottom line is that the Bears need to force mistakes and then leverage them into points. Most of the focus to this point has been on who the quarterback will be and whether he'll have time to operate behind a patchwork O-line, but the defense will have to be the story if the Bears hope to make good down the stretch.