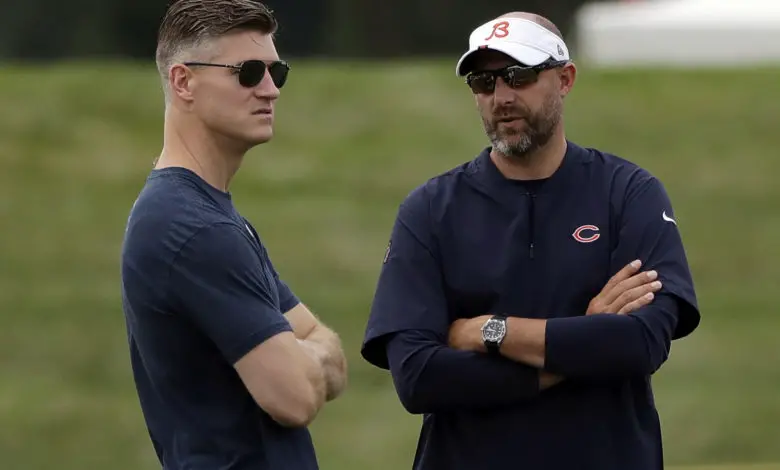 I Hope They're Building a Guillotine at Halas Hall After Another Unacceptably Embarrassing Performance on MNF
I don't need to see what happens out of the bye, I've seen plenty through 10 weeks to tell me heads need to roll at Halas Hall. Even accounting for the very obvious personnel issues, the Bears' offense is an embarrassment that only a complete reset can fix at this point. And since I'm writing from emotion, I'm not going to pause and consider how futile it is to simply fire everyone now.
Screw discretion, just burn the whole damn thing to the ground and spend the last six games sifting through the ashes. We already know that a shrinking salary cap will almost certainly cost a shot to re-sign Allen Robinson, at which point they're going to need to replace him on the cheap. Nick Foles may have escaped major injury Monday night, but it's obvious he's not the QB of the future. Same for Mitchell Trubisky.
While Matt Nagy may be a good leader and motivator, it's become all too evident that the hype of him being some kind of offensive genius and QB whisperer has little substance. Ryan Pace has missed on far too many draft picks and acquisitions and failed to meaningfully address obvious roster holes coming into this season, let alone once those issues became even more evident.
Most of the focus for those failures is on the offense, but we can't forget about the invisible man otherwise known as Robert Quinn. Pace saw fit to give the once-formidable 30-year-old pass rusher a five-year deal worth $70 million, $30 million of which is guaranteed. Though he's nowhere near the bottom in the Pro Football Focus rankings, Quinn is No. 55 out of 182 edge rushers in overall defense and he's 59th when it comes specifically to the pass rush.
As bad as that is, he's still part of a championship-caliber defense that has to spend way too much time on the field, often in terrible field position. That's because the offense can best be described as a steaming pile of shit plopped into a waffle iron and then left to burn. The Bears were unable to muster a touchdown in the first half Monday night, the 20th time they've failed thusly in their last 42 games. They also failed to record an offensive score in the 3rd quarter for the ninth time in 10 games this season.
Their average of 2.9 points in the 1st quarter is tied for third-lowest in the NFL, their 5.6 points in the 2nd quarter is better than only six teams, and their 1.4 point average in the 3rd  easily the worst out of 32 teams. Were it not for Cordarrelle Patterson returning the opening kick of the second half 105 yards for a TD, the Bears would only be at 0.7 points in the 3rd.
Speaking of which, Patterson's 787 return yards now outnumber the Bears' total rushing yards on the season by five. That's…not great. The Bears are one of only six teams averaging fewer than 100 yards per game on the ground and their 78.2 mark means they're the only team with fewer than 87 per game. Not that the passing attack is much better, with an average of 5.5 yards per attempt that stands better than only the Jets (5.1) on the season.
Other than avoiding the hassle of trying to fill roles for the remainder of the season, I can't come up with a reason for Nagy and Pace to retain their jobs. And while we're at it, that means Ted Phillips needs to be relieved of his duties as president and CEO. A child born when Phillips ascended to that role would have been legally able to buy alcohol in February and they'd need a lot of it to make it through whatever the hell it is the Bears are calling football these days.
Perhaps the worst thing about this season is that the 5-1 start means they've got too many wins for a really high draft pick. Not that it would matter either way if the leadership structure stays intact into next season. At least burning the whole thing down will afford a little hope where none otherwise exists.