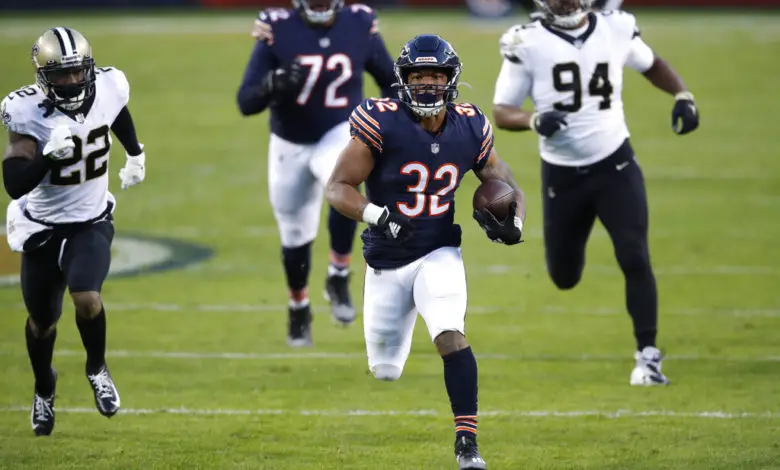 David Montgomery Returns to Practice After Clearing Concussion Protocol
Bears running back David Montgomery was back in practice Wednesday after clearing the NFL's concussion protocol and declared himself "good to go" for Sunday night in Green Bay. Montgomery racked up 472 yards on 131 carries through the Bears' first nine games and has become one of the best all-around halfbacks in the league despite running behind a porous line.
With Montgomery out against the Vikings in Week 10, the Bears combined for just 41 yards on 17 carries (2.4 yds/carry) and didn't even try to establish any semblance of a run game. That was against a Vikings team ranked in the lower third in the league against the run, so Montgomery has to come up big against the Packers.
Though no one is confusing Green Bay for an elite defensive unit, they rank 13th in both rush yards allowed (1,137) and Pro Football Focus grade against the run (63.1). However, they rank 20th by allowing 4.4 yards per carry. Seven of the Bears' previous opponents allow less than that, including all of the top three stingiest units and five of the top eight.
That could be huge as the Bears face Aaron Rodgers with a full complement of weapons and may have to do so without safety Eddie Jackson. Even if the offense doesn't shock the world by scoring a bunch of points under the guidance of (probably) Mitchell Trubisky, being able to control the ball will slow the Packers down and give the defense time to relax between series.
Or at least that's about the best we can hope for.