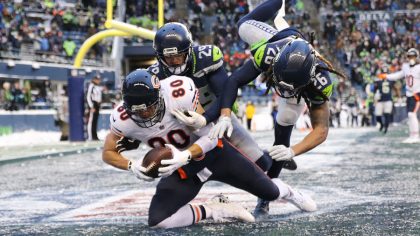 Chicago Bears Score and Recap (Week 16): Bears 25, Seahawks 24 – Snow Problem, Bears Win on Dramatic Two-Point Conversion
The Bears did not have much to play for a snowy Century Link Field on Sunday. Despite that fact, they did not give up on the game and staged a furious come back to pull off a win.
The Seahawks took an early lead on a long touchdown pass from Russell Wilson to D.K. Metcalf in the first quarter. The Bears stage their own long drive but came up short and a fourth down and got no points. Chicago then got a 28-yard punt return from Dazz Newsome to set up a David Montgomery touchdown which tied the score.
Seattle answered right back with a running touchdown from Rashaad Penny which gave them a 14-7 advantage. The Seahawks added a field goal and things stayed at 17-7 through the half. The Bears finally made it a game with Khalil Herbert ran for a 20-yard touchdown in the third quarter.
Russell Wilson did what he does best and struck back immediately. The all-time quarterback hit Gerald Everett for a 21-yard touchdown pass and put his team back up by 10. This is normally when the Bears would fold in recent weeks but they did not on this day.
After kicking a field goal to move within seven points the Bears took advantage of a missed Seahawks field goal to start a game-winning drive. Third-string quarterback Nick Foles finally came to life, completing a series of long passes to move Chicago into scoring range.
Foles ended the drive with a 20-yard touchdown pass to veteran Jimmy Graham who made a leaping grab. Down 24-23 head coach Matt Nagy finally made a bold move and went for the two-point conversion and the win. Foles threw a high pass to Damiere Byrd who jumped up it made a dramatic catch to give the Bears the lead.
Chicago's defense then held against Wilson and gave Bears fans an unexpected Christmas present. (Box score)
Why the Bears Won
They were able to complete key passes late in the game and take advantage of a bad Seahawks secondary. Also, it was nice to see Nagy make a bold call and get rewarded for it with his two point conversion.
Key Moment
Seattle kicker
Jason Myers
missed a 39-yard field goal in the fourth quarter that would've put his team up by 10 points. The missed kick allowed the Bears to stay in the game and eventually get the win.
Stats That Matter
Foles was decent but did make a couple of mistakes, still, 260 yards passing the touchdown is more than enough to win.
Montgomery had a combined 106 yards running and receiving in a very good all around effort.
Robert Quinn got another sack to add to his NFC leading total of 16.
Bottom Line
A win is always nice even if it doesn't really matter much for the overall picture. Matt Nagy is still likely going to be fired at the end of the year and Justin Fields did not see action. At the very least, hopefully, it gave fans a happy holiday.
Next Up
The Bears wrap up their home schedule on Sunday, January 2 against the lowly New York Giants. The 12:00pm CT start is available on CBS.