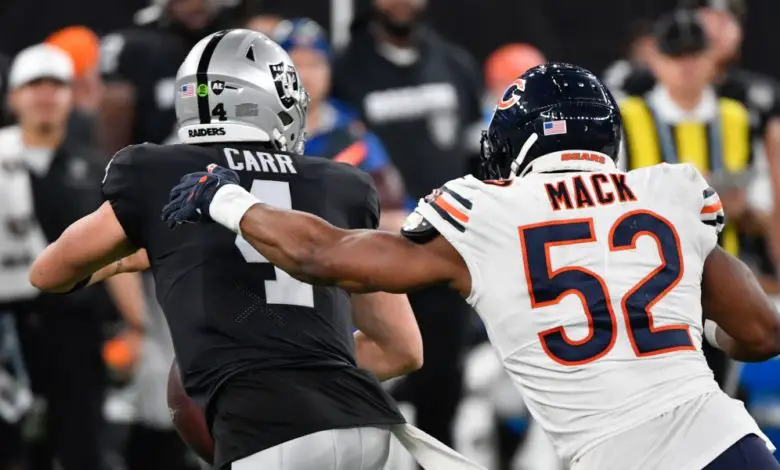 Chicago Bears Score and Recap (Week 5): Bears 20, Raiders 9 – Bears Get in on the Vegas Macktion, Beat Raiders
The Bears came to Las Vegas with an undermanned team and played a terrific defensive game to pull out a big upset win. Khalil Mack, in particular, was fired up and had a huge game against his former team and the coach who traded him.
The Raiders took an early 3-0 lead, but their offense would grind to a halt after that. The Bears began to run the ball with authority against the weak Vegas defensive line. Justin Fields took some nasty shots in the 1st quarter before finishing a promising drive with his first-career touchdown pass to tight end Jesper Horsted to put Chicago up 7-3.
The Bears had another long drive built on the running of Khalil Herbert and Damien Williams, who did a terrific job filling in for the injured David Montgomery. Williams paid off the drive with a touchdown to put his team ahead 14-3.
That was enough for Chicago's defense which played just a dominant game in Sin City. Mack was highly motivated to wreck Jon Gruden's game plan on Sunday. Number 52 was practically living in the Raiders backfield all day long with a sack (also a sack on a 2-point conversion which are not officially recorded) and several more pressures.
Vegas made things interesting with a touchdown in the 4th quarter to cut the lead to five. It was an early test for Fields and the Bear offense, which they handled well with a pair of field goal drives to put the game away. Chicago would win by a score of 20-9 and move above the .500-mark. (Box score)
Why the Bears Won
The defense played its best game of 2021, shutting down a talented Raiders passing attack. Fields did not make any mistakes and the run game stepped up big without Montgomery.
Key Moment
Down 3-0 the Bears faced a second and 22 from their own 16 yard line late in the opening quarter. Chicago's offense had looked discombobulated early in the game and were likely to punt from near their own end zone. Then the Raiders were called for roughing the passer on a late hit by defensive end Yannic Ngakoue. The automatic first down gave the road team new life and they would drive down the field for a touchdown.
Stats That Matter
Fields stats again were underwhelming, however, he did not make any key mistakes to hurt his team. He threw for 111 yards and a touchdown and only ran for 4 yards. The young quarterback suffered a couple of minor injuries including what appeared to be sore ribs and a hyperextended left knee that forced him to come out for a handful of plays.
Herbert (75) and Williams (64) combined to run for over 100 yards filling in for the workhorse Montgomery. The Bears will need that going forward if they want to keep winning.
The Bears did not commit a turnover on Sunday.
Bottom Line
This was a very big win for the Bears. Fields keeps growing as the defense played like it's capable of and that will need to continue as the schedule gets very difficult ahead. A strong running game is important to keep the young quarterback healthy and the offense moving.
Next Up
Aaron Rodgers and the first-place Packers head to Chicago to battle the Bears at 12:00pm CT Sunday, October 17. The game will be broadcast on FOX and WBBM radio.