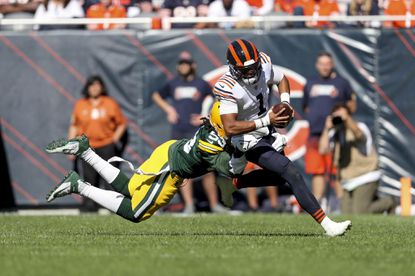 Chicago Bears Score and Recap (Week 6): Packers 24, Bears 14 – Rodgers, Pack, Outlast Bears Early Surge
The Bears (3-3) hoped to spring an upset on the first-place Green Bay Packers (5-1) and came flying out of the gate with an early lead. Alas, the lead would not last, as continued growing pains from rookie Justin Fields and the offense allowed Green Bay to pull out the win.
Things started very well for Chicago, they forced a Packers punt and then embarked on a very impressive opening drive. Khalil Herbert was very effective running the ball while Fields threw a series of short passes. A pass interference call set up a one-yard Herbert touchdown run to make it 7-0.
Green Bay answered back with a touchdown drive to start the second quarter. The running of Aaron Jones was a big factor and Aaron Rodgers flipped a short pass to Allen Lazard to tie it up. They added a field goal later and it was a 10-7 Packer edge at half.
The Bears offense could not get into gear after its strong opening drive and the defense finally broke in the third quarter. Rodgers led a six minute drive and finally paid it off with a screen pass to Aaron Jones, who went 12-yards for the score.
Fields then showed flashes of the skills that could make him a franchise quarterback. The young QB took the Bears 80 yards for a touchdown built almost exclusively on his throws and runs.
With the deficit reduced to 17-14 there was a small amount of hope, but again the Packers answered with a long scoring drive to put the game on ice. Aaron Rodgers would run in the touchdown himself and make it a 24-14 final. (Box score)
Why the Bears Lost
The Bears just cannot be consistent on offense and it showed again on Sunday. It's just part of the territory with a rookie quarterback. There are good signs, however, they are not going to be consistent at this point. The coaching issues have to be considered as well when looking at offensive problems.
Key Moment
The Packers response to the Bears second touchdown decided the game. The biggest play on that scoring drive was a 41-yard catch by star receiver Davante Adams. Chicago had been good about keeping him in check before that big play.
Stats That Matter
Fields threw for 174 yards and a touchdown, he especially looked good on the two touchdown drives. He also used his legs more this week, scrambling for 43 yards, something that will be valuable going forward.
Herbert displayed excellent vision out of the backfield running for 97 yards and popping several impressive runs.
The Bears defense generated a lot of pass rush early before slowing down and only registering three sacks.
Bottom Line
The Bears were able to give the Packers a game, yet it never felt like Green Bay was going to lose. Justin Fields continues to show his incredible talent in small bursts. It's just his fourth career game and he's going to frustrate fans with youthful mistakes. Hopefully, he will continue to improve with playing time.
Next Up
Things don't get any easier next week for the Bears as they head to Tampa for a 3:25pm CT start against Tom Brady and the Bucs Sunday, October 24. The game will be broadcast on CBS and WBBM radio.