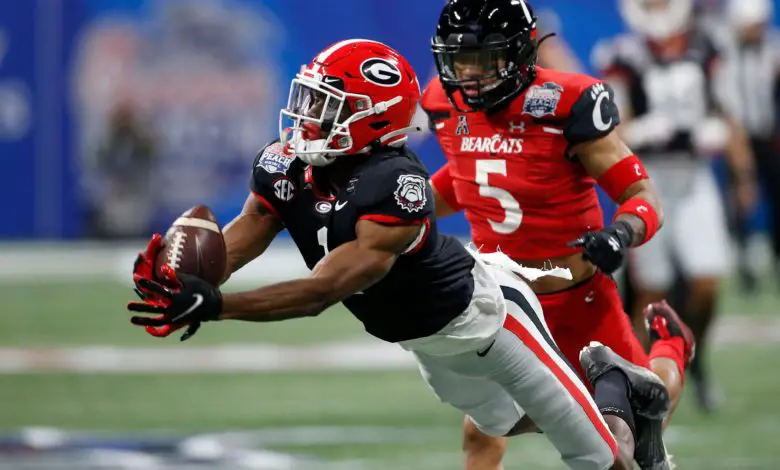 2022 NFL Draft Order Finalized, Bears Could Find Value at No. 39
The Bears finished 6-11 after Sunday's 31-17 loss to the Vikings, and with the regular-season slate of games complete, the 2022 NFL draft order has been finalized. Of course, Chicago does not have a first-round pick because they traded it to the Giants to acquire Justin Fields in the first round of last year's draft. New York finished 4-13 and the team now owns the No. 5 overall pick plus the No. 7 pick, which originally belonged to Chicago.
The #Bears first pick in the 2022 #NFLDraft is No. 39 overall. They'll get a quality potential starter with that selection, likely a guy we're valuing right now as a first-rounder who has an unexpected slide.

— Bryan Perez (@BryanPerezNFL) January 10, 2022
In fact, both New York football teams own a pair of top 10 draft picks. The Jets, who also finished 4-13, own the No.4 and No. 10 picks, the latter of which they acquired from the Seahawks. The Eagles have three first-round picks, the most of any team.
Barring any trades, the Bears will have a scarcity of picks in this year's draft, though they have a very good core of young players on which to quickly build a winning team.
One pick in round two, No. 39 overall.
The No. 71 pick, which is the seventh pick of the third round.
No picks in round four. The Bears also dealt that pick to the Giants in the Fields acquisition.
Two picks in Round 5, the No. 146 overall which they acquired from the Texans, and their own pick, No. 148 overall.
Their own pick in the sixth round, No. 186 overall.
Their pick in Round 7 is owned by the Packers. That pick is No. 225 overall.
That's five total picks for GM Ryan Pace or whoever takes his job if he is fired or promoted.
The Bears will head into the draft, which will be held in Las Vegas starting April 28, with glaring holes in the secondary and on the offensive line. Chicago also needs a No. 1 wide receiver with Allen Robinson expected to enter free agency. A backup for Fields may be an option, too, or the Bears could sign somebody in free agency. The front office may also decide to pick up the option on current third-stringer Nick Foles. Foles has stated he'd love to remain with the Bears.
If you're ready to put the just-ended season behind you and start planning for the draft, several sites have three-round mocks available for your perusal.
Tankathon has the Bears selecting DB Derion Kendrick of Georgia in the second round and WR Jalen Tolbert with their third-round pick. Kendrick is a former WR with unique insight into the position, is smart, and excels at quarterback reads. Tolbert is 6′ 3″ with deceptive speed (4.43 in the 40-yard dash) and a knack for getting open. He has very strong hands that any NFL wide receiver coach and quarterback would covet. Tolbert also tracks the deep ball over either shoulder and brings in passes fluidly without breaking stride downfield.
Derion Kendrick playing the QB's eyes perfectly for his 2nd INT of the nightpic.twitter.com/dd3tbbWyTi

— College Football Network (@CFN365) January 1, 2022
Walter Football predicts Chicago will select CB Roger McCreary of Auburn at No. 39 and Baylor linebacker Terrell Bernard at No. 71 overall. McCreary's anticipation skills and explosive, downhill burst could make him a star in a zone-based scheme. Bernard flashes closing speed and agility to reach passers from the blind side or up the middle before they can escape.
Senior draft analyst Charlie Campbell is in the process of mocking his entire NFL draft, and he predicts Chicago will select WR George Pickens of Georgia when they make their first selection on Day Two. Pickens is also 6'3″ but lacks the breakaway speed due to an ACL injury and shouldn't be considered a WR1. Before the injury, Pickens was considered among the most physically gifted receiving prospects. He is the ideal size and weight to dominate on the outside when healthy, and he's a savvy, natural pass-catcher with reliable hands and excellent focus.
Welcome back, George Pickens#CFB

— PFF College (@PFF_College) December 4, 2021
In fact, wide receivers should dominate the first two days of April's draft. Treylon Burks of Arkansas, Garrett Wilson and Chris Olave of Ohio State, Drake London of USC, Jameson Williams and John Metchie III of Alabama, Jahan Dotson of Penn State, and Pickens are all predicted to be among the top 40 picks. If you're quarterback watching, Kenny Pickett of Pittsburgh should be a top-three selection and could go No. 1 overall. Sam Howell (North Carolina) is also expected to be a top 10 pick, and Carson Strong (Nevada) may go in Round 1, too.
With 14 teams making the playoffs, the first 18 selections are set. The Wild Card round losers will own selections 19-24, the divisional round losers will select 25through 28 followed by the AFC and NFC championship game losers at 29 and 30. The Super Bowl winner gets the last pick of the first round, with the runner-up picking No. 31 overall.
As far as the Bears are concerned, Ryan Pace has performed solidly in the late rounds of the last two drafts, so even if he is promoted, expect him to have a big influence on Chicago's 2022 picks. It's also possible Pace, or whoever runs the draft in case of a front office overhaul, may trade down from Nos. 39 and/or 71 to accumulate extra picks this year and next.
Here are links to scouting reports of the possible Bears' selections mentioned above. Of course, things are likely to change dramatically in the next 3.5 months.