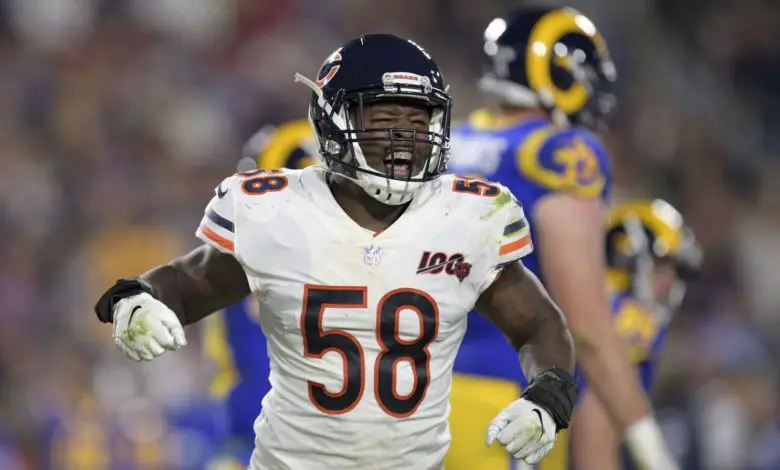 Camp Notes: Smith Requests Trade, Bears Lose Another Wide Receiver, O-Line Staring to Take Shape
The Bears are down another receiver, but as long as Darnell Mooney and Equanimeous St. Brown remain healthy enough to play every down all season, the team should be okay. I'm kidding, of course. Also of note, the chemistry between Luke Getsy and Justin Fields continues to grow with each practice. That said, a temperature check will reveal that the defense is away ahead of the offense right now. Oh yeah, Roquan Smith asked the Bears to trade him Tuesday morning. Here are your Wednesday morning Camp Notes.
The day started out with Smith taking to social media to formally request a trade. The fifth-year linebacker claims he is upset because he feels the organization hasn't been negotiating in good faith. Smith issued a statement via Ian Rapoport of NFL Media, noting that writing the words he'd requested a trade was "deeply painful."
"Unfortunately, the new front office regime doesn't value me here," Smith wrote. "They've refused to negotiate in good faith, every step of this journey has been 'take it or leave it.' The deal sent to me is one that would be bad for myself, and for the entire LB market if I signed it. I've been trying to get something done that's fair since April, but their focus has been on trying to take advantage of me."
There's little doubt that Smith's insistence to represent himself is slowing negotiations to a crawl. An agent acts as a filter so that counteroffers from the front office don't feel like personal attacks. Without that buffer, it's easy to see why the defensive standout is so frustrated and unnecessarily accusatory. That said, the organization may have another Leonard Floyd situation on its hands, and Poles should want to avoid that. Floyd left Chicago for the Rams and played a significant role in their 2021-22 NFL championship.
The holdout "hold in" who requested a trade but is still participating in non-practice events. This is why Smith needs an agent. https://t.co/Oen6Bvu7AR

— Michael Canter of Cubs Insider ✨ (@MEdwardCanter) August 9, 2022
The GM said he fully intends to extend Smith. Of course, that can't happen until the two sides agree on the numbers. "Right now, my intention [is] to sign Roquan to this team," Poles said. "We're going to take it day by day. At the end of the day we have to do what's best for this organization, but my intention is to make sure Smith is on this team."
Defensive coordinator Alan Williams said that he expects reserves Matthew Adams and Joe Thomas to step up in Smith's place until the star linebacker returns. Adams is prepared to fill the void. The 26-year-old backed up Shaquille Leonard at the WILL in Indianapolis and knows the scheme well enough to lessen the blow of Smith's possible departure.
If Chicago decides to trade Smith, teams looking for linebackers include the Broncos, Ravens, and Falcons. The Chargers would love to re-team Smith with Khalil Mack, so count Los Angeles as a potential destination. That said, trades this late into the offseason usually require some deft salary cap maneuvering, especially if the acquiring team meets the player's asking price. I doubt Poles would be looking to take on any salary offset, otherwise, he'd just sign Smith.
Rapaport believes the Bears could fetch a first-round pick minimally for Smith. He mentioned players like Tyreek Hill and Laremy Tunsil as non-quarterback comparisons. The Chiefs received a first, a second, plus two fourth and sixth-round draft selections for Hill. The Dolphins received two first-rounders and a second-round pick, along with a couple of players for Tunsil.
Chicago's injury-depleted receiving corps suffered another blow during Tuesday's Family Fest practice at Soldier Field. David Moore went down with what has been termed a "significant" leg injury, and the group is now down five of its top seven players. St. Brown, Tajae Sharpe, and Dazz Newsome will have to step up while the others are on the mend. UDFA Kevin Shaa has a solid chance to enter the rotation, too. "It's just next-man-up," St. Brown said. "It's football; injuries happen. You hate to see your fellow teammates go down, but in the middle of practice, the next person has to step up and fill the shoes of wherever we are missing guys at. You hate to see it and it happens every year, but yeah, people have to step up."
It's a little unnerving that the Bears have lost five receivers through four full-contact practices. Don't forget center Lucas Patrick is out until September, and rookie cornerback Kyler Gordon hasn't practiced since last week. Halas Hall is going to look like a M*A*S*H unit soon at this rate.
The Bears were also without tight end Cole Kmet at the end of practice. CHGO's Adam Hoge said he "noticed Kmet shake out his left arm/shoulder after a block earlier in practice. Looked to be in some pain, but tried to fight through it."
St. Brown made a couple of great catches Tuesday but the highlight of the day belonged to Mooney. His one-handed grab on a sideline route would be the talk of the NFL had it occurred in a regular season game.
JF1 to Money Moon! #BearDown pic.twitter.com/bUOM7mBGoX

— Da Bear Essentials Podcast ™ (@DaBearsPod) August 9, 2022
The chemistry between Fields and Mooney will be a key story all season long. But Fields and offensive coordinator Luke Getsy have a little mutual admiration, too. "I think Luke's a great mastermind," Fields said. "He's a great offensive coach. He's probably the best quarterback coach I've had in my life."
Teven Jenkins continued his ramp-up period after missing nearly two weeks of practices. The 24-year-old saw action at second-team right tackle on Tuesday during the first team period. He did not see action in the final two team sessions of practice. According to several reports, Jenkins had a nice block on an outside zone run to the right, pushing the defender back several yards. He was also beaten by Sam Kamara off the edge a few plays later.
The Bears held their first practice of the 2022-23 season at Soldier Field for their annual Family Fest.
Five Things
It doesn't appear that Poles or Matt Eberflus are too concerned to be down so many wide receivers. Monday was a day off, and the front office didn't work out a single pass-catcher at Halas Hall. Granted that was before the Moore injury, but as talent evaluators, perhaps the GM and his head coach believe in the team's depth options. Like Shaa, Nsimba Webster, Isaiah Coulter, and Chris Finke will see an increase in work. Velus Jones Jr. and Dante Pettis should return soon. Byron Pringle is out until next month, and N'Keal Harry will be sidelined a little longer with a high ankle sprain. If the Bears' decision makers like what they have seen from the wide receiver group, they may only bring in a player or two just to help them get through practices and give the other wideouts a breather.
I mentioned it in Monday's Camp Notes but the offensive line is really coming together. In fact, the unit is starting to be one of the better stories of the summer. Braxton Jones (LT), Cody Whitehair (LG), Sam Mustipher (C), Michael Schofield (RG), and Riley Reiff (RT) all took first-team reps during team drills Tuesday. At this point, it's probably safe to say Jones has the inside track to start at left tackle, The rookie from Southern University has impressed the Bears staff, but league analysts have noticed, too. Some are predicting Jones will be all-rookie with an outside chance of garnering Pro Bowl votes.
Most analysts are predicting big seasons for top rookies Gordon and Jaquan Brisker, but the success of players at the back end of the draft has been a pleasant surprise. Ryan Pace made a lot of poor top-of-draft decisions but did well in later rounds. If Poles has success at the top and bottom of this draft, that bodes well for the future of this organization.
He's remained a little under the radar, but DT Justin Jones has been having a great camp. Kevin Fishbain of The Athletic wrote that Jones is actually thriving in Chicago's 4-3 defense ($). That should be no big surprise. Eberflus carries a reputation from Indianapolis for making stars out of unheralded interior linemen. Jones could/should be the next in line. Oddly enough, he was preparing to visit the Colts as a free agent when the Bears contacted him. Jones signed a two-year deal with Chicago the next day. Lovie Smith had similar success with those types of players during his tenure with the Bears and Israel Idonije is a great example.
Don't believe the rumors that Smith is seeking a deal worth  $25 million a year. He may have asked for that – heck he's negotiating for himself, so he can ask for anything – but a five-year extension worth $100 million should get the linebacker back on the field. That would exceed the contract Leonard signed. Poles may not see it that way, though. Leonard has 17 forced fumbles in four years. In that same time frame, Smith has one. Among Smith's frustrations were the proposed de-escalators in the contract that none of the 94 non-quarterback players who make $15 million or more annually have in their deals. Eliminating or modifying those de-escalators appears to be the fastest path to an amenable deal.
Camp Quotes
"I've never been this free in my four years playing. I have an opportunity to go out here and make a lot of plays, man. I'm excited about that. It's going to be pretty scary this season for a lot of teams because it allows me to show out my get-off, my power, my strength, and my speed off the ball. That allows me to get the one-on-one pass-rush opportunities. I'm not really covering anybody anymore. A lot of guys are covering me nowadays. Things have changed." – J. Jones
"I wanted to be a Bear for my entire career, help this team bring a Super Bowl back to our city. However, they have left me no choice [but] to request a trade that allows me to play for an organization that truly values what I bring to the table." – Smith
"In terms of our philosophy in the front office, I've always believed and always will that we take care of our homegrown talent. We pay them, we take care of them and we take everyone for what they've done and what they can become in the future. And with [the Smith] situation, we've [shown] respect from a very early timeframe, and with that said, there are record-setting pieces of this contract that I thought [would] show him the respect that he deserves, and obviously, that hasn't been the case. My job is to build a roster that's going to sustain success for a long period of time. At the end of the day, we've got to do what's best for the Chicago Bears." – Poles