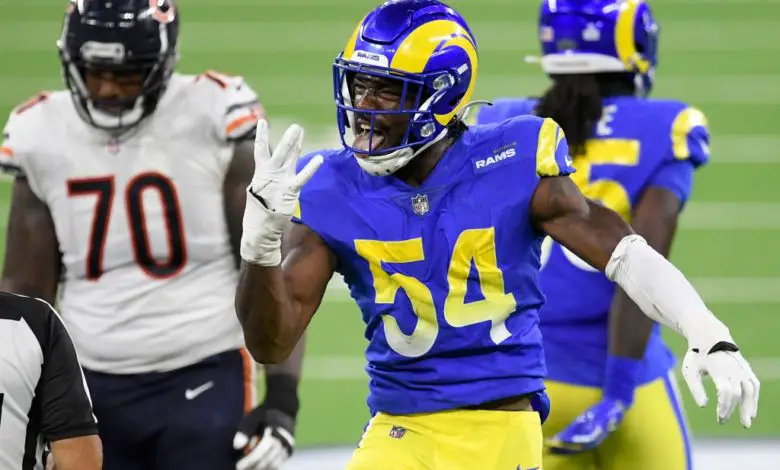 The Bears Risk Repeating Leonard Floyd Mistake With Roquan Smith
Linebacker Roquan Smith has requested a trade from the Bears after negotiations over a new contract stalled this summer. Smith, the eighth selection in the 2018 draft, is in the fifth and final year of his rookie deal and is fresh off a second team All-Pro season. This situation unavoidably leads to comparisons with another Georgia linebacker Chicago drafted in the first round.
Leonard Floyd was drafted ninth overall in 2016 after the Bears traded up two picks to take him. Floyd showed flashes of his immense talent but inconsistency and injuries limited his production. Chicago decided to give up on him after the 2019 season, releasing him instead of exercising his fifth-year option.
It is safe to say the Bears regret that move after Floyd signed with the Los Angeles Rams in 2020 immediately becoming their starting outside linebacker. He had a career-high 10.5 sacks in his first year in LA and signed a four-year contract extension in 2021 before racking up 9.5 more during the Rams Super Bowl run.
The comparison of course is not apples to apples, Roquan Smith is an inside linebacker not a pass rusher. He also has played much better in a Bears uniform than Floyd ever did. Smith has put up numbers that are on par with Lavonte David and Brian Urlacher through their first four seasons.
Exercising Floyd's fifth-year option would have cost Chicago less than 10 million dollars. Making Smith the highest-paid inside linebacker wouldn't require a huge increase from their current offer. Repeating a similar mistake with a much better performing player would really be a baffling move.
Stepping up to pay Roquan Smith what he deserves would be a great sign that the new front office under GM Ryan Poles is actually different than the mess that came before. Otherwise, it may just be another future regret at Halas Hall.