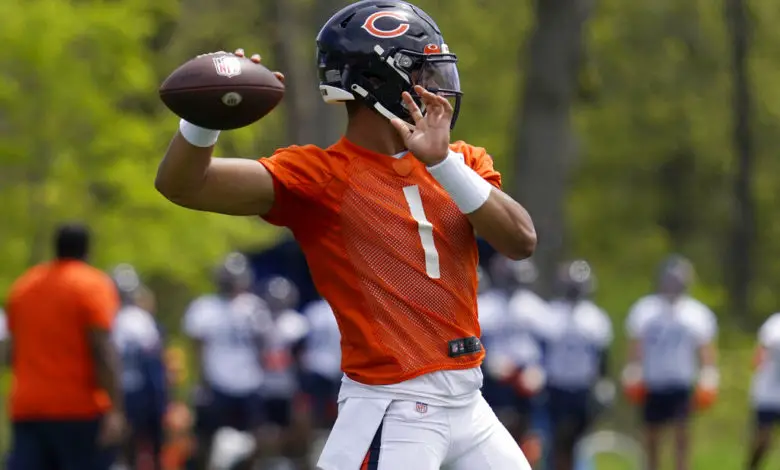 Getsy-Fields Chemistry Growing With Each Practice
Remember last season when Bears head coach Matt Nagy and offensive coordinator Bill Lazor repeatedly took turns running the offense? Rest assured, there will be no volleying of responsibilities this season. When Matt Eberflus hired Luke Gesty to run his offense, he removed any potential ambiguity. Getsy's calling the shots, and he's building an offense tailored to the strengths of Justin Fields. Two weeks into camp, the Getsy-Fields chemistry is growing with each practice.
Chicago's offense remains an undeniable work in progress, but one thing is clear, and that's that Fields is picking things up quickly. Eberflus noticed it over the weekend.
"[Fields] operated the offense [well]," the head coach said. "The ball was out on time. Justin is growing every single day. What's great about a second-year quarterback in learning a new offense is you watch him grow, and you see him mature in the position, and man, that's good to see. And the answers that he has in the meetings, with understanding what he's doing when he's delivering the ball. That's exciting. It really is."
The key takeaway from that endorsement is that the ball is coming out on time. Fields struggled during the first week of practices because he was holding the ball too long. The coaches have been working with the second-year quarterback on timing and footwork. Fields is making the necessary adjustmemts. His on-field chemistry with Darnell Mooney certainly helps, too.
JF1 to Money Moon! #BearDown pic.twitter.com/bUOM7mBGoX

— Da Bear Essentials Podcast ™ (@DaBearsPod) August 9, 2022
NFL Insider Jordan Schultz raved about the Getsy-Fields connection on Tuesday. Per Schultz, Fields has "blown away" the staff thus far, according to one team source he spoke with.
"His mechanics have improved," he tweeted. "He's in great shape, he works at it and he really cares. Luke [Getsy] loves him."
Getsy continues to implement the play-action game to let his quarterback extend plays with his legs. Fields shines once he gets outside the pocket, where his offensive coordinator envisions him as a mobile rocket launcher. That's easily how Getsy gets the best out of Fields.
This is no one-sided love affair, however. Fields believes the offense fits him perfectly and isn't shy when returning praise to his new mentor.
"I think Luke's [Getsy] a great mastermind. He's a great offensive coach. He's probably the best quarterback coach I've had in my life."
How well is Chicago's offense progressing? If anyone has a feel for that, it's Equanimeous St. Brown, who played under Getsy last year with the Packers.
"I think we are making big strides," St. Brown said. "OTA's helped us a lot for us to get the offense in, and now we are in camp with the pads on. And, I think these last few practices we've made big strides as an offense, 11 players on the field working as one. I think we will be ready for the first game."
Still, there's work to be done. Fields did throw several balls into traffic Tuesday, and he almost had passes picked off by linebacker Matthew Adams and cornerback Jaylon Johnson. Other than that, the coaching staff and Fields' teammates seem happy with the quarterback's progress. Fields bought into Getsy's philosophy from day one and has made several noticeable improvements since last season. His delivery is quicker and much more fluid. He looks confident in the pocket, too. That indicates that Fields is mastering the new offense.
If you've been following the video from Halas Hall, you'll also notice that the game is beginning to slow down for Fields. He rarely dances around in the pocket, knows precisely when he needs to roll out, and has a genuine feel for where his receivers are and where they are going. He's missed a few open receivers at times, but he has almost always come back stronger after doing so. The second-year quarterback embraces the challenges that come with being a potential franchise quarterback and tunes out the expectations which surround him.
"I think our fans are very supportive of us and they want to see us win just as much as we do," Fields said in an interview with NBC Sports Peter King. "But, I think for me personally, there are no expectations that anybody else has that [are] higher than mine."
It's only been a couple of weeks, but Getsy has already brought out the best in Fields.