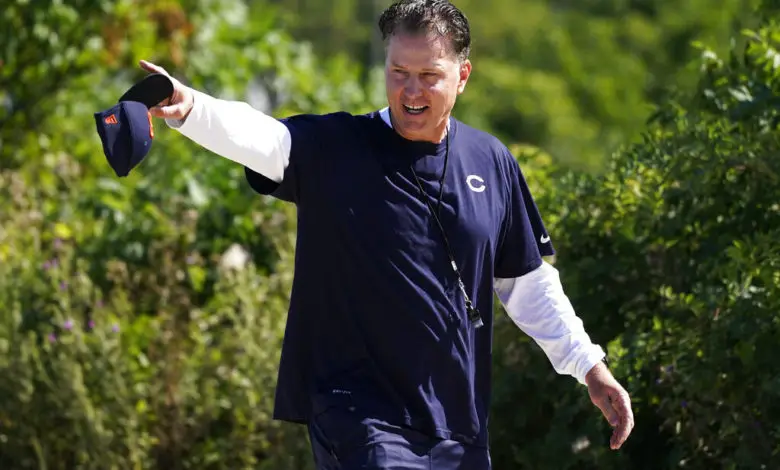 Camp Notes: Injuries Taking Toll on Roster, Fields and Sharpe Step Up, Jenkins Returns to Practice
The Bears are down a couple of wide receivers, Teven Jenkins is practicing with the team, and head coach Matt Eberflus is all about stamina. This morning's edition of Camp Notes has you covered.
NFL Network's Ian Rapoport reported that wide receiver N'keal Harry suffered a high ankle sprain. Further confirmation and testing will be done, but the injury should leave him sidelined for roughly six weeks. "I don't know much," Eberflus said. "I just saw him come down. I saw the play and I don't really know much from there. We're obviously going to do the evaluation and then once I get that, we can get it back to you. And if it's a longer situation, we'll let you know what it is. If it's day-by-day, we'll say that, too."
Per Eberflus, Pringle's debut will be delayed. The fourth-year receiver out of Kansas State suffered a quad injury that will cause him to "be out for some time." Pringle's only history with injuries in the NFL came two years ago when he spent three weeks on the IR with an ankle injury.
Additionally, Velus Jones Jr. and Dante Pettis are day-to-day with minor, undisclosed injuries. With four receivers sitting out, Chicago's wide receiver depth has been challenged.
Eberflus praised Tajae Sharpe for stepping up in the absence of his wide receiver teammates. "That's what it's all about, right? Guys go down, guys step up and Tajae did a nice job. We're excited to have him back and he looks good in the drills."
Justin Fields was efficient on Saturday despite missing four receivers and three starting linemen. "I thought he was good today," head coach Matt Eberflus said after practice. "[Fields] operated the offense [well]. The ball was out on time. Justin is growing every single day. What's great about a second-year quarterback in learning a new offense is you watch him grow, and you see him mature in the position, and man, that's good to see. And the answers that he has in the meetings, with understanding what he's doing when he's delivering the ball. That's exciting. It really is."
NFL Insider Peter King is impressed with Fields. He also said the second-year quarterback is a work in progress, and that "he's going to need to develop timing and rhythm with his receivers, within the scheme."
King is also a big believer in Eberflus and new GM Ryan Poles.
Inside Eberflus' office sits the names of players whose jerseys have been retired by the Bears along with a particular area that currently is unoccupied. According to King, it is reserved for two George Halas trophies, symbolic of the NFC Champions, and two Super Bowl trophies.
Eberflus is proving to be a man of his word. He said he was going to push his players through camp and so far, he's kept his promise. "If you want to be a good football team, then you have to have mental and physical stamina," Eberflus said. "And to build that callous, to build that stamina, you have to go through hard, and you can't do it by going through soft. That's just what our practices do. So the tempo which we practice, how we execute with speed, and what we're asking in the standards that we're asking our players to do, builds that mental and physical stamina."
Jenkins returned to practice on a limited basis Saturday. The second-year lineman participated solely in individual drills after sitting out the previous seven workouts.
He also denied that he clashed with the coaching staff while he was sidelined. Jenkins said he's been in the training room for the last nine days and that his prolonged absence was for "the betterment of my health."
The tackle said he believes in the organization and expects to be with the team during the regular season. That might mean learning a new position. He spent some time at guard on the right side on Sunday. "For me myself, I'm a loyal type of guy," Jenkins said. "They drafted me so I'm going to stay with the Chicago Bears until whenever it is."
Before stretching, Teven Jenkins lined up with the 3rd team at RG. In team, he was at RT with the 3rd unit. He made a nice block on the edge vs the DB. No. 21 Evans scored a TD.

He also was at RT with this group: LT Borom, LG Mustipher, C Kramer, RG Schofield. Fields was the QB.

— Nicholas Moreano (@NicholasMoreano) August 7, 2022
Michael Schofield would be the starting right guard if the season started today, and he and his family are thrilled to be in Chicago. Schofield's hometown team is the Bears, as he grew up in Orland Park, IL.
The offensive line is really starting to take shape. Rookie Braxton Jones has settled in at left tackle, and Cody Whitehair is a lock at left guard. Sam Mustipher and Doug Kramer are filling in at center. Schofield is the favorite at right guard, and Riley Reiff has been starting at right tackle with Larry Borom rotating with him. Lucas Patrick remains out with a hand injury.
Kramer posted Chapter Two of his summer camp diary on the Bears' flagship website.
The veterans are buying Chicago's culture change and the workload that comes with it. Alan Williams is impressed. "The guys have been great. I was expecting some pushback, some kickback. 'Hey coach, my legs are dead, we shouldn't beー Hey coach, this is what we did last year. Hey coach, this is what I used to do to be successful.' There hasn't been any of that. The guys have been outstanding in terms of how they're working.
Five Things
If Jenkins gets his mind right he could be a surprise star. No one has ever questioned his ability or physicality, but questions about maturity now follow him everywhere. Though he's saying all the right things and doing everything the coaches ask, Jenkins faces an uphill battle, but perhaps this was a way for the staff to test his resolve. Given Chicago's lack of depth on the line, it's doubtful the front office is aggressively shopping him. Perhaps acknowledging they've fielded offers while pushing Jenkins to get back on the field is the organization's way of lighting his fire.
Eberflus has made it clear that he wants Eddie Jackson to forget about the past two seasons. The two-time Pro Bowler is coming off of two disappointing seasons where he didn't produce up to his expectations. Fans would say that's putting it mildly. Jackson has eschewed personal goals this year, in favor of a more team-oriented approach. He wants to be the best version of himself so that he is making the biggest impact on the defense as a whole. As a result, he is serving as a mentor of sorts to rookie defensive backs Kyler Gordon and Jaquan Brisker. Jackson is reportedly happy with the way things are playing out, especially because the addition of Brisker pushes Jackson back to free safety. He's been historically successful in that role. "Ready for the season to start," Jackson said. "Still got a few things to clean up, but on our end, I feel like we've been doing a lot of good things, especially on the defensive side of the ball, so I'm just happy and excited."
Rookie Trestan Ebner has a real shot at making the final roster. The running back has been one of Chicago's standout performers through two weeks of practices. Ebner has impressed the coaching staff and his teammates with his speed and playmaking prowess. Further, when it comes to catching the ball out of the backfield, Ebner has excelled.
Injuries are starting to take a toll on the roster. Also not practicing Sunday: Defensive end Al-Quadin Muhammad, defensive tackle Angelo Blackson, offensive lineman Julie'n Davenport, tight end James O' Shaughnessy, linebacker Noah Dawkins, and Patrick.
Aaron Rodgers is a master of passive-aggressiveness. The Green Bay quarterback claims he grew up a fan of Chicago sports. That said, his praise feels a little insincere, especially since he preceded it by saying he loves to beat the Bears every time he faces them. "It's a great sports town, and Chicago is Chicago. You got 100 years of Bears football. I grew up a Bulls fan. I grew up watching Chicago sports."
Camp Quotes
"I would say that we're ramping [Jenkins] up. Today, he did individual [work], and tomorrow we'll ramp it up. Typically, the way the model works is that a guy's coming off of whatever the issue is, he now goes into individual, and then we [increase]his reps. And then it's up to a full period, then two periods, then three periods, then kind of work from there." – Eberflus
"Just one thing, mainly, that I was clashing with coaches. That was totally not true, and I just wanted to tell everybody that you don't have to believe everything that somebody says. It's just how it is." – Jenkins
"One of the things that Poles learned so well early on in Kansas City is that there are no shortcuts to being great. When I say 'there are no shortcuts to be great,'ー look he obviously chafes at calling this a rebuilding year, but I don't care what you call it, the Bears aren't gonna win much this year, at least I don't think…" – King