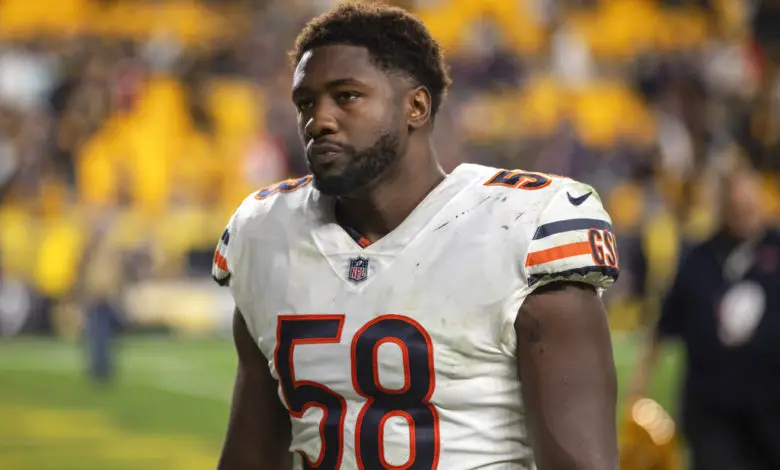 Roquan Smith Requests Trade from Bears
The contract dispute between the Bears and linebacker Roquan Smith reached new heights on Tuesday. Smith announced this morning that he has requested a trade from Chicago.
The linebacker issued a statement, via Ian Rapoport of NFL Media, noting that writing the words he'd requested a trade was "deeply painful."
"Unfortunately, the new front office regime doesn't value me here," Smith wrote. "They've refused to negotiate in good faith, every step of this journey has been 'take it or leave it.' The deal sent to me is one that would be bad for myself, and for the entire LB market if I signed it. I've been trying to get something done that's fair since April, but their focus has been on trying to take advantage of me.
"I wanted to be a Bear for my entire career, help this team bring a Super Bowl back to our city. However, they have left me no choice [but] to request a trade that allows me to play for an organization that truly values what I bring to the table."
How quickly things change. On Sunday, Roquan Smith came out to practice and walked by GM Ryan Poles. There appeared to be a cordial hello. Poles patted him on the back.

Now hours before Family Fest, Smith releases a statement requesting a trade.

— Adam Jahns (@adamjahns) August 9, 2022
#Bears All-Pro LB Roquan Smith has requested a trade. pic.twitter.com/x4vmOMhROt

— Ian Rapoport (@RapSheet) August 9, 2022
Chicago's offer is reportedly heavily backloaded. It also wouldn't make him the highest-paid NFL linebacker in actual salary. Smith was also offended by proposed de-escalators that were added to the proposal. It was reported earlier this summer that the four-year veteran is seeking $20 million or more in annual compensation. He's in the final year of his rookie contract, one he signed in 2018 after holding out for a significant part of training camp.
The linebacker turned 25 in April, is a four-year starter in the NFL, and was named as second-team AP All-Pro in 2021. He's going to be a hot commodity who could make any defense better. Expect a number of teams to express interest if the front office decides to grant the star's wishes. Smith is the fourth player since the 2000 season with at least 500 tackles, 10 sacks, and 5 interceptions in his first four seasons. Shaquille Leonard,  Lavonte David, and Hall of Famer Brian Urlacher are the others.
Smith is currently on the physically unable to perform list. But he was not planning to practice anyway while in the contract dispute. He acknowledged he could recuse his request if the team will negotiate in better faith. Smith is considered a "hold in" until he takes the practice field.
"I haven't had the chance to talk to the McCaskey family, and maybe they can salvage this," he wrote. "But as of right now I don't see a path back to the organization I truly love."
Smith is headed into the final year of the rookie contract and is scheduled to make $9.75 million in 2022. The Bears picked up his fifth-year option prior to the 2021 season. For comparison purposes, Leonard is the highest-paid off-the-ball linebacker in the NFL (per overthecap.com). His contract is worth an annual average of $19.7 million with $33 million fully guaranteed. Leonard signed his extension in August 2021.
In April, Smith expressed confidence that he would remain in Chicago. He was a full participant during voluntary workouts and mandatory minicamp. The linebacker said then that he wanted to stay with the Bears for his entire career. He is also working without an agent and is being aided by a family member. That makes negotiations a little tougher for both parties.