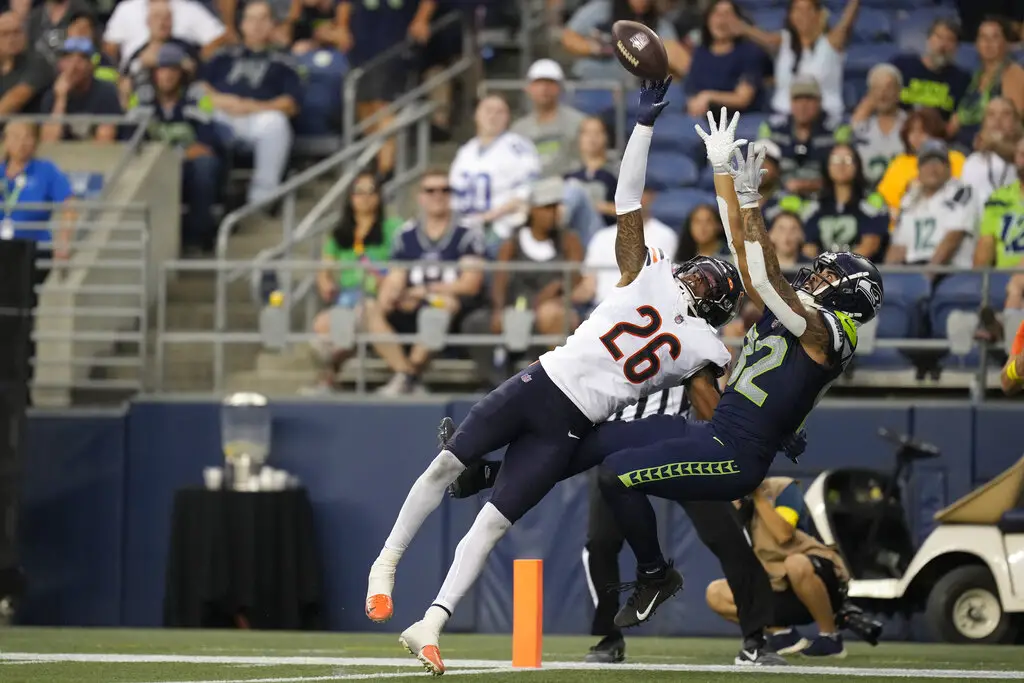 Camp Notes: Preseason Game Two Recap and Roquan Smith's Return
The Bears got their second win of the preseason, and it wasn't even close. Chicago won in all three facets of the game, and that leaves a lot to look forward to. The first-team offense scored on the first drive and the first-team defense started the game with two 3-and-outs. The highly anticipated return of Roquan Smith finally came to fruition on Saturday. The fifth-year linebacker will be a very important part of the team's return to a 4-3 defense. All that and more in today's edition of Camp Notes. 
The Bears beat the Seahawks 27-11 on Thursday. The offense moved the ball a lot better and flashed better efficiency. Chicago continued their run of clean, aggressive football, winning the penalty battle while taking just three flags.

 

Justin Fields looked good and showed growing chemistry with tight end Cole Kmet, completing two of three targets for 31 yards and two first downs. The pair lit it up in Saturday's red zone drills, too.
The offensive line continues to struggle Thursday night. On the first play of the game, Braxton Jones got beat badly. Luke Getsy and Matt Eberflus gave the rookie tackle some reinforcement from tight ends for the remainder of the opening drive. Unfortunately, Sam Mustipher and Larry Borom weren't much better.

 

Teven Jenkins, on my account, didn't make any mistakes. He looked really good at the right guard, not allowing quarterback pressure while getting to the second level in the run game. He looked genuinely explosive playing through the whistle. Eberflus said he and his coaching staff will "play around with kicking him out to tackle," but they like him inside.

 

Trevis Gipson was not on the stat sheet again. Battling a rookie thi

rd

-round tackle should have resulted in better play. It may be time to start worrying about the third-year edge rusher. Gipson has big shoes to fill after Khalil Mack was traded to the Chargers. He needs to be better, especially against inferior competition.

 

Velus Jones Jr. and Kyler Gordon made their Bears debuts. Gordon was fairly quiet but kept his coverage tight enough to limit his action to two passes defended. Jones, on the other hand, was super impactful on special teams, and was able to catch one of two targets for four yards. Jones allows the Bears to alter their receiving game with multiple sets and options.
The rookie from Tennessee also returned a kickoff for 31 yards and had an electric 48-yard punt return. It looked like Joe Thomas impeded his progress, otherwise, Jones had the opportunity to potentially go all the way.

 

The success of Jones is good to see because Dazz Newsome continues to disappoint. He fumbled another ball that led to Chicago's only turnover of the game. He also dropped another pass, and though it was thrown a bit behind him, Newsome did get his hands on the ball.

 

Coach Eberflus mentioned in his postgame presser that he will use the final preseason game to go through a regular season practice schedule. There are three practices between now and the August 27 tilt with the Browns. If Chicago doesn't practice Monday after the Cleveland game, the game will be all the staff has left to evaluate players before cutting down to the 53-man.

They've probably made up their mind on most of the roster, however, injuries may have changed their way of thinking.  

Smith has officially ended his "hold in" and practiced on Saturday. He is committed to finishing out his contract. There is no official word on whether or not he's open to coming back to the Bears after this season. The linebacker requested a trade a few weeks ago. The request was denied by GM Ryan Poles according to Smith.
The Bears ran three separate lines on Saturday. That's a great way to evaluate players with Tuesday's cuts looming. Jenkins, Jones, and Borom practiced with the starters. Riley Reiff moved back to the left tackle and ran with the second

unit.

 

Jaquan Brisker is out with a hand injury and there is no timetable for his return. Eberflus is hopeful that he'll be ready for the season opener. The rookie safety has been a bright spot for the Bears this summer and needs as many reps as possible to continue his growth.

 

Trestan Ebner was held out of practice after he came up a little limp in Thursday's game, but he could be the backup to David Montgomery in the opener. Khalil Herbert was removed from the practice field Saturday with an undisclosed injury. Ebner has looked good and showed enough to earn confidence as a potential number two. 
Five Things 
The offensive line is still largely a work in progress. After more than two months of practices it feels like Eberflus is still evaluating the line. Moving Jenkins to guard is a big help, and when Lucas Patrick returns from his injury the entire interior of the line should be in better shape. The tackles are just too inexperienced and lack the pass protection technique needed at the NFL level. The Bears need Reiff to get healthy and shake off some of the rust. Still, the veteran may not be a true solution. Reiff was part of a week Bengals O-line in Cincinnati. Jones needs more reps on the left side. He's still a little too green, but he does get stronger each week. It may take a good half of a season before the rookie reaches his potential.
Fields has made a lot of improvements. The second-year QB has become more accurate and is making quicker decisions. Perhaps it's the lack of protection, but typically Fields gets the ball to the first or second read, and the pass is usually on target. He

 is going to be strong if the offensive line can give him enough time. Watch for Fields to be the Bears' first 4,000-yard passer, if not this year, then soon.

Newsome's time in Chicago is going to come to an end. Dante Pettis and Tajae Sharpe have the receiving talent to add depth behind Equanimeous St. Brown, Byron Pringle, and Darnell Mooney. Newsome struggles to hold on to the football, and it's been obvious through two exhibition games. Expect

Jones to handle return duties during the regular season

.

Smith's return shows that player and team can finally move forward with preparations for the Week 1 contest with the 49ers. Smith is expected to play the weak side. With Smith's return, it's likely that Matthew Adams, Jack Sanborn, and Thomas battle to start on the strong side. Sanborn led the team in tackles and solo tackles in both exhibition games. 

Herbert's injury is a big blow. With Montgomery limited by an injury and with Ebner's injuries, it's hard to have confidence in the health of the Bears' running game. Montgomery is making good progress, but the undisclosed status of Herbert is concerning.
Camp Quotes 
"We're a work in progress. We have a lot to work on, unit to unit, position to position, we have a lot of stuff to work on. But we feel good about where we are; playing clean football right now. We're playing aggressively. We're doing some good things too. I'd say we're right where we expected to be at this point." – Eberflus

 

"There are a few things to clean up, but yeah, we're ready. The way we practice, it's at high speed and high tempo and we're flying around. So, it's kind of like a game."  – Eddie Jackson.

 

"I'm just shifting my focus to the season and more so, just focused on being the best teammate I can be to those guys in the locker room. It's the last year of my deal, and hey, I'm just going to take it, run with it, bet on myself like I've always done."  – Smith.

 

"Cole [Kmet] is a great tight end. He can do pretty much all. He can block, he's a great route runner, and he's got great hands. He definitely brings another weapon to our offense for sure. So, I'm just glad to see him out there today." – Fields