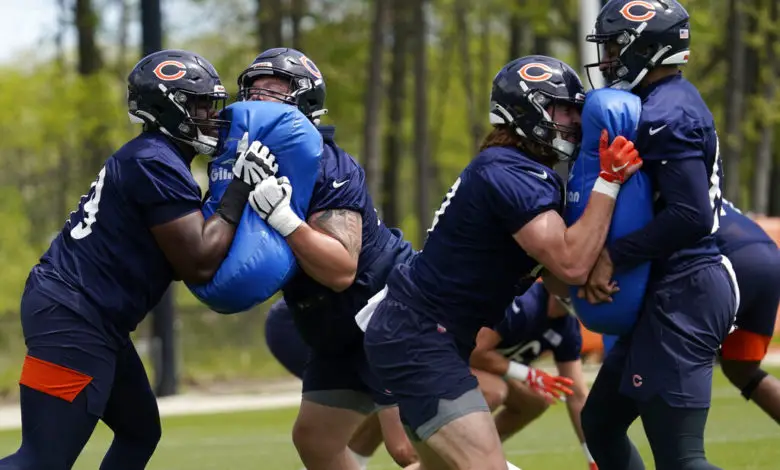 Coach Eberflus Still Evaluating Offensive Line
The Bears' offensive line has been under the microscope since GM Ryan Poles was hired in February to run the team. Poles is a former offensive lineman who understands that championships are won in the trenches and almost immediately indicated that he wants to see Chicago get leaner, faster, and more violent in its blocking schemes. New head coach Matt Eberflus is on board with that plan, and started minicamp on Tuesday still evaluating his offensive line.
"We're going to change it up a little bit just in terms of the style," the rookie GM said at the March scouting combine. "A lot of those guys, and the message has been clear — we've got to change body types a little bit. We've got to get lighter, we've got to get quicker.
"Through that, I think there's some young talent that just needs to be pressed," he added. "That's part of our job is to create competition and bring the best out of them. We'll do that and we'll see if the cream rises to the top. Especially with the O-line play a lot of times — and I don't want to speak for the coaches — but it's gonna end up being the best five to roll out there."
One of the guys who took those words to task was Teven Jenkins. The second-year tackle spent the offseason doing Pilates and cutting out carbs to become more athletic. Poles was pleased with the transformation, but on Tuesday, Jenkins was once again running with the twos. Perhaps Coach Eberflus is eying a position switch for the second-year offensive lineman.
"All combinations are open." — Bears coach Matt Eberflus on playing Larry Borom or Teven Jenkins at RG.

That said, we haven't seen either play guard in OTAs or today during the first day of minicamp.

— Adam Jahns (@adamjahns) June 14, 2022
On Tuesday, their first-unit offensive line consisted of rookie left tackle Braxton Jones, right tackle Larry Borom, and interior linemen Sam Mustipher, Lucas Patrick, and Cody Whitehair.
"We're going to finish off the minicamp with this alignment," Eberflus said. "And then we'll decide, 'Hey, we like this alignment, that alignment, or don't like either one, so let's go with a new one.' We're just assessing guys' talents, assessing their skill level, and going forward from there.
"We're evaluating each day and we're going to find the best five for us going into the first game. That's a buildup process, and we're trying to find the combinations right now. We'd like to find them sooner than later, and when we do that we'll start repping it that way and do what's best for the Bears."
Moving Jenkins to guard might not be a bad thing. Mustipher is only running with the ones by default, and his competition consists of Dakota Dozier, who was carted off the field Tuesday, and Willie Wright, who has yet to take an NFL snap since signing as a UDFA with the Browns in 2019. If Jenkins can't beat out any of those three, he's probably undeserving of a spot on Chicago's 53-man roster.
Then again, it might just be a way of lighting a fire beneath Jenkins, and honestly, it's tough to draw any conclusions until the players put their pads on. Eberflus seems to value competition a great deal and using his offensive linemen as chess pieces should bring out the best in each. The best five will start regardless of position, according to Eberflus.
That also means the tinkering is going to continue, and the players are going to have to get used to playing multiple positions in an entirely new offense. You don't have to think like a coach to understand that versatility will play a big part in who makes the team and who doesn't, especially in a group that consists of more rookies than veterans. Expect Jenkins to step up when given the chance, but don't sleep on rookies Jones, Zachary Thomas, or Ja'Tyre Carter either.