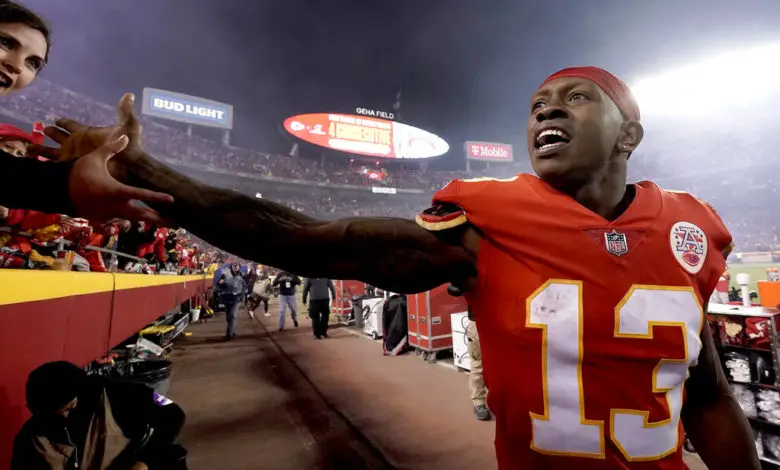 Bears Sign Depth Wideout Byron Pringle
It's deja vu all over again, or at least it seems that way. GM Ryan Poles wasn't kidding around when he said he likes to shop the secondary market of free agency, and he proved it by announcing earlier this evening that the Bears have signed depth wideout Byron Pringle, his second addition to the team's wide receiver room. Poles added former Packers receiver Equanimeous St. Brown earlier Thursday evening.
#Bears newest WR Byron Pringle 🐻 pic.twitter.com/w5DQhB3F5D

— Bears Nation (@BearsNationCHI) March 18, 2022
Both receivers were depth victims of their previous teams. St. Brown was stuck behind Davante Adams, Marquez Valdes-Scantling, and Allen Lazard in Green Bay. In Kansas City, Pringle saw few targets from Patrick Mahomes due to the presence of Tyreek Hill and tight end Travis Kelce, though the Bears' newest addition did lead the Chiefs with 13.5 yards-per-catch.
Pringle joins the Bears with somewhat of a checkered past. As a teen, he served four years of probation and 100 hours of community service in Florida for burglary, aggravated assault with a deadly weapon, and grand theft. After fulfilling his requirements, Pringle signed with Youngstown State in 2012, but he was charged with robbery and lost his chance to play there. He eventually earned an opportunity at Butler Community College, stayed on the right side of the law, and then received a scholarship offer from Kansas State with the stipulation that any criminal behavior would instantly void the deal.
The Chiefs signed Pringle as a 24-year-old undrafted free agent in 2019. Last season, the 6'2″ 205-pound receiver caught 42 of 57 targets for 568 yards and five touchdowns. If Poles, who knows Pringle from his time with the Chiefs, believes the fourth-year wide receiver has matured sufficiently, his past should be nothing to worry about.
Pringle is a smooth receiver who plays on the left and right sides of the formation. His short-area quickness is sudden and he uses his feet and hands well to release from the line of scrimmage per Matt Waldman of the Rookie Scouting Profile in his 2019 rookie year analysis of Chicago's newest receiver.
"In addition to a good rocker step, rip, chop, and swipe, Pringle uses an effective variation of three- and four-step moves to release from the line," Waldman wrote. "He'll cut the move short halfway through to freeze defenders and then continue with a second flurry of the footwork. He'll also use good arm drumming as a layer of distraction to his separation techniques.
"Pringle uses his eyes to sell opponents on the thought he's working deep. It helps that he maintains straight stems and has deep speed. He's especially adept at using head fakes—sometimes multiple fakes on the same route—to turn opponents around and earn [deep] separation."
The three-year veteran will likely see some work on special teams and is considered a threat on kickoff and punt returns thanks to a quick-twitch burst he utilizes in tight spaces.
Though the depth signings are nice, Poles still needs to find a true WR1, and that will probably come in this year's draft. The newly-minted executive is reportedly enamored with Christian Watson of South Dakota State, and he should be available when the Bears pick at No. 39. It's also possible that Chicago may select two wideouts in their first three picks, having added the No. 48 overall selection from the Chargers in the Kahlil Mack trade.
For now, the Bears receiver room has doubled in size as St. Brown and Pringle join Darnell Mooney and Dazz Newsome. Like the St. Brown signing, Pringle will probably be a depth option at best, though he adds experience and special teams intrigue, and could help Poles and offensive coordinator Luke Getsy weaponize second-year quarterback Justin Fields.