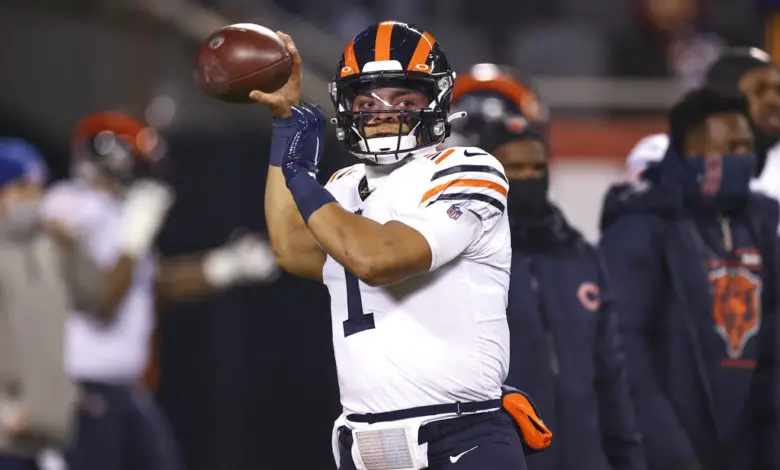 Bears Ready to Sink or Swim With Justin Fields
Imagine being a rookie quarterback coming off of a mediocre year on a less than mediocre team, and all of the sudden the owners completely clean house. Then, they hire a new general manager who believes in you so much he wants to build an entire organization around you. After that, said GM hires a head coach willing to buy into his vision. The head coach then poaches an offensive coordinator from the team's biggest rival while attempting to sign Bill Callahan, one of the game's best offensive line coaches. If I'm Justin Fields, I'm feeling the heat. The Bears are ready to sink or swim with their young quarterback.
To be sure, it's going to go much deeper. New GM Ryan Poles is going to look at the current roster and load up on weapons designed to maximize his quarterback's abilities. Expect the Bears to go hunting for wide receivers and offensive linemen in free agency and the draft. That seems kind of crazy when a team hires a defensive-minded head coach, but there is no doubt the heavy lifting, at least this offseason, will be on the offensive side.
Of course, what likely makes or breaks the Matt Eberflus era of the Bears is his ability to assemble an offensive staff that brings the best out of franchise quarterback Justin Fields and creates strong offensive production for the team. That's been a decades-long Bears' problem. pic.twitter.com/6Ob3TYOI45

— Larry Hawley (@HawleySports) January 27, 2022
We are seeing something unfold at Halas Hall that none of us really expected. The McCaskeys are giving every indication that they want a winning franchise. They did that by hiring a former offensive lineman to call the shots and letting him handpick his executive staff and coaches. By stealing Luke Getsy from the Packers, new head coach Matt Eberflus is telling Green Bay that he's taking back the division after a couple of decades of the Bears being NFC North patsies.
Sure, George McCaskey could have stayed on the same course Chicago has navigated since 1992. He could have hired Jim Harbaugh and then tried to find a general manager willing to work with him. As an admitted fanboy, he could be excused for making a fanboy hire just to appease a ticket base that constantly clings to long-gone glory days. Not that Harbaugh ever really had any of those in Chicago.
He also could have left the bulk of the decision-making to the way-in-over-his-head Ted Phillips, but Mccaskey heard the grumblings. He also listened to the analysts and national broadcasters make fun of his team week after week. The Bears were the NFL's sideshow, and the league's first family were their ringmasters.
And then McCaskey put his foot down. Enough losing, enough of the ridicule, enough of the scorn. Time to blow it all up.
What we are seeing is the transformation of a mom-and-pop brick-and-mortar convenience store into a genuine NFL organization that is signaling its intent to win. The winning part is certainly no guarantee, but they are at least efforting to completely change that paradigm, and that's amazing. There is no better proof of that than allowing Ryan Poles to direct football operations as he sees fit, including the hiring of Ian Cunningham as his assistant general manager, the first-ever in the history of the franchise.
As Poles continue to add his signature to the canvas McCaskey gave him, one thing is certain now more than ever. This team will succeed or fail with Fields at quarterback. The second-year signal-caller will have to be up to the task. In most cases, the first year of a new regime gets a "buy year" of sorts. In other words, if Fields doesn't live up to the hype, they could simply say that Ryan Pace drafted him and Matt Nagy ruined him. Then they'd wash their hands of him. That would mean looking for another franchise quarterback in the 2023 draft, a scenario nobody wants to relive.
Man, Justin Fields. His ability to escape the pressure, dip to his non throwing arm side & toss a 🎯 w/ the flick of the wrist. The calmness & confidence on this play is otherworldly. The catch by Mooney…unreal! Let's keep watching him grow! 🐻⬇️ #Bears pic.twitter.com/LxHEgH50o8

— Jarrett Payton (@paytonsun) November 9, 2021
Poles is buying in, though, and he's surrounding himself with experienced NFL executives and coaches who are on board, too. If you think about it, if Fields fails now he will actually exonerate Nagy. If he succeeds, he'll make Pace look like a genius for trading up to draft him. That partially absolves everybody currently involved except for the young man himself. The pressure is fully on, and failure is not an option. Believe me, nobody wants to make Nagy look like he actually knew what he was doing.
The good news is, that's a low hurdle to clear. Fields' best games this year occurred when Nagy was out sick or when he relinquished play-calling to offensive coordinator Bill Lazor. In fact, that special teams coordinator Chris Tabor actually outcoached Nagy with the one opportunity he was given tells you exactly why McCaskey cleaned house.
The Bears do have some talented skill position players on which to build, which should ease the transition somewhat. On offense, Fields still has David Montgomery, Darnell Mooney, Cole Kmet, Khalil Herbert, and Jakeem Grant Sr. Wide receiver Allen Robinson is a free agent and it seems doubtful Poles would assign a franchise tag to him, but he could be given an opportunity to redeem himself. A-Rob is coming off the worst season of his eight-year career.
Getsy will be a first-time play-caller in the NFL. However, he's going to have the advantage of creating something entirely new just for Fields. Expect a lot of RPO with a good deal of pre-snap movement. Gesty will need Fields to react quicker, throw sooner, and read defenses a lot better. Eberflus will be instrumental in helping the young man recognize opponents' schemes.
On defense, the Bears have some real talent in Khalil Mack, Robert Quinn, Roquan Smith, and Jaylon Johnson. Trevis Gipson should have a breakout year, but Eddie Jackson and Bilal Nichols will need to up their games. The secondary is weak, but there were some bright spots near the end of the season with some of the players Nagy flexed from the practice squad.
Still, everything now rests on the shoulders of Fields. Ownership believes in him enough that they've now made him the face of the franchise. They've built a football operation with a specific goal of turning Fields into an elite NFL quarterback. Once Poles and Eberflus undo everything that Nagy did wrong, the young man's future could land him among the greats of the game. If Fields fails, it will set the organization back another decade, and a lot of smart football men will fail with him. No pressure at all.