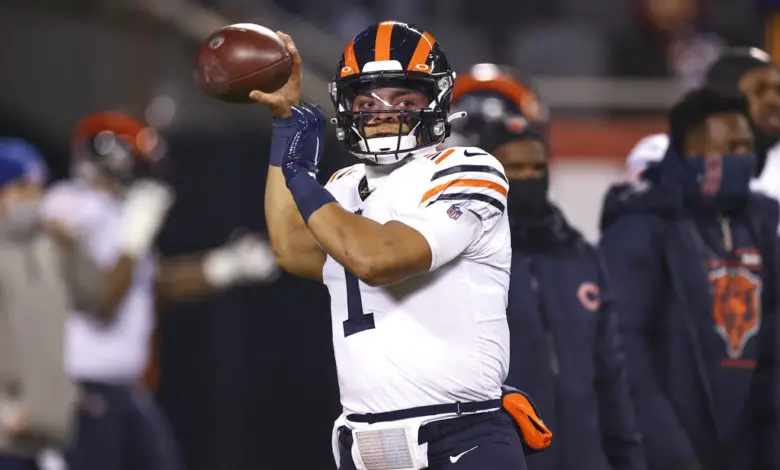 Bears Fans Still Have Reasons to Believe in Justin Fields
The Bears have a new GM, head coach, and offensive coordinator, and all three believe Justin Fields is primed to become one of the league's better quarterbacks. The second-year quarterback is a polarizing player among Bears fans and the team's beat writers, but there are still many reasons to believe in Fields.
Notice I did not say "elite" when describing the young man's future. That's a word that is too loosely tossed about when discussing franchise quarterbacks, and as of this writing, the only active players who qualify are Aaron Rodgers and Patrick Mahomes. A third, Tom Brady, recently announced his retirement. Fields has a long way to go to be compared to any of those signal-callers, especially after his rookie-year struggles.
Geoff Schwartz, former NFL offensive lineman and host of the "Geoff Schwartz is Smarter Than You" podcast, said the jury is still out with regard to Fields, but added that the team's former coaching staff didn't put him in a position to succeed.
"He'll have an opportunity and we'll see early in this year, whether he kind of has 'it,'" Schwartz told NBC Sports Chicago. "I think you can be good and not have 'it,' but you drafted him early, you want to win Super Bowls with him. So it's too early to say anything about him because he didn't really get a fair shake last year. But I think by the end of next season, middle of the year, you kind of know if he makes those special plays.
"He just needs a chance. You know, I think that offense was disjointed in what they did. I thought he got better throughout the season. You know, I could have sworn off being very vocal about quarterbacks because Josh Allen burned me. He made a historic change. But I think there really is something to the idea of you kind of sort of know early on. I mean, you know, of course, there's room for improvement, and Fields was really given no legit shot last year."
His stats weren't horrible, though many Bears fans were expecting the second coming of Mahomes. Fields had virtually no reps with the first-team offense last preseason, and his introduction to NFL defenses in his first professional start was cringe-worthy. The Browns sacked the rookie nine times in that game, and it was painful to watch. Still, Fields finished a respectable 159-for-270 with seven touchdown passes and 10 interceptions on the season. He also rushed for 420 yards and two scores on 72 carries.
Hall of Fame linebacker Dick Butkus heard similar criticisms of Matt Nagy and Chicago's awful offense in 2021.
"I heard from an inside source that Fields, who I think is our answer at quarterback, from the first day of training camp to the last day of the season, he really wasn't coached. He wasn't coached up. And this is from somebody on the inside, I'm not going to mention who. I said, 'I can half see that.' But what do you want from the kid when the line is [as thin as] a piece of paper?"
Fields bears some of the responsibility, too.
"I think he can clean up a little bit of the long delivery sometimes," Schwartz said. "And you know, I think that Ohio State is still in him, where [he] wants to take that deep shot as much as possible. Just take what's underneath, right? And this offense, especially if it's kind of that [Matt LaFleur–Kyle Shanahan] offense, he'll have plenty of easy options."
If you're wondering what makes Fields so special, look no further than his freaky athleticism and ability to make spectacular plays.
.@justnfields ARE YOU SERIOUS?!? 🤯#SFvsCHI | #DaBears pic.twitter.com/o9vUGJL5h5

— Chicago Bears (@ChicagoBears) October 31, 2021
New OC Luke Getsy is a big believer in his talented quarterback.
"Super impressed with the man, the person," Getsy said at his introductory presser. "You can feel the determination, the will inside of him as he was communicating to me. He was super sharp with what they did at Ohio State. And then just again just the brief conversation that we were able to have together here the other day, the same exact thing just jumped back out at me again.
"I'm looking forward to getting to know him deeper, obviously. But I'm very optimistic about the type of person that he is and I think the will and the desire that he wants to be a great leader too, so I think it's a really cool opportunity with a young guy who I think has a really good drive."
One of the biggest questions this offseason has been, what will the Bears offense look like in 2022 and beyond? There are still a lot of unknowns, but Getsy and head coach Matt Eberflus plan to build a system that is based on the strengths of its leader. That means Fields will be working with a lot of RPO and shorter drops to maximize what he does best.
"We've got to dive into what everybody does best, right?" Gesty added. "And it starts with the quarterback. This is a quarterback-driven offense. The things the quarterback does well, that's going to be the driver of who we are. And then we're going to marry that to what the other guys on the football field do well. That's the purpose of the offensive coordinator — to dive into what people do best and then build the offense around that."
Certainly, Fields is going to have to learn to get rid of the ball a lot quicker, and he's going to have to limit his turnovers. In addition to the 10 INTs, Fields fumbled 12 times, losing five of them. He did show flashes of his potential, including his coming out party in a nationally televised game against the Steelers. Trailing 26-20 with 2:47 left in the game, Fields directed the Bears on an impressive 7-play, 75-yard drive that resulted in a 16-yard touchdown pass to Darnell Mooney to give Chicago a 27-26 lead. If anything, Fields was too good on that drive, using up only 1:01 of clock time.
Getsy and Eberflus are going to have to put Fields in the best position to succeed. It's almost as if the young quarterback lost an entire year of development under Nagy and offensive coordinator Bill Lazor. Ryan Pace deserves some of the blame, too. After orchestrating a draft-day trade to select Fields, he should have been much more involved in the rookie's development and should have demanded that Nagy give the quarterback first-team reps last summer.
That's all water under the bridge now. Chicago will enter training camp with Fields as QB1, and at no point will he be looking over his shoulder at a potential replacement. In fact, the second-year vet is ready to get started and will head south to Georgia to work with some of his teammates. Hopefully, that includes Mooney, TE Cole Kmet, and running backs David Montgomery and Khalil Herbert. In fact, Herbert recently told Jarrett Payton he expects big things from Fields in 2022.
#Bears quarterback Justin Fields told @TaylorBisciotti on the NFL's Instagram Live that he plans to get some of his teammates down to Georgia so they can train with him throughout the week.

— Nicholas Moreano (@NicholasMoreano) February 11, 2022
This isn't the first time this offseason that Fields has gotten some work in with a teammate. Immediately following the 2021 season, he and Mooney traveled to Florida to train together. That, more than anything, indicates that the young signal-caller firmly believes the Bears are his team and that Getsy will build his offense around Fields.
There are few doubts that Fields has the ability to become a star NFL quarterback, and the expectation at every level of the Bears' organization is that they expect him to take a big step forward next season. Perhaps the trade speculation will stop, too.