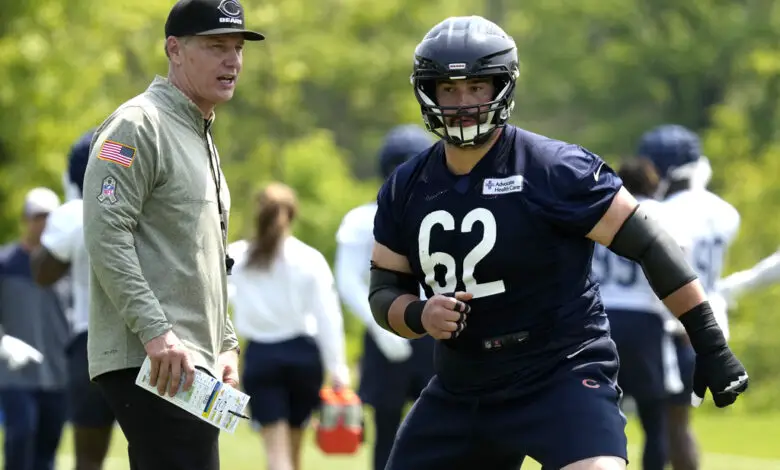 Bears' O-Line Is Poised For Improvement
At the end of OTAs, Head Coach Matt Eberflus discussed the offseason period and the work ahead for the Bears when they return July 26th for Training Camp. One of the significant differences between last year and this year is the offensive line and the clarity of who the starters will be. There's only one returning lineman playing the same position as he did last year, but the energy is different; confident. This new-look offensive line will be under a microscope, but pff.com shows there will be a clear improvement.
LT BRAXTON JONES
In 2022, 13 tackles were drafted before the Bears selected Braxton Jones in the fifth round at 168th overall. Of those 13, Trevor Penning, the 19th overall pick, saw only 58 snaps; Daniel Faalele, a fourth-round selection, played 160 snaps at tackle; and Jones' fellow fifth-rounders Darian Kinnard and Matt Waletzko played zero snaps. Of the remaining nine tackles, none graded higher than Jones' 75.4 overall grade or 79.4 run-blocking grade. The second-year LT will need to improve his 70.5 pass-blocking grade, but he had better analytics than seven of the tackles drafted before him, including each first-round tackle.
Jones was impressive in his rookie campaign, especially considering the Bears drafted him in the fifth round. He's the only lineman from the starting five staying at his position. Unfortunately, his inability to find consistency in the passing game overshadowed everything Jones accomplished in the run game. He allowed seven sacks on 40 pressures in 542 pass attempts. That's a sack every 77 snaps and pressure allowed on Justin Fields every 13 passing plays. Jones also needs to avoid penalties. PFF shows 12 penalties for Jones, while Pro Football Reference shows 10; five false starts and five holding penalties. It will be crucial for Jones to keep that yellow flag off the field.
Grades stay the same as Jones stays in place.
LG CODY WHITEHAIR TEVIN JENKINS
Teven Jenkins moves from right to left guard in 2023 after being the highest-graded Bears lineman in 2022. So far, Jenkins' career has been riddled with injuries and missed time, but he's been working on different muscles this year to stay on the field more. I hope it works because Jenkins' 80.7 overall grade and 82.2 run-blocking grade were good enough for third among all graded NFL guards in 2022. He could have been a little better at pass-blocking, but he was responsible for only two sacks despite allowing pressure every 25 pass plays. He also played clean most of the time, with only three penalties.
Jenkins:
80.7 overall grade is up 14.8 points from last year's LG
65.9 pass-blocking grade is down 1 point from last year's LG
82.2 run-blocking grade is up 19.9 points from last year's LG
Total: +33.7
Teven Jenkins introduces himself to Nick Bosa… pic.twitter.com/xrriNLeD3l

— Adam Hoge (@AdamHoge) September 13, 2022
C SAM MUSTIPHER CODY WHITEHAIR
Sam Mustipher struggled all year long at center in 2022, so it's no surprise he's out of Chicago and off to Baltimore. Cody Whitehair slides over from left guard to center for the first time since 2020. When Whitehair plays most of his snaps at center, his PFF grades are usually better. The Bears hope to reinvigorate play resembling Whitehair's rookie performance when his grades were 86.3 or better across all three categories. Whitehair has been inconsistent at pass blocking throughout his career, and he's posted two seasons with grades at 47 and 46.5. The good news is that both of those seasons involved changes at quarterback. The Bears changed from Mike Glennon to Mitch Trubisky in 2017, and in 2020 Trubisky subbed out for Nick Foles. Consistency at quarterback can help a lineman anticipate better and be a better blocker.
Whitehair is an upgrade from Mustipher in a few different ways. Despite giving up four sacks compared to Mustiphers' two, it's important to note that Whitehair allowed fewer QB hits and fewer pressures in 2022. Whitehair allowed just one QBH last year and had a four-game stretch without a single hurry. Whitehair had no penalties in 2022, and if he can continue that trend, he should help a Bears offense that struggled to make up deficits.
Whitehair's PFF grades were better than Mustipher's in two of the three categories, but that was in an average year while he battled injuries. If Whitehair can stay healthy, it's reasonable to believe we will see even better grades from the center position.
Whitehair:
65.9 overall grade is up 2.5 points from last year's center.
66.9 pass-blocking grade is up 11.8 points from last year's center.
62.3 run-blocking grade is down 3.2 points from last year's center.
Total: +11.1
RG TEVIN JENKINS NATE DAVIS
It will be hard to top Jenkins' 2022 performance, but the Bears attempted to maintain when they signed veteran Nate Davis in free agency this offseason. Davis is a run-blocking guard that took steps forward in his pass-blocking last year. Davis is recovering from a late-year ankle injury that ended his 2022 season but he did make it to Chicago's last week of OTAs. If the veteran guard can continue to make progress in the passing game, he could become a solid interior-line piece. Davis had arguably his best season in 2022 before his injury, and, at 26, he could continue that development.
Davis had a decent year in 2022 with just three sacks allowed. He also set career lows with 14 pressures allowed, 10 QB hurries, and one QB hit. He also continued improving his discipline by tying his career low with a second straight four-penalty season. Davis will need to take some measures to not be a downgrade from Jenkins, but his discipline, experience, and momentum make it possible.
Davis:
80.7 overall grade is down 10.1 points from last year's RG
66.8 pass-blocking grade is up .9 points from last year's RG
69.8 run-blocking grade is down 12.4 points from last year's RG
Total: -21.6
RT LARRY BOROM RILEY REIFF DARNELL WRIGHT
Larry Borom and Riley Reiff alternated starts almost evenly in 2022, and you wouldn't be able to notice much difference. Borom's 64.7 grade and an injury led to the Bears starting a recovering Reiff who couldn't even hit Borom's grade. They both struggled with injuries and combined for seven sacks and 30 pressures. The Bears were predictable in addressing this weaker position with their first-round pick in the 2023 draft, Darnell Wright. Wright is a crucial addition to the Bears and should improve this line tremendously.
Wright finished his career at Tennessee strong, allowing zero sacks in 507 passing plays. His 80.2 passing grade was the 39th-best among offensive tackles in the country with at least 280 snaps, and sixth-best in the SEC. Wright committed just three penalties last year, showing he's a disciplined player. There's a lot to look forward to with Wright, but the most exciting story around his career was his performance against third-overall pick Will Anderson Jr. PFF had him ranked 22nd on their big board and talked highly of his power. Utilizing Reiff's grades as the final starter, Wright's college grades show a chance for significant improvement.
Wright:
71.0 overall grade is up 6.7 points from last year's RT
80.2 pass-blocking grade is up 13.2 points from last year's RT
64.4 run-blocking grade is up 5.3 points from last year's RT
Total: +25.2
The Bears' offensive line is different this year but much improved, specifically in pass blocking. The line looks to be vastly improved, with four of the five positions improving based on PFF grades. The depth chart includes former starters like Borom, Alex Leatherwood, and Lucas Patrick. Only a few NFL teams can say they have as many previous starts accumulated on their bench as Chicago does. The Bears also have young talent to develop in second-year players Ja'Tyre Carter, Doug Kramer, and Kellen Diesch. Things are looking up for the offensive line and the entire offense as a byproduct.