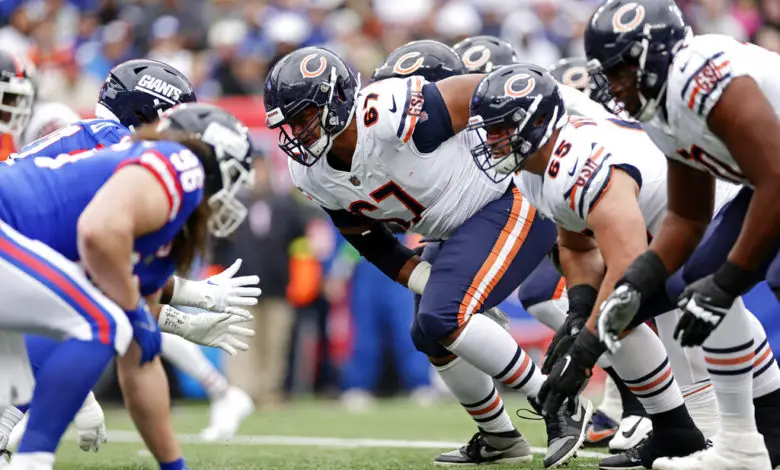 Bears Fans Done With Sam Mustipher
The Bears had a rough first half against the Vikings, and Sam Mustipher is the worst among them. He snapped the ball early to Justin Fields on an audible and hasn't blocked a lineman all game. If you wonder why Luke Hgetsy doesn't run more slants or screens, it's because Mustipher can't block a lineman long enough for Fields to execute the play.
Sam Mustipher snapping to #Bears QB Justin Fields in pregame warmups. Lucas Patrick snapping to backup Trevor Siemian. Not a surprise. Didn't think the team would make a change after last week.

— Brad Biggs (@BradBiggs) October 9, 2022
Sam Mustipher, my goodness. He gets beat like he's not even there.#Bears can't even run Mesh and hold the pocket through Fields' drop. Make sure you watch the end-zone angle here — 97's in the backfield in ~2 seconds pic.twitter.com/003HIfICvG

— Robert Schmitz (@robertkschmitz) October 4, 2022
Last week against the New York Giants, Mustipher really struggled in pass protection, earning a pitiful 1.5 pass protection grade from Pro Football Focus. One point five. That's not a misprint.
It was rumored that Lucas Patrick would take over at center today with rookie Ja'Tyre Carter getting the start at left guard, but that didn't happen. Perhaps Matt Eberflus is too afraid to start two rookies on Fields' blindside, but would Carter be any worse than Mustipher?
At any rate, Bears fans have come out en masse against the beleaguered offensive lineman. Frankly, I thought he should have been cut at halftime.
Sam Mustipher is a horsesh*t center. He should be cut at halftime.

— Michael Canter of Cubs Insider ✨ (@MEdwardCanter) October 9, 2022
Bears first play of first drive: Delay of game.

Bears first play of second drive: Sam Mustipher snaps ball while Justin Fields tries to audible.

Opposite of progress.

— Alex Shapiro (@AlexShapiroNBCS) October 9, 2022
Sam Mustipher might legitimately be the worst starter in the NFL at any position right now

— Jeremy "Sell the team George" Layton (@JeremyLayt0n) October 9, 2022
I think Sam Mustipher has some dirt on Eberflus. It doesn't make sense. #DaBears #Bears

— Clay Harbor (@clayharbs82) October 9, 2022
How many bad snaps and blown assignments does Sam Mustipher need to have before the #Bears yank him out of the starting lineup?

He is an absolute liability. No other way to put it.

— Jacob Infante (@jacobinfante24) October 9, 2022
The #Bears starting Sam Mustipher for a fifth straight week is gross negligence at this point.

The team has options. #CHIvsMIN

— Usayd Koshul (@usaydkoshul) October 9, 2022
like and rt… now! pic.twitter.com/tGNJOtZVp7

— fluke getsy (@flukegetsy) October 4, 2022