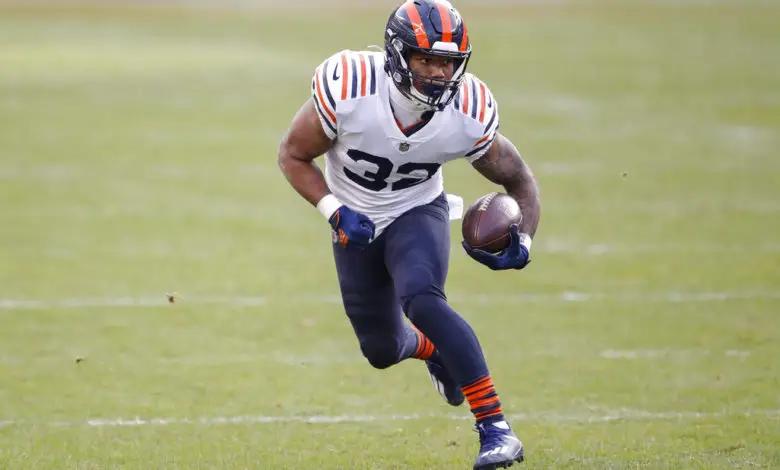 Bears Game Day: You're Only as Good as Your Last Loss
The Bears traveled to Lambeau Field amid expectations that they could beat the Packers, or that they had at least narrowed the gap. After a strong opening drive, Chicago struggled to stop Green Bay's ground game and lost 27-10. Justin Fields had an awful night and is looking to Sunday's tilt with the Texans as a "get-right" game. That said, Luke Getsy might rely on the strengths of David Montgomery to grind out a win.
Chicago has certainly talked the talk in the early part of the season, but they've yet to walk the walk. The NFL is a results-oriented league (a phrase I hate because what else would it be? Finesse?) and the Bears need to start producing instead of projecting. With a win this afternoon and a winnable game coming up in New York next week against the Giants, the Bears could be 4-1 after five games. They could just as easily be 1-4, too.
Both teams have been equally anemic on offense this year, so bettors are expecting a low-scoring affair. Neither team has been able to average 300+ yards after two games. The Bears are favored by 2.5 points with the over/under set at 40.5 as of this morning. That seems accurate unless either defense can score at least two touchdowns.
Field Conditions
The weather could have an impact on the game, as there is a slight chance of rain in the forecast at Soldier Field. The temperature is expected to be 65 degrees by kickoff with 17 mph winds out of the North/Northwest and wind gusts up to 32 mph. Both teams will run the ball a lot, and there shouldn't be many deep balls when either team passes.
Trends 
After beating the 49ers 19-10 in Week 1, Chicago laid a big green egg in Green Bay on Sunday night. The nationally televised loss deflated a lot of Bears fans, and Aaron Rodgers was his usual smug self after the game. Montgomery and Khalil Herbert combined to average 8.42 YPC against the Packers, and Teven Jenkins has been a monster as a run-blocker. All signs point to another big game for Montgomery, who is playing for a new contract.
Throwback to the last time David Montgomery saw the Texans 🫡 pic.twitter.com/3TXIJ1BHo0

— Bears Nation (@BearsNationCHI) September 22, 2022
Houston's run defense is ranked No. 30 in the NFL. The Texans allow 4.7 yards per rushing attempt and lead the league in missed tackles. Montgomery is averaging a filthy 3.56 yards after first contact. Expect Chicago's running backs to pound the ball all afternoon and if Montgomery and Herbert can get through the line, you may see some big gains.
Fields has completed just 15 passes this season, seven to his overmatched wide receivers. Equanimeous St. Brown leads that group with three catches for 48 yards and a TD. Fields is No. 31 in the current ESPN QBR rankings. The Bears need to get their passing attack untracked.
Sunday's game is a homecoming of sorts for Lovie Smith. His 0-1-1 squad could be 2-0, but lost late leads in both games. The Texans lost 16-9 to the Broncos last week and tied the Colts 20-20 in Week 1. The last time Houston came to Soldier Field, Smith was coaching the Bears.
Smith wants to feature running back Dameon Pierce more, and a lot of the Houston reporters and bloggers are expecting the rookie to have a breakout game against the Bears. Pierce is averaging 3.9 YPC and has yet to score a touchdown. He's caught two passes for 14 yards, but he's only been targeted twice.
Texans QB Davis Mills completed passes to eight different pass catchers against the Broncos in Week 2. Mills struggles with consistency, makes poor decisions, overthrows his receivers, and lacks touch. He also tends to telegraph his passes. Chicago will be looking to capitalize on those tendencies to take the ball away as often as possible.
Brandin Cooks is Houston's primary wide receiver, and he has 11 catches for 136 yards on 22 targets.
Why the Texans Will Win
Houston has to win the turnover game in order to beat the Bears. The Texans have two interceptions and four fumble recoveries in two games. They've given up the ball four times. Chicago has a +1 turnover ratio. The Bears have five sacks on the season and the Texans have six. Both teams are predominantly rushing teams, and both are among the least-penalized teams in the NFL. The team that takes the ball away more will win this game.
Smith "gets off the bus running the football" and always will. The Bears have to stop Houston's ground attack, and they've got to limit big gains on first down. Incidentally, Pierce has yet to fumble this season, though he's only had 26 carries for 102 yards.
The Bears' run defense is actually worse than Houston's. If Pierce goes off today, Houston could burn the clock and beat Chicago in a low-scoring game. Mills isn't going to be a difference-maker, but he doesn't have to be. In Smith's scheme, the quarterback simply manages the offense. If the Texans protect him, and Mills avoids interceptions, Houston will win the game.
Why the Bears Will Win
Montgomery could have a career game today. The Bears are hurting on defense, so I expect Getsy and Matt Eberflus to milk the clock as much as possible. If Chicago attacks the left side of Houston's defensive line, Montgomery should easily rush for 100+ yards.
That said, the Bears need to get the ball into the end zone. A 28.57% third-down efficiency won't win many games, and that's where the Bears are at. Conversely, their opponents convert 50% of their third-down attempts. That trend needs to be reversed. Like Houston, Chicago needs to win the turnover battle. I believe the game will come down to net positive takeaways and field position.
Need to see better processing from Justin Fields this weekend. Progress needs to happen in that department.

He currently has the LONGEST time to throw in the NFL according to NFL Next Gen Stats at 3.26 seconds. pic.twitter.com/4lLCwgeHgb

— Joseph Herff (@JosephHerffNFL) September 23, 2022
Fields also has to improve. The Bears are doing a decent job of protecting him. He's simply holding the ball too long.
The second-year quarterback had eight completions against the 49ers and seven against the Packers. For most quarterbacks, 15 completions is a decent half. Fields also has to get rid of the ball quicker, and he needs to understand that running the football is not his only option if his primary target is covered. If the Bears can complete 15-20 passes and if Montgomery gets 100+ yards, the Bears will win.
Injury Reports
Bears – Linebacker Matthew Adams (hamstring), safety Dane Cruikshank (hamstring), and tight end Ryan Griffin (Achilles) have been ruled out. Rookie wide receiver Velus Jones Jr. is doubtful due to his hamstring injury. Additionally, Jaylon Johnson (quad) and Roquan Smith (hip) are listed as questionable. The Bears elevated Joe Thomas from the practice squad to provide depth at linebacker. Jack Sanborn should see more of the field on Sunday, too.
Texans – Tight end Brevin Jordan (ankle), cornerback Isaac Yiadom (thigh), and tackle Austin Deculus (ankle) will not play. Nose tackle Maliek Collins (knee) is questionable, as is tight end Pharaoh Brown (shoulder), and defensive lineman Kurt Hinish (foot). Mills has a thumb injury but practiced all week and that minor injury should not be a concern. That said, if he aggravates it, Smith may turn to backup Kyle Allen. In fact, Smith is carrying three quarterbacks into today's game. Jeff Driskel will be Allen's backup.
Predictions
Sean Holland previewed the game on Friday and predicted a 13-10 Bears win. In my preseason analysis, I called for the Bears to win 38-7, but they won't score that many points unless the offense gets at least two touchdowns. Still, I do believe Chicago will score at least one defensive or special teams touchdown today, and Fields should pick apart the middle zone in the passing game. Montgomery will get his 100 yards, and Herbert should have another good game, too. Look for standout performances by Sanborn, St. Brown, Cole Kmet, and Trevis Gipson. I'll take the Bears 24-10 with a Kyler Gordon pick-six and a TD pass from Fields to Darnell Mooney.