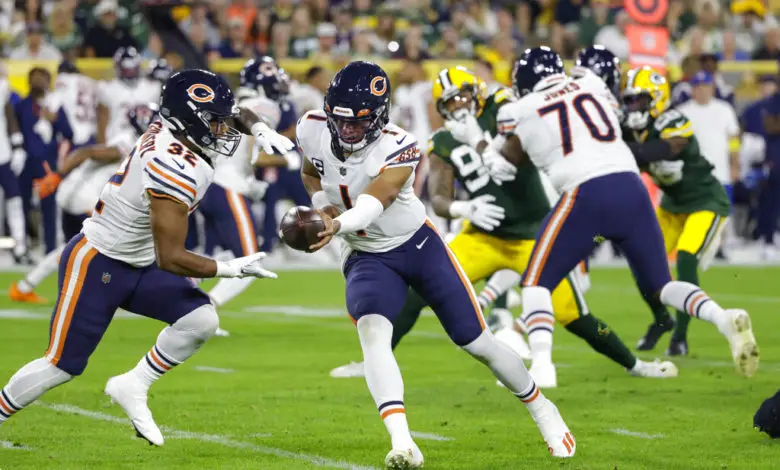 First & Long: Bears Lay Egg in Green Bay, Running Game Solid, Eberflus Wants More Passion and Emotion
In case anyone was wondering, Aaron Rodgers still owns the Bears. And Rodgers wasn't anything special on Sunday night, but he still won. The bigger question is what in the heck is going on with Luke Getsy's offense? Through two games the Bears have sputtered and shut down, and though you could blame poor field conditions at Soldier Field in Week 1, there is no excuse for the dismal showing at Lambeau Field.
Justin Fields has thrown 28 passes in two games. That's practically a day off for most elite quarterbacks. Darnell Mooney has had five targets so far this year, and Cole Kmet has had just two. We've seen none of the types of plays Chicago ran in their final preseason win against the Browns when the playbook was intentionally limited. It actually looked like Matt Nagy was calling the plays last night.
"Luke [Getsy] said before the game that we were going to run it down their throat," Fields said. "[David Montgomery] was running the ball [like] crazy. The O-line did a great job blocking and he did a great job running. My job isn't to call the plays; my job is to execute the play that is given to me the best I can."
A number of competitive blogs left out the highlighted part of that quote in an effort to create a made-up controversy between Fields and Getsy. There is no controversy, and we aim to present an honest postgame account.
"I'm not sure what's missing in the passing game," Fields added. "I don't know."
The problem with Getsy's game plan was that the offense became too predictable, except when Chicago was at the Green Bay goal line trying to punch it in midway through the 4th quarter. Montgomery averaged 8.1 yards per carry, but Getsy called on Fields twice in a row to get it into the endzone. A score would have made the game 24-17, and it looked like Fields – running from the shotgun (question mark) actually got in. The Bears challenged but didn't get the reversal via instant replay. No touchdown and the Packers took over on their own one-half-yard line.
"We thought that was the best play we had right there," coach Matt Eberflus said of the Fields run out of the shotgun. "I like it … [Our] coaches liked it…you outnumber the box. The quarterback is a runner and you like your numbers in the box there. If we score there, it's a different ball game."
Thank you Professor Obvious. That said, most of us believe Montgomery would have scored given the opportunity.
It's possible Getsy still doesn't have confidence in his offensive line's ability to pass block. Fields took three sacks and 10 pressures against Green Bay. That's pretty pitiful considering he threw the ball just 11 times. The Bears were very successful running the football, so Getsy was correct, if not a little too repetitive.
Aaron Jones takes the pitch 15 yards for a TD! #GoPackGo @showtyme_33

📺: #CHIvsGB on NBC
📱: Stream on NFL+ https://t.co/OZNdRHH6Rv pic.twitter.com/he1Mq04KzP

— NFL (@NFL) September 19, 2022
Can't keep Aaron Jones out of the end zone tonight! #GoPackGo @showtyme_33

📺: #CHIvsGB on NBC
📱: Stream on NFL+ https://t.co/OZNdRHH6Rv pic.twitter.com/ccvqc8xDej

— NFL (@NFL) September 19, 2022
On defense, Roquan Smith had another poor game. Don't come back at me that he tied for the team lead in tackles with 11. The fifth-year linebacker was directly responsible for two of Green Bay's scores. Allen Lazard easily blocked him on the Packers' first touchdown (above), and AJ Dillon manhandled him on the second (also above). I blame GM Ryan Poles just as much. Smith is playing like he's trying to avoid injury. That will happen when an All-Pro knows he's playing out his contract. Allen Robinson did the same thing last season.
Bears News & Notes
There's a Flag…On the Play
Maybe Rodgers will retire after this season.
https://twitter.com/MyBookie/status/1571853366669545475
Scout Team
Film Room
Mills can ball at times, but the Bears aren't going to beat anybody until they can stop the run.
Davis Mills with another laser to O.J Howard for the TD.

New duo is forming in Houston. #Texans
pic.twitter.com/VM9M5zjA5R

— Apollo Texans (@ApolloTexans) September 11, 2022
Northern Exposure
Green Bay: The Packers use digital, cashless concession stands, and last night they were erroneously charging double, which explains why my chicken tenders and a beer cost me $51. They are working to resolve the overages. I can neither confirm nor deny that the referees and NBC's announcing team were behind the snafu. Before you say anything, no they were not worth the $25.50 I should have been charged, either.
Minnesota: The Eagles were set to draft Vikings wide receiver Justin Jefferson in 2020, but Philadelphia chose Jalen Reagor instead. Now they're both with Minnesota.
Detroit: The Lions are a fun bunch, and that's a direct reflection of head coach Dan Campbell.
NFL News & Notes 
The NFL has suspended Chiefs linebacker Willie Gay for four games for violating its personal conduct policy. Gay's suspension stems from the misdemeanor property damage arrest that occurred in January. I'd be a little worried if I was Byron Pringle.
If the season were to end today, Tua Tagovailoa would be the MVP, hands down.
Two teams overcame 20+ point differences to win their games on Sunday afternoon.
Browns fans are livid that the Jets scored twice with less than two minutes left in the game, giving New York the win over Cleveland.
Week 2 actually gave us more epic comebacks than we could handle.
Things got a little testy between the Buccaneers and Saints yesterday, and an altercation has led to a one-game suspension for Tampa Bay wide receiver Mike Evans
Steelers fans are already calling for rookie Kenny Pickett to replace Mitchell Trubisky as the team's starting quarterback.
The Lions and Chiefs are tied for the league lead in scoring offense.
Three Yards and a Cloud of Dust
Pro Football Focus charts a stat for players who make first contact but don't make the tackle. The Bears had 23 such instances against the Packers after 17 against the 49ers.
The Browns blew a 13-point lead in the final 1:22 to lose to the Jets 31-30. NFL teams had won the last 2,229 consecutive games when leading by at least 13 points in the final 2 minutes. The last team to blow such a lead? The Browns in week 9 of the 2001 season vs the Bears.
The Bears and Packers now share the lead for all-time victories with 783.
From the Podium
"I was supposed to run a curl route. But I beat the DB so bad that I threw my hand up and turned it into a go route. When we throw our hand up, we call it 'mailbox.' If you're not going to run your route and you're going to run a go route, throw your hand up so the quarterback knows that you're going to run a go route and not the actual route." – St. Brown
"We thought we had a good look at it, so we made the challenge. [The replay officials] thought otherwise and that is the way it goes sometimes." – Eberflus
"It's disappointing, I'm not gonna lie to you. That's football, right? You go out there and you perform, you look at the film and you say, 'OK, how did we perform this way?' Then you go and practice and look to improve on that. We'll definitely improve on it, but it's definitely one of those things that I think stuck out the most in that game." – Nicholas Morrow
"The tackling. We have to do a better job. You look at Eddie Jackson, he tackled very well. I don't think he missed one. If you look at some of the younger guys, they maybe did miss a couple. Maybe it was more angles than technique or fundamentals, so we've got to do a better job." – Eberflus
Running Out the Clock
The Bears are 1-1 after playing the 49ers and Packers, two teams that made the playoffs last season. If we would have know that before the season started, we'd have all been ecstatic. Chins up.