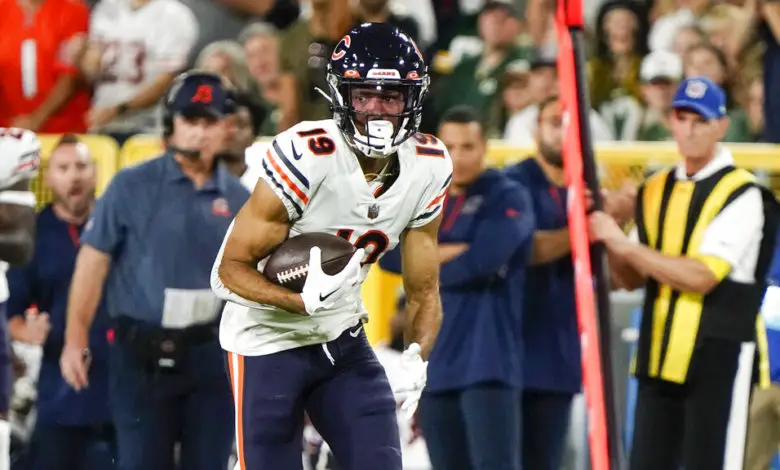 Bears Key Offensive Matchups vs. Texans
The Bears were disappointing in their loss to the Packers last week. They struggled with tackling and their coverage was poor. Things weren't much better for the offense. Justin Fields managed just 70 yards passing while running for Chicago's only score. The Bears must exploit some key matchups on offense to bounce back fast and avoid a losing record. They also need to eliminate mistakes.
My verdict on the #Bears offense? As much as the Packers beat them, they also beat themselves — of the 41 plays they ran, I counted 12 where a fixable mistake either limited the play or ruined it.

It's a new offense, they need time. Fix the mistakes, and they'll improve👌 pic.twitter.com/zPutTrv0Pr

— Robert Schmitz (@robertkschmitz) September 21, 2022
RECEIVERS
Fields has an opportunity to have a breakout game this week and reverse the Bears' ugly passing game trends. Of the Texans' top five defensive backs and top three linebackers, only Blake Cashman has a pass coverage grade above 70 per Pro Football Focus. Fields should mirror Aaron Rodgers and target Houston's rookies the way the Green Bay star picked on Kyler Gordon. Equanimeous St. Brown will line up against No. 3 overall pick Derek Stingley Jr. this week. Stingley scored 29.0 in pass coverage at PFF last week, and ESB has a 68.8 receiving grade so far this year. Fields will want to look at this matchup as often as possible.
Cole Kmet can build momentum this week against a group of Houston's average linebackers. Fields and the third-year tight end should work Kamu Grugier-Hill specifically, as he had a 51.4 coverage grade. Kmet has struggled through two weeks with two targets and zero receptions, including a horrendous drop at Green Bay. He can leverage Grugier-Hill to get on the positive side of the stat sheet.
RUNNING BACKS
David Montgomery is coming off his first 100-yard performance of the season and is in line to have another great game. Texans edge rusher Jerry Hughes is the team's highest-rated run stopper with a grade of 69.7. Hughes doesn't stay put, not even for a series, so Fields will need to key in on him and move the run as necessary. The good news for the Bears and Montgomery is that Hughes has yet to accumulate more than  60% of the defense's snaps. He also over-pursues inside and lets outside runs get away from him. That should help boost Montgomery's already stout average of 3.56 yards after first contact.
Why do people underestimate David Montgomery? #dabears

— Adam Rank (@adamrank) September 20, 2022
Once he reaches the second level, Montgomery won't face many challenges. Running directly at Steven Nelson stifles Houston's best pass rusher (73.5 grade on pass attempts) while exploiting his poor run defense (28.3). If Grugier-Hill (29.8 on running plays) lines up to the left, that's even better for Chicago's running attack. Stingley rates as the best tackler at the second level with a 67.4 run defense grade, but would have to come across the field to make an impact on those plays. Montgomery earned a 73.9 rushing grade against Green Bay. Expect another big game.
Khalil Herbert will be in the mix as well. Through two weeks, Matt Eberflus and Luke Getsy have shown that they will lean on whichever running back has the hot hand. Herbert got 10 touches the first week and five touches last week. Montgomery dominated the snap count, but in the second half of the 49ers game, the coaches favored Herbert. The second-year back is Chicago's highest-graded rusher with a 72.2 PFF grade. Unlike Montgomery, Herbert also scored high marks in Week 1, and he's averaging 6.4 YPC this season.
OFFENSIVE LINE
The only thing that could slow Montgomery and Herbert is Chicago's blocking. Braxton Jones has earned a 52.3 PFF grade after a slight step down in Week 2. Larry Borom was a mauler against San Francisco, carrying a 71.0 run-blocking grade into Sunday's game despite a poor performance against the Packers. Cody Whitehair (60.9) and Lucas Patrick (63.6), who practiced back at center this week, were the only two that improved in run blocking from week one to week two. Texans defensive tackle Maliek Collins typically matches up against the left guard and the Bears may want to take advantage of his 48.2 grade against the run.
Chicago's pass blocking has been rough, to say the least, and only Jones and Borom grade above 60.0. Last week, three of the team's offensive linemen graded below 31.0. Hughes may win a few reps this week, but the Bears have to contain Collins, who grades above 70 for pass rush. Whitehair (44.3 against the 49ers) and Patrick (30.7 against the Packers) have been inconsistent. They'll need to work together to keep Fields upright and calm.
FINAL VERDICT
To beat the Texans, the Bears need to attack Houston's linebackers and rookie defensive backs with Kmet and St. Brown. Getsy will also need to attack Collins while running the football but double-team him when passing. If the Bears can execute cleanly, and avoid some of the mistakes they made last Sunday, they should be able to handle the Texans' defense.