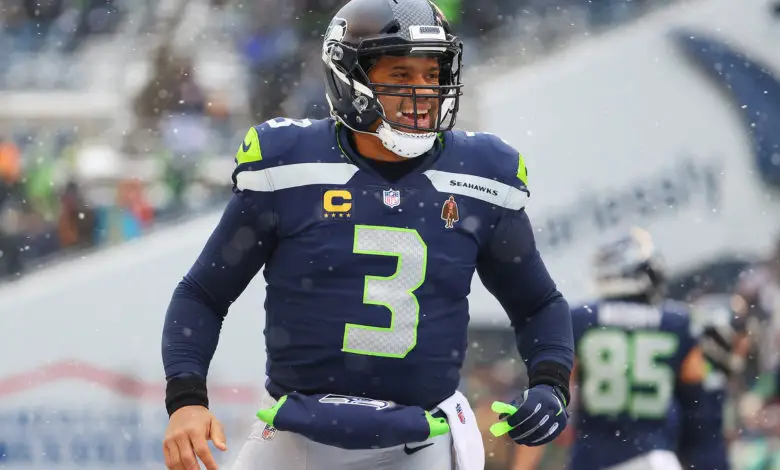 Should the Bears Consider a Russell Wilson for Justin Fields Trade?
Before the 2021 NFL draft, rumors flew all over the Windy City about a potential trade for star Seahawks quarterback Russell Wilson. The Bears opted to go in a different direction, trading up in the draft to select QB Justin Fields from Ohio State with the 11th pick.
Fields has had the usual growing pains in his rookie year making several terrific plays but also committing a lot of turnovers. In 10 starts, Justin has thrown 10 interceptions and 7 touchdowns with 1870 yards through the air. He also has scrambled for 470 yards for a total of 2340 yards from scrimmage in 2021.
To be fair to the young Chicago quarterback, his supporting cast is not very good. Allen Robinson has regressed and is no longer a number one receiver. The Bears offensive line has been devastated by injuries and just wasn't very good to begin with. Probably the biggest factor is Matt Nagy's poor performance as head coach which cannot be good for first-year signal-caller's development.
Meanwhile, in the great Northwest, Russell Wilson has also been having a very bad season. He was a legitimate MVP candidate through the first half of the 2020 season. In those eight games, the Wisconsin product had thrown for 2521 yards with 28 touchdowns and only 8 interceptions. Almost unbelievably since that stretch, Wilson has only thrown for 300 yards one time in 19 starts.
Seattle is also struggling as a team with a sub-500 record for the first time since Wilson came to the Seahawks in 2012. Russell also was sidelined for the first time in his career with a right finger injury in the middle of the season which caused him to miss four games. It's possible the injured finger has caused some of his struggles in the second half of this year.
The Seahawks seem to be on the decline and after the rumors last season surrounding Wilson it seems very possible, if not likely, Russell Wilson will be moved this off-season. Unfortunately, the Bears do not have their first round pick this season so they cannot ofter that in a potential swap. They do, however, have Justin Fields as a trade chip.
I have no rumors or inside information I am just speculating, but, would a Russell Wilson for Justin Fields trade be a good thing for the Bears? There is actually a good case to be made for either answer to the question.
If you wanted to make the move, there are a few positive arguments. Wilson does have a long track record of success including an outstanding stretch of games just last year. He also has one of the lowest interception rates any quarterback in the NFL.
Chicago is hoping that Fields can develop into the next Russell Wilson, so why not just get the real thing? He instantly would be the best quarterback the Bears have had since possibly Sid Luckman. Add in a new offensive minded head coach and a couple of upgraded weapons and maybe the Bears are back in the playoffs in 2022. That is the positive scenario, yet, you can just as easily spin the opposite scenario.
Russell Wilson is on the wrong side of 30 and his numbers have cratered the last full season of games. It would be very Bears to trade a promising young starter for an over-the-hill veteran who quickly flames out. Chicago also has a roster that might be in need of more than a quick upgrade at one position. General Manager Ryan Pace has not done a great job of roster construction especially on offense.
The real question is what will Justin Fields become? Will he become the All-Pro fans and executives in Chicago hope he will be or just another failed Bears QB project? It's something the new regime that will take over at Halas Hall will have to ponder, probably very soon.
I like to live dangerously so I want to know what you the reader thinks. Would you make this trade? Please comment below and let me know.