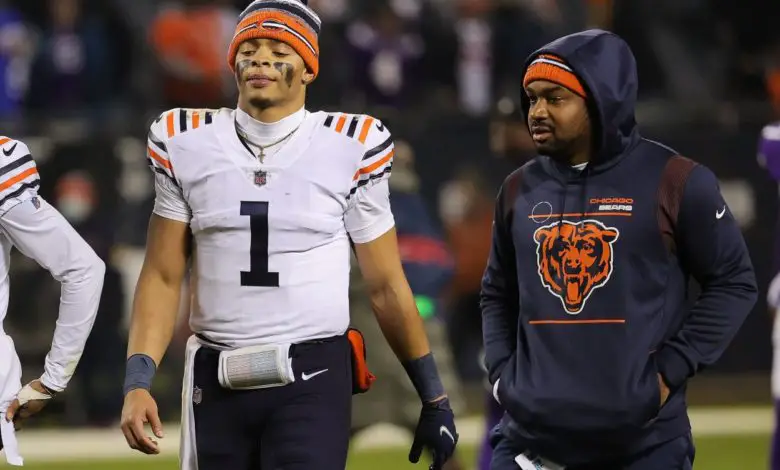 Justin Fields Getting Little Love From Local Writers
All of a sudden Justin Fields has become the Bears' defacto fall guy. The rookie QB is getting little love from the local media, and yesterday, our own Sean Holland posited that some might consider a trade of Fields for Russell Wilson something that may help Chicago turn things around next season.
It started just before Christmas when Kevin Siefert of ESPN compared Fields to failed quarterbacks Blaine Gabbert, Josh Rosen, and Jimmy Clausen.
"Fields has produced a number of other positive moments in nine starts, but the discrepancy between the ups and downs of his rookie season has been historic," Siefert reported. "His Total Quarterback Rating of 27.4 is the second-worst this season, behind Jets rookie Zach Wilson, and it's the fifth-worst of any quarterback in NFL history who has started at least nine games in a season."
Brad Biggs of the Chicago Tribune piled on when he was asked about Fields' performance so far this season.
"The performance hasn't been good to this point," Briggs wrote. He has a lot of work to do, and I think he'll be driven to show he can turn the corner going into Year 2. But it's about as bad as it can be right now. … [Mitch] Trubisky's rookie season in 2017 with a lower-caliber cast of skill position players around him was statistically better."
In fairness, Fields does need to make quicker reads and eliminate turnovers. It should also be pointed out that the first-round draft pick has held the ball for an average of 2.87 seconds before throwing. By comparison, Andy Dalton has thrown after an average of 2.61 seconds. Though the difference seems tiny, it's very significant and is the prime reason Fields is hit and sacked more often than Dalton.
Briggs is guilty of ignoring the fact that Fields doesn't have much of a supporting cast himself. The offensive line has been decimated with injures, Cole Kmet hasn't been the weapon he was last season, there is no deep threat among the receiving corps, and WR1 Allen Robinson checked out for the season a few games back. Head coach Matt Nagy has also been pretty predictable in his offensive game plan. Going into their game against the Seahawks, the Bears had attempted an NFL-low 136 passing attempts on first down.
As the chart below shows, Fields' Average Depth of Target (ADOT) has been a woeful 7.9 yards this season in games he has started and/or finished. His Expected Points Added (EPA) is 0.101 per play and his Completed Percentage Over Expected (CPOE) is just 0.7. It was -39 in the game against the Browns, where Nagy's scheme of long drops left the young signal-caller facing a barrage of rushed throws, sacks, and hard hits by the Cleveland front seven.
Those low EPA and CPOE numbers are partially the results of the plays Nagy has called during those games. If you're wondering, Aaron Rodgers led the NFL in CPOE last year (7.019) and the Seahawks' Wilson was the runner-up (6.973). Nick Foles led Chicago last year with a 1.674 CPOE, the worst in the league among quarterbacks with at least 250 passing attempts.
A look at games Justin Fields has started & finished.

Combo in ADOT & CPOE in PIT game is ludicrous.

Has not had one game where pass catchers registered a snap weighted receiving grade above avg.

Only 3 games with snap weighted pass block grade above average (DET, LVR, MIN). pic.twitter.com/dsE1hpvmmg

— Quinten Krzysko (@ButkusStats) December 29, 2021
After a 26-6 loss to the Cleveland in Week 3, in which Fields was 0-for-6 with two sacks on second down and nine sacks overall, ESPN analyst Dan Orlovsky called the Bears' game plan "the worst I've ever seen in my life." Indeed, opponents have blitzed the Bears on second down at a higher rate (32.4%) than any other team. Among 38 quarterbacks with at least 100 pass attempts this season, Fields has the NFL's third-highest pressure rate (36.1).
When Fields stood out against the Steelers in Week 9, Nagy's game plan was completely different than at any other time this season. The rookie continually worked outside the pocket, was allowed to improvise, threw for 291 yards, and ran for 45 more. Stumbles by the defense and a ridiculous taunting call against linebacker Cassius Marsh prevented Chicago from winning that game.
OKAY. WOW.

WOWWW.pic.twitter.com/3vrpqth7uO

— NFL Network (@nflnetwork) November 9, 2021
After the Bears beat the Seahawks 25-24 on Sunday, Rick Telander championed for Foles to be Chicago's QB1 next season. He certainly believes Foles or Andy Dalton should have been the starter all season.
"What if the Bears had started Foles or Dalton all season," Telander wrote.  "No controversy or yammering for Fields to play and [Chicago] had something like an 8-7 record and possible playoff hopes? Would fans like that better? Isn't winning games what we want?"
At least Telander questioned the offensive line, the scheme, decisions made by Coach Nagy, and the receivers. Let's also not forget the fact that Fields was thrown into the fire in Week 2 after taking very few snaps with the first string in training camp and in preseason games. In the end, Telander put it back on the rookie's shoulders.
"Is it the lack of young quarterback talent?" Telander continued. "People say Fields will learn, improve, stop fumbling, stay healthy, shine. It's possible. Second-year quarterbacks can shine if they survive that first season. The Chargers' Justin Herbert and the Bengals' Joe Burrow are good examples. Herbert has thrown for 4,394 yards and 33 touchdowns so far this season, and Burrow just cranked out a 525-yard, four-touchdown victory Sunday against the Ravens. Both had their issues last season."
Telander argued there is no guarantee for next season when it comes to Fields. Nor should there be, but at least give the kid some weapons to work with and a head coach who has the quarterback's best interests in mind before making that call. Most of us feared that letting Fields start with a lame-duck head coach calling his plays would result in a full year of wasted development. For the most part, we were spot on, and whoever coaches this team next season will have to start from scratch with regard to quarterback development.
Fields doesn't deserve the lack of love he has received this season. He's hardly the reason the Bears are so awful, but his lack of development should factor in the team's decision to retain or dismiss Nagy and GM Ryan Pace. Counting Mitchell Trubisky, both have now failed to properly develop two No. 1 quarterbacks, each of who cost several draft picks to acquire. Let's not forget the money Pace has spent on expensive second-stringers like Dalton, Foles, and Mike Glennon. If that isn't enough to overhaul the team's coaching staff and front office, then nothing is.