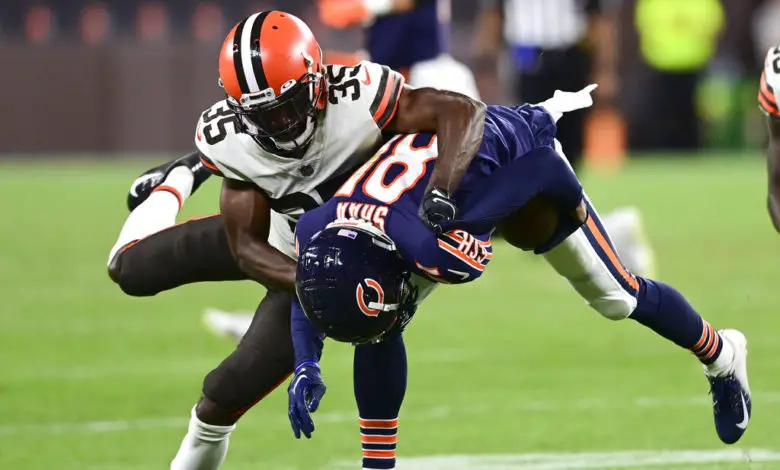 Bears Cut Three More Players
The Bears have a little less than 24 hours until Matt Eberflus and Ryan Poles have to take the roster from 80 players down to 53 and they got started today by cutting three players. All were undrafted free agents.
WR Kevin Shaa
OL Corey Dublin
S Jon Alexander
Today's cuts come on the heel of Sunday's only move. The team asked UDFA tackle Jean Delance to turn in his playbook yesterday. As of this writing, the roster stands at 76. Some players are obvious cuts but should be commended for hanging in this long. Here's a list of bubble players by position:
Quarterback: Nathan Peterman
Offensive Line: Michael Schofield, Shon Coleman, Dieter Eiselen, Zachary Thomas, and Lachavious Simmons.
Tight Ends: Chase Allen.
Wide Receivers: Tajae Sharpe, Isaiah Coulter, Chris Finke, and Nsimba Webster.
Running Back/Fullback: De'Montre Tuggle, Darrynton Evans, and Jake Tonges.
Defensive Line: Micah-Dew Treadway, Sam Kamara, Charles Snowden, and Mike Pennel Jr.
Linebackers: DeMarquis Gates, and Caleb Johnson.
Secondary: Davontae Harris, Lamar Jackson, Jaylon Jones, Tavon Young, and A.J. Thomas.
Special Teams: No cuts.
Of those players, Sharpe and Jackson seem the safest bets to make the final roster. That said, the Bears have the sixth position on the waiver wire and could look to add a wide receiver and/or a cornerback that becomes available. Schofield is another player who could be retained.
The good news is that fan favorite Jack Sanborn and emerging primary wide receiver Dante Pettis will probably make the final cut. Pettis has become a favorite of quarterback Justin Fields. The second-year quarterback had high praise for Pettis after Saturday's 21-20 win over the Browns. Pettis caught one of three touchdown passes thrown by Fields, and Fields provided the postgame analysis.
Fields to Pettis. Great route by Dante Pettis pic.twitter.com/p0hrJnGsxc

— Lovie's Burner (@SirMcCaskey) August 27, 2022
"[Cleveland] was in a one-high zone," Fields said in his postgame presser. "Kind of a one-on-one matchup. The only other defense was underneath the flat, so yeah, pretty much one-on-one. I think the corner had a little bit of inside leverage, so [Pettis] stayed patient on his route, and of course, ran a good route. He's a great route-runner, probably one of the best we have on the team…[and] he executed the route perfectly."
Darnell Mooney, Byron Pringle, and Velus Jones Jr. will be Chicago's top three receivers. But, Pringle has missed nearly all of training camp, and Jones has been bothered by an undisclosed injury. Pettis has seized the opportunity to leave a solid impression on Fields and the coaching staff. Equanimeous St. Brown has been filling in for Pringle, but Pettis is better suited for the role. It wouldn't be a shock to see Pettis starting opposite Mooney if Pringle can't suit up for Chicago's Week 1 tilt against the 49ers.
Sharpe is on the bubble because the Bears have to wait until after they present their 53-man roster to move N'Keal Harry to injured reserve. It's likely another team will put in a claim on Sharpe if Chicago exposes him. Keep an eye on the Harry situation. Poles is unlikely to give up a draft pick for nothing, and his propensity to acquire late-round picks this year is an indication of the value the GM places on any pick.
A numbers game at running back is working against Evans and Tuggle. The Bears signed fullback Khari Blasingame, and he'll be an integral part of the offense. Rookie Trestan Ebner had an outstanding camp, which means there isn't a spot for another halfback.
Sanborn has done all he can to earn a spot on the team. The undrafted linebacker is a local product and said he left it all on the field Saturday night in his last attempt to secure a roster spot. He's been a human highlight reel during the exhibition games. That said, he could fall victim to a numbers crunch. Frankly, cutting Sanborn would be one of the most difficult decisions in recent history.
"I left it all out there," Sanborn said after Saturday's win. "Whatever happens, happens. But I'm going to be happy with how I played. I'm happy with how I performed. So, we'll see."
Five highest graded Bears who played all three preseason games, per @PFF

1. Lachavious Simmons 92.7
2. Justin Fields 90.4
3. DeMarquis Gates 85.7
4. Jack Sanborn 83.0
5. Dante Pettis 81.8 tied with Sam Kamara

— Josh Schrock (@Schrock_And_Awe) August 29, 2022
The rookie linebacker earned praise from special teams coordinator Richard Hightower.
"Jack Sanborn, you guys can't deny it right now, his production," Hightower said Wednesday. "He made two tackles inside the 20 last game, he made tackles the game before that, he had an interception on defense. I mean, I just think that's just, he had a fumble recovery, too, right? So, everyone can see that.
"And the cool thing about that is Ryan [Poles], Ian [Cunningham], and Trey [Koziol], those personnel guys saw it before anybody else saw it, and their ability to be able to find talent like that as an undrafted free agent, it's pretty darn good. So, I'm excited about Sanborn and I hope that he continues to progress."
Schofield has struggled all summer, but the thing working most against him is the success of Teven Jenkins. Willie Wright sat atop the depth chart at right guard when the Bears signed Schofield. Rookie Braxton Jones has been so good at left tackle he pushed Jenkins to the second unit. Eberflus and Getsy moved Jenkins to guard and he's been a revelation. He flattened at least two Cleveland defenders on Saturday night and has worked with the starting unit for nearly three weeks.
The front office really likes Ja'Tyre Carter according to Tom Thayer. Carter represents the youth movement on the offensive line that Poles has pushed for, which probably leaves Schofield as the odd man out. It's always tough to cut a veteran, but Chicago is building for the future. If the Bears were a legitimate contender, Schofield would probably survive. But this team is still a work in progress, so look for Carter to stick.