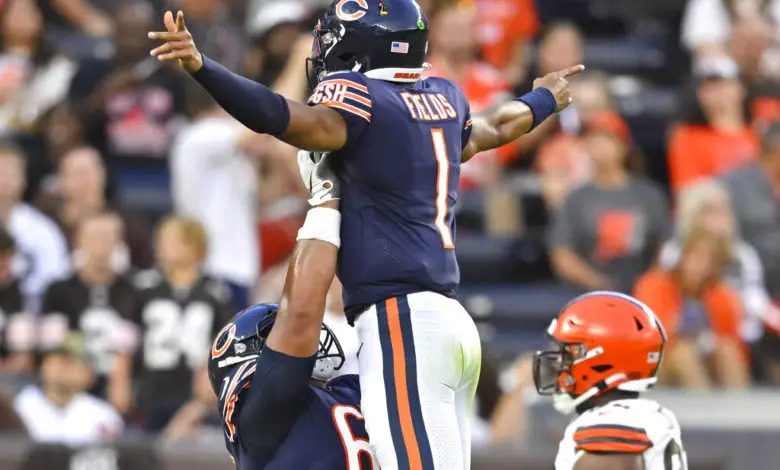 Watch: Justin Fields Talks About Breakout Performance Against Browns
The Bears were able to set the tone early to earn their third preseason win with a 21-20 victory over Cleveland Saturday night. The Browns were a bit depleted on the defensive line, and that helped. Myles Garrett and Jadeveon Clowney did not play, and still, Chicago's offensive line had another up-and-down game. But make no mistake, Justin Fields took his game to an elite level and that's why the Bears won the game.
Was it a turning point for the second-year quarterback? It's tough to make that argument, but at the very least he flashed the elite skills that make him a franchise-type quarterback. Bears fans have been waiting for this type of performance since Fields was drafted out of Ohio State last year.
In a span of four possessions, Fields led scoring drives of 80, 52, and 62 yards, finishing each of those series with a touchdown pass to a different receiver. His enthusiasm spoke volumes. He took a big step forward in his progress. Most of all, Fields showed he has a real knack for Getsy's system. He did not turn the ball over last night and finished the 2022 preseason with no interceptions or lost fumbles.
Cole Kmet, Dante Pettis, and Ryan Griffin were on the receiving end of each scoring pass. Additionally, the second-year quarterback completed passes to 10 different receivers. He hit five separate targets on his opening TD drive. That's a great way to end the exhibition slate and offers a lot of promise for the upcoming season.
"I think it's just execution on all parts," Fields said after the game. "I think the O-Line did a great job protecting today, I told them that multiple times. The receivers did a great job with scramble drill just running the right routes, the right depth, and stuff like that. So again just protection-wise, running the football and that'll open everything up with our play-action and bootleg plays.
Fields talked more about his performance in a post-game presser after the win.