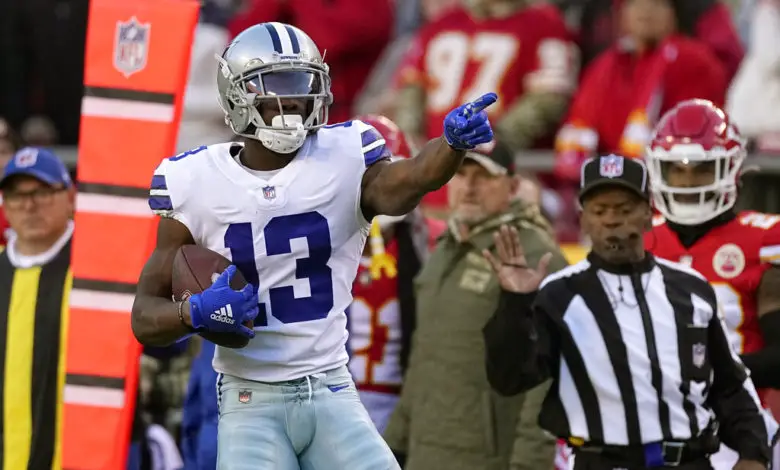 ESPN: WR Michael Gallup Best Potential Fit for Bears
The Bears will enter the official start of the new NFL season on March 16 needing to fill a lot of open roster holes. Many fans believe that new GM Ryan Poles has to be aggressive in finding pass catchers for second-year quarterback Justin Fields. ESPN's Jeremy Fowler and Matt Bowen believe Cowboys WR Michael Gallup is the best potential fit on the open market to meet the Bears' needs.
2022 may look a lot different at WR for the Cowboys. @StarConscience @AtoZDallas

Amari Cooper, Michael Gallup, and CeeDee Lamb's days as teammates could end soon https://t.co/5BEoqIAy5Q via @@atozsports

— Matthew J. Lenix (@StarConscience) February 15, 2022
In the piece for ESPN, Bowen said Poles is likely to "value wide receivers who constantly win one-on-one matchups" to help maximize the potential of his starting quarterback. Fields has a receiver like that in Darnell Mooney, and adding a player with Gallup's abilities might make Chicago's passing game tough to defend. The Dallas free agent brings a physical element to the position and has the ability to stretch a defense over the top as an outside threat.
The Cowboys have 21 unrestricted free agents and Gallup is one of their best. The 25-year-old has been the team's primary deep threat during his four-year stint with Dallas, though he is coming off of a significant injury. Gallup tore his ACL in a Week 17 tilt against the Cardinals and missed seven games earlier this season due to a calf strain. Because of the injuries, the receiver was limited to 35 receptions for 445 yards and two touchdowns in what was supposed to be his breakout year.
His injuries may hasten his chances of returning to the Cowboys. Many teams could be hesitant to commit long-term dollars to Gallup, especially considering the ACL and how late into the season the injury occurred. Poles will have to weigh that risk if he decides Gallup is a player who could help the Bears this season.
Spotrac projects Gallup's contract to land in the vicinity of a four-year, $47,482,684M deal, an average salary of $11.8M a year. With the free-agent talent at wide receiver in this year's class, it's hard to see a team committing to Gallup on a long-term deal worth that much money. A one-year, make-good contract is also an option, something that also might make him attractive to the Bears.
Here's what was written about Gallup in the recent free-agent rankings at The Athletic (subscriber content):
"Gallup suffered through injuries in 2021, including a torn ACL in Week 17. He appeared in only nine games and had 35 catches for 445 yards. But from 2019 to 2020, Gallup's 1,950 yards ranked 22nd among wide receivers, and his 15.6 YPR average ranked fourth among players with at least 100 catches during that span. Gallup projects as a field-stretching, outside starting wide receiver. Given that he's coming off of a late-season injury, it's tough to know how much interest Gallup will generate. Will Fuller got a one-year, $10.6 million deal last offseason. A similar deal could be in play for Gallup."
That said, the young receiver believes he will be a priority for the Cowboys.
"I know the Cowboys enjoy me being on their team," Gallup said during a recent interview for Heavy.com. "Honestly, [team owner Jerry Jones and assistant GM Will McClay] haven't really said a whole lot to me [regarding free agency]. I just have that feeling that they might work with me on it … So, we'll see how it goes. I hope I did enough in Dallas over the past four years to get what I deserve."
Gallup also enjoys playing with quarterback Dak Prescott, and the two have a bone both on and off the field.
"Man, Dak's been telling me I can't go anywhere since the season started," Gallup said. "I definitely know he wants me back here, but he also told me that when he had his injury that he still got what he was owed."
Circumventing a $21.6 million cap deficit will be a big challenge for Dallas with so many unrestricted free agents on the season-ending roster. The front office may need to make a number of key subtractions to keep Gallup, including Amari Cooper.
Another option could be to restructure the contracts of a dozen players by adding voidable years and spreading that commitment across those years. One-quarter of an almost $88 million in savings would then slide to each of the next four years' preliminary salary cap calculations. Keeping Gallup in Dallas after that type of creative accounting is certainly possible.
Pro Football Focus ranks Gallup as the No. 5 free-agent wide receiver this offseason and projects the playmaker to earn a four-year contract worth $13.75 million annually.
Michael Gallup is just 25, has a 1,000-yard season under his belt and is scheduled to be a free agent in March.

If he hits the open market, some team is going to get a major baller. pic.twitter.com/6g47yKNQCy

— Field Yates (@FieldYates) December 3, 2021
Gallup believes he has the skills and talent to be a WR1 in the right offensive scheme. Luke Getsy might like a chance to maximize Gallup's potential in the same way he helped Davante Adams while the Bears' new offensive coordinator was with the Packers. The two pass catchers are of similar size and speed, though any comparison to Adams is far too premature.
"I mean, I think everybody wants to be that dude, you want to be that guy, you want to get all the targets, you want to catch [the ball]," Gallup explained. "There are other good players in the league as well, so I think you have to take that into consideration. Especially with me. Shoot, I've got Cooper and CeeDee Lamb outside of me. They both went in the first round, phenomenal athletes. So, when your catches come you just gotta make them count, and I think I've done that pretty well."
NFL free agency starts on March 16 at 4 pm ET. Players move pretty quickly, and if the Bears are truly interested in Gallup, and if the wide receiver is available, expect Poles to make an immediate attempt to sign him.