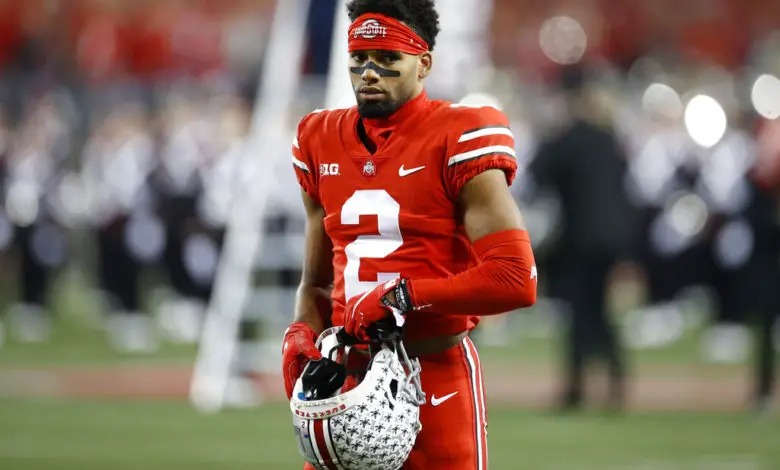 First & Long: One Mock Has Bears Selecting Ohio State WR, Rebuild May Take Longer Than Fans Expect, Nagy Could Soon Join Chiefs Staff
The Bears need a lot of weapons to maximize the potential of second-year quarterback Justin Fields. New GM Ryan Poles has indicated he intends to invest heavily in reconstructing the offensive line, particularly via the draft. New offensive coordinator Luke Getsy will probably pull on Poles' coattails to acquire a pass-catching weapon, and ESPN analysts Jerry Folwer and Matt Bowen believe WR Michael Gallup would be a perfect fit.
Another option could be the draft, where one mock has Chicago selecting Ohio State receiver Chris Olave with their second-round pick.
The success of Cincinnati tandem Joe Burrow and Ja'Marr Chase is the likely driver here, as the two led the Bengals to Super Bowl LVI where they nearly upset the Rams. Post-Super Bowl copycat projections are always the rage, albeit a lazy one when one team has success and another team has similar options available. To put things into further persepective, some analysts are comparing Burrow and Chase to Joe Montana and Jerry Rice. As if.
Olave is considered by some to be a top-5 wide receiver in a draft where as many as seven receivers could go in the first round. The Bears do not select until Round 2 when they will make the No. 39 overall pick.
Chris Olave will be drafted No. ___ overall pic.twitter.com/u4FDkOZNfX

— PFF College (@PFF_College) February 15, 2022
Barring a trade, grabbing Olave seems unlikely. Pro Football Focus believes Poles will select an offensive lineman when his turn comes, listing Zion Johnson of Boston College and Tyler Smith of Tulsa as the likeliest options. Trading up would cost Poles a pick or two this year, or at least one this year and next. Former GM Ryan Pace left Poles with a dearth of draft options. Unless Poles can trade down, he'll have just five selections this year.
If Ovale somehow drops to the Bears at No. 39, Poles would have to at least consider the 6-1, 190-pound receiver as an exceptional value pick. Olave is a savvy, natural pass-catcher with great speed and even greater burst. He has reliable hands, very good focus, and shows the concentration to make acrobatic catches look easy.
Despite his size, Olave has developed into a top-level NFL prospect that will have a chance to dominate at the professional level. He has a surprising catch radius with excellent hands. A good combine will push him further up the draft boards and he could end up being a top-12 pick. An early run on skill position players could push some of the better offensive linemen down, which would play out nicely for Poles and his staff.
Though most fans are hoping the Bears select a dominating wide receiver, Fields needs better protection to complete passes more consistently. Chicago's offensive line was ranked No. 22 by Pro Football Focus, and Hall of Fame linebacker Dick Butkus recently bemoaned the play and lack of intensity of the team's starting five. Fields was sacked 34 times in his 10 starts, including nine times in a disastrous Week 3 start against the Browns. Choosing an offensive lineman might not be the sexiest pick, but it's tough to argue against considering that's the team's biggest need.
Bears News & Notes
There's a Flag…On the Play
A debate over the Hall of Fame candidacy of Matthew Stafford is really a thing right now?
Matthew Stafford isn't retired. So why are we debating whether he's a Hall of Famer? https://t.co/TsASxkq45r

— ProFootballTalk (@ProFootballTalk) February 16, 2022
Northern Exposure
The Vikings are in the process of finalizing their deal with new head coach hire Kevin O'Connell.
The Packers are prepared to "go all in" to keep Aaron Rodgers in Green Bay until he retires.
Detroit had the second-highest Super Bowl viewership of the the 44 markets tracked by Nielsen. Only Cincinnati was ranked higher, for obvious reasons. Los Angeles did not crack the top 10. Lions fans really do believe that this was their championship.
NFL News & Notes
A good number of former teammates said they do not belive Tom Brady is truly retiring. Some rumors say Brady intends to play for the 49ers next season.
The Buccaneers have left the door open if Brady wants to return.
The Bills, Chiefs, and 49ers top the list of potential Super Bowl LVII contenders.
The NFL's Scouting Combine drills begin two weeks from Thursday.
Dr. Dre said the NFL "had no problem with Eminem kneeling" during his halftime performance on Sunday.
Eight of this year's top free agents played for the Broncos in 2021.
Dolphins owner Stephen Ross could lose his team by NFL ownership vote if tanking allegations filed by Brian Flores are proven to be true.
Three Yards and a Cloud of Dust
Super Bowl LVI was watched by an estimated 112.3M viewers, which was up 14% from last year.
Fields threw deep on 16% of pass attempts in 2021, 2nd most in the NFL.
Derek Carr of the Raiders was the only QB in 2021 to go three straight games with at least one interception and one lost fumble.
From the Podium
"You bring a play-style mentality philosophy to the table and then evaluate what the player does best. How I've been brought up in this business is you build it around the quarterback first, and then you tailor everything else to match what everybody else does well. That process is just ingrained in my soul. We're not going to just run this concept because I like it or it looks great on film. If the player can't execute that, then we're not going to have much success." – Getsy