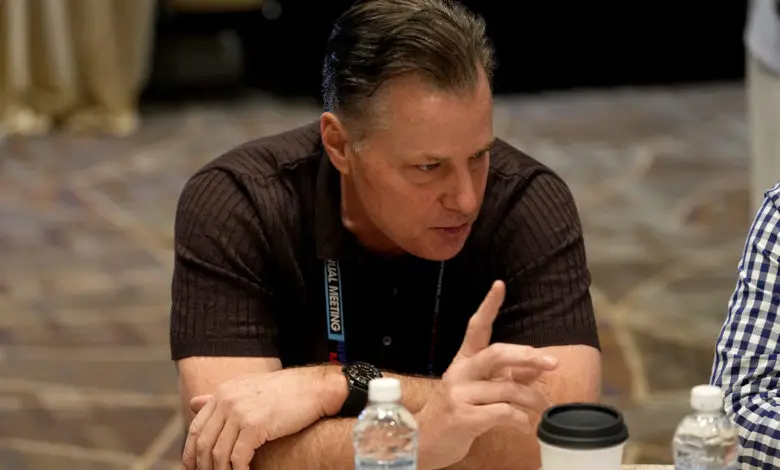 First & Long: Plenty of Pre-Draft Drama, Bears Have Numerous First-Round Options, Lamar Jackson Breaks Bank
NFL Insider Jonathan Jones sees disaster ahead for the Bears. In his mind, if Paris Johnson, Peter Skoronski, and Jalen Carter are all off the board at No. 9, Ryan Poles made a grave mistake in trading down with the Panthers for the top pick. Jones thinks that's a real possibility.
"If [Peter Skoronski] is gone, if Paris Johnson is gone earlier and if Jalen Carter is gone…I don't know what the Bears are going to do."@jjones9 sees a potential Draft day "disaster scenario" for Da Bear 😣🐻 pic.twitter.com/edTx91elcR

— NFL on CBS 🏈 (@NFLonCBS) April 27, 2023
So much to unpack here in a few sentences of amped-up drama that would make folks at The Weather Channel blush. When you see this kind of stuff, it's a great relief to know that the guy calling the shots at Halas Hall doesn't suffer from similar panic attacks. Let's get into it.
I'm not sure if Jones is aware, but the Bears also acquired D.J. Moore, plus the No. 61 pick this year, a first-round pick next year, and a second-round selection in 2025. Plus, of course, the No. 9 pick this year. I'd hardly call that a disaster.
Additionally, a lot of mock drafts have all of those players falling out of the top 10. If Poles wants one of those guys, he'll have the luxury of trading down or selecting the player he wants. It may also mean that the Bears aren't all that interested in any of those players. Skoronski might be forced to move to guard, something that may hurt his positional value Thursday night. Carter is carrying some excess baggage that may be a little too much for a still-developing locker room. Johnson will probably have to stay at left tackle, and the Bears are pretty happy with Braxton Jones.
This isn't a three-player draft, and if you include four potential top-10 quarterbacks, it's still not a seven-player draft.
The Bears have indicated that are 6-8 players that they'd take with their first pick, and that none of them have first-round grades. That may actually eliminate the three players Jones is talking about.
Of course, we won't know anything until the Bears are on the clock. And that's the rub…neither does Jones.
If you spend any time listening to Hub Arkush, you may have heard that some players don't believe in Justin Fields as strongly as others do, and the culprit might be Cole Kmet. Additionally, Arkush said he's heard from unnamed sources that not everybody in the personnel department thinks Fields is a franchise quarterback. You don't need to subscribe to Shaw Local, because Matt Eurich provided the breakdown on Twitter.
Here's the quote by Arkush that started the thread:
"I hesitate because I'm not sure how to say what I'm about to say without causing trouble, and I don't want to cause trouble, because there is no trouble. I have it from a number of sources, that not everybody on the Bears offense is convinced [Fields] is the answer.
"Not that they're negative about it, and not that they think he's a bad football player. Not that they don't like him… By the way he played this year that they're not sure he can be their franchise quarterback. I have it from a really good source that one of those people could be [Kmet], who felt there were times that Fields just wouldn't or couldn't give him the ball."
More pre-draft drama, designed, I suppose, to put butts in seats and eyeballs on content. The bottom line is this: If the Bears thought Fields wasn't their guy, they never would have traded out of the top spot. Time to boost those monthly subscription numbers, yes?
Bears News & Notes
There's a Flag…On the Play
Lamar Jackson is now the highest-paid player in NFL history, despite anything Mike Florio tries to tell you.
Lamar Jackson finally realized he wasn't going to get what he wanted, so he (wisely) took what he could get. The contract numbers will prove it.

— ProFootballTalk (@ProFootballTalk) April 27, 2023
Scout Team
I know Bryce Young is widely considered the top player in this draft, but I believe that three years from now we'll be talking about the team that drafted Anthony Richardson, and if it's not the Texans, every team that wants a QB should be trying to trade up to No. 3.
Film Room
If I were making Chicago's pick, it would be Bijan, no matter what. When you're choosing teams for your weekend football game, you don't worry about filling positional gaps. You take the best player available.
Fill in the blank:

Bijan Robinson is the best RB prospect since _________ pic.twitter.com/DLR9fJFE2y

— PlaymakerU (@playmakerU) April 20, 2023
Northern Exposure
NFL News & Notes
Jackson negotiated his deal without the help of a certified player agent. He walked away with a five-year extension worth $260 million, with $185 million guaranteed. The AAV surpasses Jalen Hurts, making Jackson the league's top earner.
Three teams have multiple first-round picks in tonight's draft: Houston, Detroit, and Seattle. All three could draft a quarterback.
Sports Illustrated's Albert Breer reported the Patriots are one of several teams with picks in the middle of the first round that have made trade calls about moving either down or up the board.
Bijan wants to be a movie star but said the NFL comes first. Shades of Jim Brown.
If you believe what you read on Reddit, Will Levis will be the first pick tonight and B-Rob will go to the Bears.
Aaron Rodgers and the Jets have agreed to restructure the four-time MVP's contract. Rodgers' total compensation for 2024 is $107.55 million after he agreed to push his fully-guaranteed $58.3 million option bonus to next year.
The Rodgers trade could benefit several teams on Draft Night, including the Bears.
The NFL Draft is an awards presentation, a Hallmark-level family drama, a beauty pageant, and a reality show all rolled into one made-for-TV package.
Three Yards and a Cloud of Dust
Last season, Jackson became the fastest player to reach 10,000+ career passing yards and 3,500+ rushing yards, which he did in 59 games. It took Michael Vick 68 games to reach those benchmarks.
Oregon cornerback Christian Gonzalez earned the highest overall draft score of any defensive prospect in the 2023 NFL Draft (92).
Northwestern's Peter Skoronski enters the 2023 NFL Draft with the highest overall draft score of any offensive lineman (89).
Two-Point Conversion
Let's get it on, dog!
I found my people! 🐻⬇️ @ChicagoBears pic.twitter.com/IzChVsd1Qk

— Lauren Screeden (@lscreeden) April 27, 2023
From the Podium
"What we always do is try to take that best-player-available approach. It's funny, [GM] Ryan [Poles] and I were having this conversation earlier—those needs kind of get ironed out with the whole process, but ultimately it's the best player available. I think when you get into Day 3 and you kind of look at the board horizontally, you see some positions are maybe a little bit more robust than others. And I think that's where you kind of have to finesse it a little bit. Obviously, you don't want to take somebody way down the board versus somebody higher, but when you look at it horizontally, it helps with some of that decision-making." – Cunningham