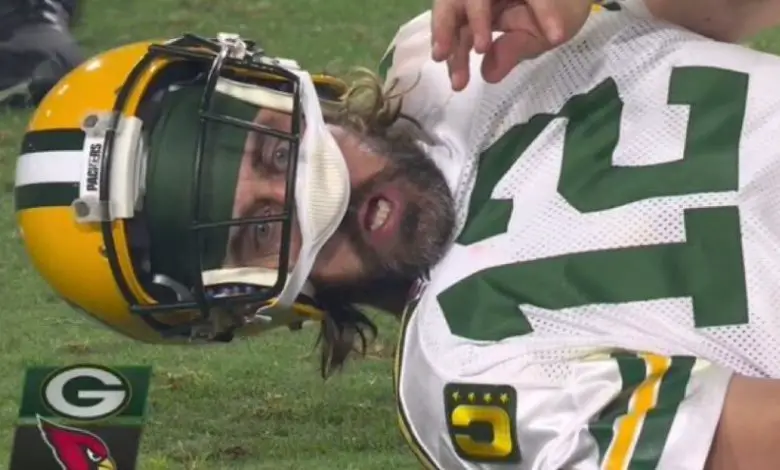 Will Aaron Rodgers Continue to 'Own' the Bears?
Training camps open across the NFL starting this week and next, but the only question on the minds of Bears fans is when will Chicago finally unseat the Packers? When Ryan Poles was hired to lead this organization back in February his stated goal was "to take back the NFC Central and never give it back." With apologies to fans of the Lions and Vikings, only one man keeps the gate and holds the key to a division championship, and that's Green Bay quarterback Aaron Rodgers. Will Rodgers continue to "own" the Bears?
Four words that will echo through #Packers history:

"I. Still. Own. You."

– Aaron Rodgers pic.twitter.com/xF6sIjOjIf

— Eli Berkovits (@BookOfEli_NFL) October 23, 2021
The Packers were 13-4 in 2021 but they lost a lot of key players this offseason, including receivers Davante Adams and Marquez Valdes-Scantling. Even WR5 Equanimeous St. Brown split town, signing with the Bears. But let's face it, Rodgers can turn just about any wide receiver into an All-Pro and the Packers grabbed a couple of good ones in this year's draft, including Christian Watson, who was linked to the Bears in a lot of pre-draft speculation. Romeo Doubs is a polished rookie from Nevada who should thrive in Green Bay's offense.
In fact, Rodgers's new contract has a lot to do with the depletion of his offensive brethren. The Packers entered the offseason in salary cap Hell and then decided to give Rodgers $150 million over three years. And yes, Packers fans, if you want to say that he's the GOAT I won't argue with you. Rodgers led the NFL with a 111.9 passer rating in 2021 and became the first quarterback in league history with at least 13 wins in three consecutive seasons. But that financial windfall forced the Packers to go from Plan A to Plan B in a hurry.
The irreplaceable guys that the Packers lost were offensive coordinator Nathaniel Hackett and quarterbacks coach Luke Getsy. Hackett is a rookie head coach for the Broncos this year and Getsy will build an offense around second-year quarterback Justin Fields here in Chicago. Green Bay head coach Matt LaFleuer has handed the offense to Adam Stenavich, and Getsy has been replaced by Tom Clements, the former Notre Dame All-American and hand-picked choice of Rodgers.
I've wasted enough space on the Packers, however, and truth be told, getting Getsy actually narrows the gap between Green Bay and Chicago a little bit. On the one hand, the Bears should have a more dynamic offense that is better suited to its starting quarterback's strengths. On the other, Getsy can help head coach Matt Eberflus and defensive coordinator Alan Williams to gameplan against Rodgers. That's still not enough to unseat the yellow and green, however.
Despite an offseason that includes a number of questionable moves in free agency, the Bears' defense should be a lot better this year than last. Poles bolstered a much-maligned secondary by taking cornerback Kyler Gordon and safety Jaquan Brisker with his first two picks in this year's draft. Nicholas Morrow was an impact signing and Chicago's coaching staff is high on Trevis Gipson and Dominique Robinson, two young players who could be defensive stalwarts in years to come. The Bears still need an impact three-technique and may have to rely on UDFA Jack Sanborn at strong-side linebacker. Still, the defense looks quicker and a lot more aggressive.
In fact, the key to unseating Green Bay may not rest on the shoulders of Getsy and Fields and Chicago's ability to match the Packers score-for-score. There are three keys to beating Green Bay, and they all rely on an elite defense.
Win the turnover game. Aaron Rodgers looks a lot more ordinary when he turns the football over three or more times. The Bears intend to be ballhawks this year and they'll need to take advantage of every chance they have to intercept the future Hall of Famer.
Don't let the opponent dominate time of possession. That goes hand in hand with taking the football away. Teams that control the football not only limit Green Bay's ability to score, but also tend to win those football games. Despite the ability of Rodgers to score almost at will, he's incapable of getting the ball into the end zone if he is sitting on the sidelines. When the 49ers beat the Packers in last year's divisional round, the two offenses played to a dead heat. Credit San Francisco's defense for that 13-10 win.
Put Rodgers on his ass. The Packers almost never win when Rodgers is sacked at least four times in a game. If Robert Quinn, Roquan Smith, Morrow, and Gipson can consistently get to the four-time MVP, the Bears have a real opportunity to beat Green Bay. Better coverage in the secondary will force Rodgers to hold the ball longer than he probably likes, but a violent pass rush goes a lot further toward putting him on his backside.
Green Bay is a heavy favorite to win the NFC North, but unseating them will not be as daunting a task as some experts are predicting, especially if the quarterback and his new receiving corps need time to gel. The two teams will meet in a nationally televised Sunday night game on September 18, so we'll all find out soon enough. That game should be a barometer of sorts of just how far away the Bears are from taking back the division.
The Packers will probably be prohibitive favorites, but all things being equal, the Bears should play Rodgers competitively this year. Will he own them? I don't think Coach Eberflus will allow that to happen.