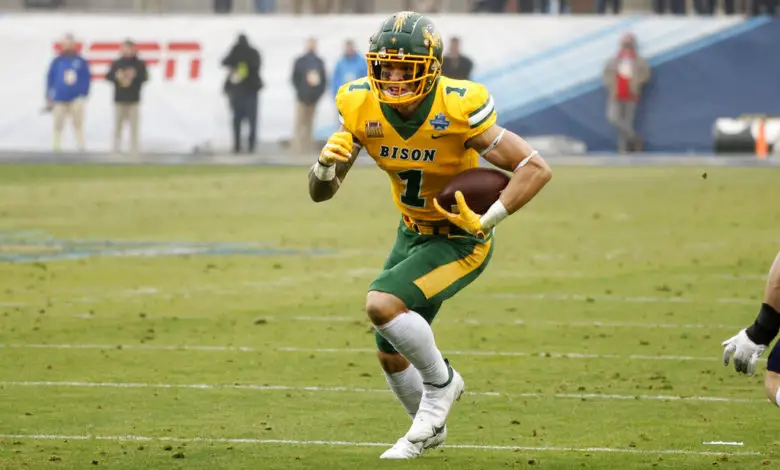 Bears Showing Keen Interest in NDSU WR Christian Watson at Combine
The NFL Scouting Combine is in full swing this week, and the Bears have shown a keen interest in a wide receiver who could be available when their first turn comes up on Day 2 of this year's draft. Christian Watson, who starred at NDSU, has caught the eye of GM Ryan Poles. Watson said he spoke with Poles at the Senior Bowl and then again at this week's evaluation event.
At 6'5″ and 211 pounds, could be the big target that Chicago needs to further develop their talented second-year quarterback Justin Fields. There are questions about Watson's experience since he played against FCS opponents and also because North Dakota State was a running team. With David Montgomery, Khalil Herbert, and possibly Tarik Cohen on their 2022 roster, and with a head coach who believes in ball control, the Bears and Watson might find kismet.
Feel like we've probably said this a few times before, but ……

Christian Watson. TO. THE. HOUSE. pic.twitter.com/oB16QdliCQ

— NDSU Football (@NDSUfootball) November 20, 2021
"I was all in [with our offense]," Watson said. "I knew that North Dakota State wasn't going to change their program for me. Obviously running the ball a lot opens up the play-action pass." Under new offensive coordinator Luke Getsy, Fields is expected to run a lot of play-action, bootlegs, and RPO. Kismet, again.
Watson possesses elite athletic skills, speed (4.38 in the 40), length, and size combined with decent hands and excellent concentration. He's also an effective runner out of the backfield and will perform well in an offense that makes use of jet sweeps, fakes, and bootlegs. A breakout star in this year's Senior Bowl, Watson is a unique blazer for his size, and his ability to glide past secondary defenders is a trait unseen from many of today's pros. In fact, a lot of scouts compare him to Randy Moss based on his size, speed, and sheer ability.
Because of his size/speed combination, the NDSU product likens himself to Julio Jones and Mike Evans. He was small when he was recruited out of high school, and at 5'9″ Watson wasn't recruited by any of the power-5 conferences. He added significant size and weight at NDSU and actually got faster.
"I was a late bloomer in high school," he said.
In addition to being one of the better wide receivers in a very deep draft, Watson can return kicks and he's an excellent blocker.
"At North Dakota State we obviously [ran] the ball a lot," he said. "That's what helps to win games. Blocking is something I learned to enjoy early [in my collegiate career]."
The Bears need to find a No. 1 wide receiver and if Watson falls to them at No. 39, Poles might feel like the luckiest GM in the league. With Drake London, Garrett Wilson, Jameson Williams, Chris Olave, Treylon Burks, and Pickens all expected to go in the top 35, the 6-5, 215-pound Watson would represent the top deep threat on the board when Poles makes his first choice. He might feel a little like a Ryan Pace pick because he played at an FCS school, but Poles should be judged on his own merits.
In fact, Houston is looking for a wide receiver and could take Watson before Poles makes his first selection. The Texans own will select two spots ahead of Chicago in Round 2, though they seem to be linked to EDGE Logan Hall, who played at the University of Houston. If Poles passes on Watson, the Falcons, who recently hired Pace, may take him at No. 43.