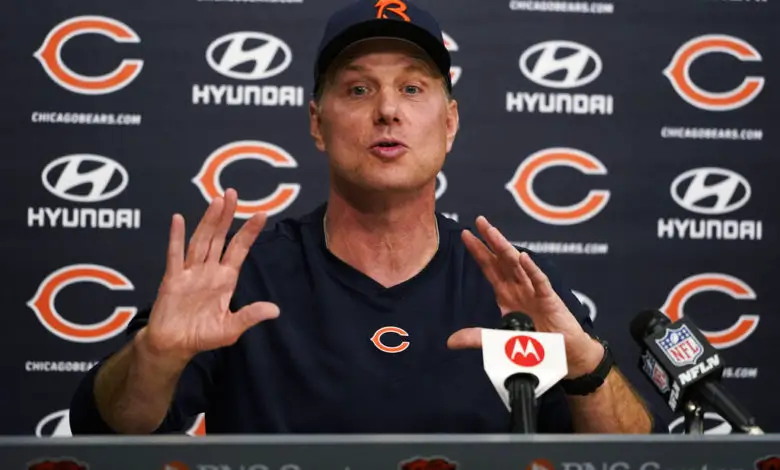 Matt Eberflus Will Need to Lead Bears Through Adversity
On Sunday, July 3rd, in his hometown, David Moore was found asleep in his vehicle at a Taco Bell drive-thru, per the Gainsville police department. After they were able to wake him, the officers searched his vehicle and found some marijuana edibles and three pistols. The former seventh-round draft pick was charged with possession of a controlled substance and unlawfully carrying weapons. Shortly after was released on a $5,000 bond.  
"We are aware of an incident involving the arrest of Bears wide receiver David Moore," the NFL's charter franchise said in a statement last Thursday. "We are in the process of gathering more information. We will refrain from making any further comment at this time." 
#Bears WR David Moore was arrested on drug and weapon charges in his hometown of Gainesville, Texas, a Texas television station reported. He is the third Bears player arrested since Ryan Poles was hired as GM in January. https://t.co/QbqnNEw8CG

— Mark Potash (@MarkPotash) July 7, 2022
This could be a problem with the pursuit of the tier-two and three free agency mentalities of first-year GM Ryan Poles. These types of signings present too many uncontrollable variables. It's not enough that there is a clear lack of talent, but, do fans really need to worry about how many Bears players can stay out of jail? Players like Moore are supposed to be low-risk investments but incidents like the one at Taco Bell are making the Bears look like a joke. The off-field extracurriculars don't really jibe with the culture Matt Eberflus said he wants to establish.
Moore's trouble with the law came just a few weeks after Matthew Adams was arrested. Adams was booked for misdemeanor unlawful use of a weapon, carrying/possessing a firearm, and he received a citation for having a high-capacity magazine with metal piercing bullets. Byron Pringle was arrested in April for reckless driving while on a revoked or suspended license.
"I had talked to Coach [Eberflus]," Pringle said when the incident was addressed by the team for the press. "I had talked to [Ryan] Poles before [the story] hit the media and everything is squared away in-house."
"No Sir, I'm just a hardworking man," Pringle added after being asked if he felt his actions left a bad impression, Pringle continued. I love the game. Things happen."  
Give Pringle credit for addressing the media about the incident, but he danced around and avoided the tougher questions, without accepting any accountability. There was no apology to his teammates, either.
Either Eberflus or Poles need to slam the brakes on the off-field shenanigans because it's embarrassing and a distraction to the rest of the team. National scout Chris Prescott was released earlier this year, possibly because of derogatory comments he made about defensive back Jaquan Brisker. Why aren't the players held to the same ethics and standards?
This is a crucial time for a first-year regime, and the front office and coaching staff have started out by cultivating a recklessness that runs contradictory to the organization's mission statement. If Poles can't neutralize the continuing wave of negative incidents Eberflus will struggle mightily to overcome it. The first-year head coach needs to decide how he, his staff, and his veterans and onfield captains will keep things in check before they get any further out of hand. That can't come soon enough.