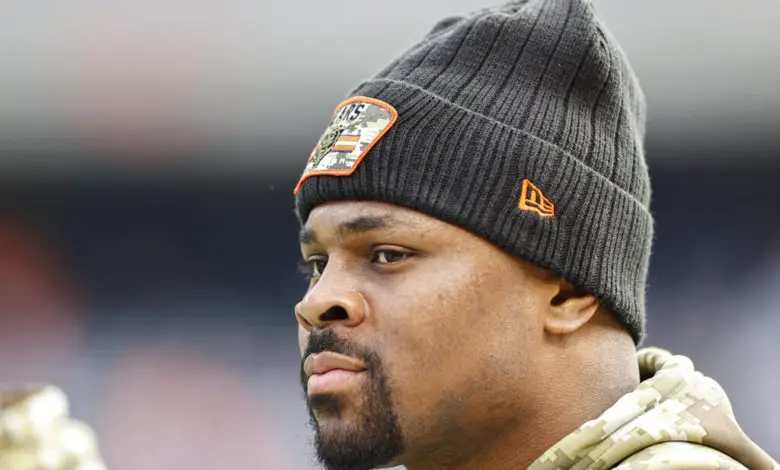 First & Long: Mack Could Be Traded, Familiar Faces Join Eberflus, NFL Investigating Incentivized Tanking
Does Khalil Mack have a future with the Bears? Considering his contract, and the fact that head coach Matt Eberflus wants to switch to a 4-3 defense in 2022, Mack could be the odd man out in Chicago. That's just meaningless, low-hanging fruit, however. The news that new GM Ryan Poles intends to build through the draft could drive further speculation that the linebacker will be dealt.
"We're gonna build through the draft," Poles said Monday. "We're gonna acquire young, fast, and physical football players. We're gonna be selective through free agency. And we're gonna connect evaluation with valuation."
It's no secret the Bears need draft picks. Former GM Ryan Pace left Poles with just five picks this year and he won't make his first pick with the organization until day two. The Bears' current first selection is No. 39 overall. Trading Mack won't command a first-rounder, but he could net multiple mid-round picks. If Poles is willing to add a sweetener or swap lower picks, he might be able to squeeze a second-round pick from another team.
This year's draft is deep at wide receiver, with as many as seven pass-catchers slated to go in round one. Four linebackers are expected to go in round two, and another, Christian Harris of Alabama, could be available at No. 39 if Chicago wants to move and replace Mack. Harris works better on the inside than Mack does, has an uncanny knack for sticking running backs, and would probably start as a rookie.
That said, trading the all-pro linebacker isn't a necessity. In a 4-3 defense, Robert Quinn and Roquan Smith could serve as the outside linebackers, leaving Mack as a defensive end, and he might excel there. Another combination could put Quinn and Mack on the line with Smith working as the Mike back.
We saw a massive transition when the Bears went from a 4-3 to a 3-4 before. It takes time to build out a roster from one defense to the next.

I think they have a lot of interchangeable pieces, so that is good. Eberflus should also be smart enough to play into players' skills

— Matt Eurich (@MattEurich) January 27, 2022
Believe it or not, Mack's contract is very tradeable, and in fact, the Raiders asked about his availability before this season. Moving the veteran linebacker would create $5-6 million in cap space and take him off the books the following year. Meanwhile, a team trading for Mack would only be acquiring his base salaries and roster bonuses, which are non-guaranteed. That means a team would still have to pay a reasonable price of about $17.5 million for Mack's services in 2022, but would not be on the hook for the remaining two years of his contract if things don't work out.
Mack has played in 53 games for Chicago, and he has accumulated 121 total tackles (35 for loss), two interceptions, 14 forced fumbles, six fumble recoveries, 52 QB hits, and 36.0 sacks.
Las Vegas is expected to draft a wide receiver in the first round, but they also own the No. 53 pick and could be looking for help on the defensive side of the ball. Mack could draw interest from the Raiders again and would be a difference-maker for a contending team. Wide receivers David Bell of Purdue and George Pickens of Georgia will probably be available when the Raiders make their second-round selection. Is Mack worth a second-rounder? That remains to be seen.
The teams are a fit, though that doesn't guarantee a trade will work out. A lot will change in the next three months, but certainly, trading Mack could be one way Poles can acquire an extra draft pick or two.
Bears News & Notes
Northern Exposure
Matt Nagy could be under consideration to work with the Lions as their offensive coordinator.
The Broncos remain the odds-on favorite to land Aaron Rodgers before next season, though it's very likely the soon-to-be MVP will stay with the Packers.
The Vikings are expected to hire Rams offensive coordinator Kevin O'Connell as their new head coach.
 NFL News & Notes
Jim Harbaugh withdrew from consideration for the head coach opening with the Vikings yesterday and will remain at the University of Michigan.
Harbaugh hasn't officially withdrawn from openings in Miami or New Orleans, but if he's committed to staying at Michigan – and that seems to change on the daily – Cowboys OC Kellen Moore could become the favorite to land a  gig with either team.
There's no place for racism in the NFL or anywhere.
The NFL is going to investigate the Dolphins after former head coach Brian Flores claimed that he was offered $100,000 per loss in 2019 to help improve the strength of Miami's first-round pick in the draft.
Miami owner Stephen Ross claims the accusation is false and welcomes any investigation.
Former Browns head coach Hue Jackson has expressed a willingness to reveal proof Cleveland owner Jimmy Haslam incentivized tanking during the 2016 and '17 seasons. This is not a good look for the NFL heading into Super Bowl week.
The Washington Football Team will now be known as the Commanders going forward. Their color scheme is not expected to change.
Three Yards and a Cloud of Dust
Only Joe Namath and Joe Montana have started on an NCAA championship team and a Super Bowl winner. Joe Burrow will become the third if the Bengals beat the Rams next Sunday.
Bill Belichick holds the record for postseason wins with 31.
Bengals placekicker Evan McPherson has the most postseason field goals by a rookie in NFL history.
Brady Street
Tom Brady confirmed on Tuesday that he would be officially retiring after 22 seasons. Writing on Twitter, Brady said: "I have always believed the sport of football is an 'all-in' proposition – if a 100% competitive commitment isn't there, you won't succeed." He added: "This is difficult for me to write, but here it goes: I am not going to make that competitive commitment anymore." Brady, who played for 20 seasons with the Patriots, spent his last two seasons with the Buccaneers and enters retirement having won seven NFL titles.
Brady will retire to Florida as most Americans do, but he's going to be quite a bit more upscale in doing so.
Brady received a heartfelt note from his wife Giselle Bündchen after announcing his decision.
The last TD of Tom Brady's career…

— NFL Stats (@NFL_Stats) February 1, 2022
From the Podium
"Somebody [would] comment to me how hard our defense plays — how hard our team plays, but really how hard our defense plays — and how they run to the ball. A lot of [coaches] talk about how [our defense] runs to the ball and how we take the ball away. That says more [about Eberflus] than anything. Just watch the tape. Look at the results. Let me just tell you, man, he eats, sleeps, drinks, and bleeds that in every aspect. So those are the standards." – Reich