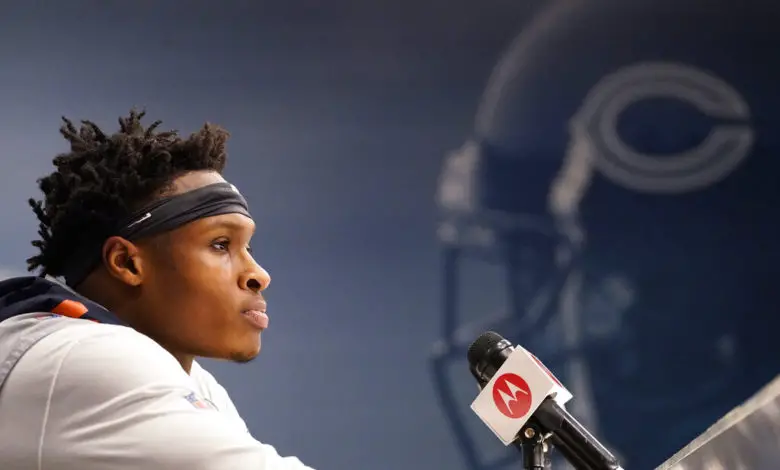 First & Long: Mooney Makes WR1 Case, Eberflus Likes Bears' Quickness, Poles Earns C in Free Agency, Lots of Draft Links
Though the Bears are expected to draft a potential WR1 in this weekend's draft, Darnell Mooney is on a mission to prove he can be that guy, In fact, he's still more than a little upset that he lasted until the fifth round of the 2020 draft. It's a matter of lack of respect according to the third-year wide receiver, which is why he is out to prove to any doubters that remain that he can be a leader on the field and in the receivers' room.
"My thing is, I want to be able to play six quarters," Mooney told Kevin Fishbain of The Athletic (subscription required). "I want to be able to play faster than anybody else on the field, not get tired. I can pick up off some guys I watch. … Antonio Brown, he runs in and out of the huddle. … He's never tired. Cooper Kupp in the Super Bowl, like that last drive. He got the ball maybe six, seven times. That was his drive. In the end zone, he was dead tired, but you couldn't see that he was tired at all catching the ball and going back to the huddle. But me being able to do that and be consistent with that and maybe the targets are going to (be) up even more this year, so I have to be able to take that on and just not be tired."
Are Justin Fields and Darnell Mooney breaking out next season?

(📸 @ChicagoBears) pic.twitter.com/L1CM3fiV0B

— PFF Fantasy Football (@PFF_Fantasy) April 24, 2022
Mooney understands that he and his teammates, particularly quarterback Justin Fields, have a lot to prove to get that type of recognition from their peers. The Bears ranked dead last in passing last season, but the two have worked together on their own this spring, and Fields is just as determined to change the minds of several fans and analysts. If anything,  the offseason work will help the pair's chemistry.
"I take it to heart. We need to be better," Mooney said after practice. "They don't even have to go off of what this year was. I mean, last year we were 32nd in passing. Literally when I (saw) that, as one of the receivers I liked the tweet when somebody had retweeted it and I'm looking forward to changing that extremely.
"I know when we were in Atlanta, he was throwing really, really great. We were talking smack to each other, then he threw one, I dunno, then one day, there was one day that he was throwing the ball extremely well. And I was like 'All right, this is my last time complimenting you, but, good-ass ball.'
"We're installing a whole new offense," Fields added. "So it's really about just getting the guys out there on the field and running through the base plays and kind of just getting a feel of all the new players and stuff like that. We've just been building relationships, installing this offense, and I was just really excited to get out here on the field today."
The Bears don't have a first-round pick this year, and barring a trade to move down and acquire additional selections, expect GM Ryan Poles to draft a wide receiver at No. 39 or No. 48. Many analysts predict that Poles will choose NDSU wide receiver Christian Watson if he is available at either of those slots. This year's pool of pass-catchers is incredibly deep.
Regardless if Mooney is anointed WR1 in Chicago's new offense, there's no doubt he intends to be a team leader in the locker room and on the field. He'll join Fields, linebacker Roquan Smith, cornerback Jaylon Johnson, and running back David Montgomery as part of the team's young, veteran core.
"I know what I want out of my life and I know what I want out of this league," Mooney said. "[I was] disrespected as a fifth-rounder when I was picked … At the end of the day, I will get my respect and I'm going to keep going until I get my respect. Even when I do get my respect, I'm still going to keep going."
Bears News & Notes
There's a Flag…On the Play
This clip never gets old.
Twenty seven years ago today, after the great Mel Kiper Jr. criticized the Colts' pick of LB Trev Alberts over QB Trent Dilfer, my work partner @mortreport got the most memorable sound byte in draft history from former Colts' GM Bill Tobin. pic.twitter.com/RJbaKQ9fQ9

— Adam Schefter (@AdamSchefter) April 24, 2021
Northern Exposure
In a consensus of mock drafts, the Packers come way with wide receivers with each of their two first-round selections: Olave and Treylon Burks.
Matthew Stafford has been directed by his wife Kelly to return to the Lions when he next becomes a free agent.
Green Bay and Detroit are listed as potential trade destinations for 49ers all-pro wide receiver Deebo Samuel. Both teams have multiple first-round picks this year, and San Francisco will not select until No. 61 overall.
The Vikings are not expected to pick up the fifth-year option on center Garrett Bradbury.
NFL News & Notes
The Steelers are also listed as a possible trade destination for Samuel.
The Saints are reportedly hosting former Dolphins and Browns wide receiver Jarvis Landry for a visit on Wednesday, per Ian Rapoport of the NFL Network.
Tom Brady has gifted former Buccaneers head coach Brice Arians with a $50,000 retirement watch.
The Panthers will announce one of their Day 3 picks from Germany.
Chicken-obsessed quarterback Sam Howell of North Carolina could be the most intelligent player in this year's draft.
The NFL intends to broadcast two afternoon games and one prime-time tilt on Christmas Day this year, a first for the league.
Bills linebacker Von Miller is being sued by a former girlfriend because he shared explicit images of her engaged in consensual sexual acts with two celebrities, as well as a video of himself with the woman.
Though his grandfather was paralyzed by a vicious hit in 1978, Derek Stingley Jr, said he is ready to start his NFL career.
Las Vegas is expecting 500,000 or more fans to attend this year's draft festivities.
FCS colleges could be represented by two first-round picks this year.
Three Yards and a Cloud of Dust
Josh Allen is the only QB in

NFL

history to have 100+ pass TDs and 30+ rush TDs in his 1st 4 seasons.

Terrell Owens is the only WR in

NFL

history to score a TD against all 32 teams.

Ohio State has had 151 drafted players since 2000, most in the NFL.
From the Podium
"I like Trevis Gipson a lot. With the film I saw from last year, we know he had the sack production. He's an athletic, long player who's able to capture the edge, able to level rush and has a good motor on him. So we're excited about his athletic ability on the corner." – Eberflus
"I would just say that each guy's working through learning the system. When you're learning a new system, you're going to have mistakes, and mistakes are good. Mistakes are learning opportunities. You have to look at it that way at every position, so we want guys … we're going to push them, challenge them and stretch them mentally and physically so that they do make mistakes. So, why? So we can learn and grow. That's what we want to do." – Eberflus
Running Out the Clock
Time Has Come Today by the Chambers Brothers – We're just four days away from the 2022 NFL Draft!