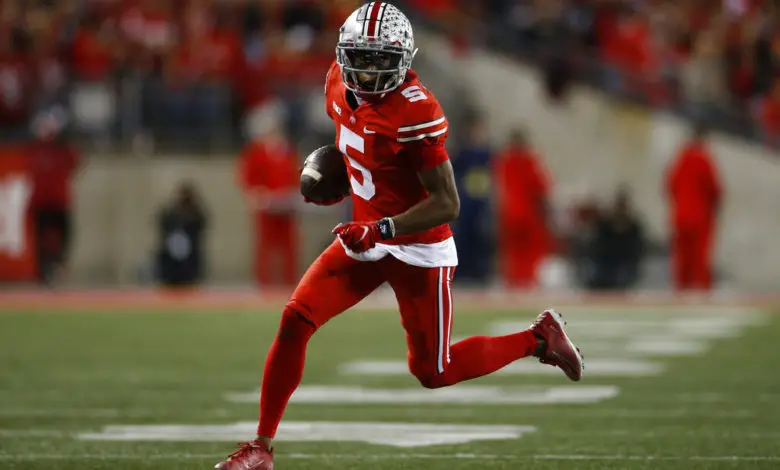 Chicago Bears NFL Draft Needs: Wide Receiver
The day that Bears fans have been eagerly anticipating is nearly upon us. The 2022 NFL Draft should be a wild and unpredictable event, the likes of which we have never seen before. We've seen a number of blockbuster trades and a lot of draft picks have already changed hands. Expect the utter craziness to continue this week and into the coming weekend. The Monsters of the Midway, who have a whole lot of needs and a scarcity of selections, will probably be heavily involved in any trading activity that will enable GM Ryan Poles to add picks this year. In this series, I'll examine the Chicago Bears NFL draft needs by position, starting with wide receiver.
We've published five mock drafts and a lot of draft analysis so far and we'll do another mock on the eve of the draft. Additionally, I'll be liveblogging the first three rounds of this year's event starting Thursday night, and we'll have a synopsis of each selection and/or moves that Chicago makes. With so many holes in the Bears' roster, nothing should be considered off the table, no matter how crazy it may sound.
Once the draft is complete, we should have some semblance of the team's short and long-term vision. Though the Bears were active in free agency, most of the new additions are on one-year deals. That provides us with the one clue Poles has exposed, and that's that he intends to build the next great Bears roster via the draft. This year's pool of talent is as deep as it's been in quite a while, particularly at positions where Chicago needs the most help. The Bears desperately need a WR1 to replace Allen Robinson or at least one pass catcher that compliments returning starter Darnell Mooney.
There has been quite a bit of volatility among this year's crop of available wide receivers. One reason is that this could be the fastest class of wideouts we've ever seen. The combine was full of NFL prospects with sub-4.4 times in the 40-yard dash. Additionally, there's some decent length at the position, too. Head coach Matt Eberflus is looking for the perfect combination of size, speed, athleticism, and agility to provide targets for second-year quarterback Justin Fields. He also wants receivers capable of blocking downfield to enhance Chicago's running attack and create downfield space for David Montgomery, Khalil Herbert, and Fields.
"You want explosive, athletic ability there that can produce chunk plays," Eberflus said at the combine. "So if you throw a screen, you want a guy that can take it and go for 15 [yards] or all the way. The controlled passing game is just that, but the athletes are the guys that make you miss. … So you have guys that are quick, explosive, and strong.
"They have to be strong at the point of attack to be able to block. We're gonna put a big onus on the running game. They have to be able to do that. Then you have to have different traits at different positions. One guy might be quick and he's really a short-route runner. Another guy can do it all. That would be our No. 1 receiver. Should be able to do that. And the other guy should be able to take the top off the defense. That puts stress on the defense."
With two picks in Round 2, and barring any trade to move down and accumulate more 2022 picks, the Bears should come away with one of the top 12 draft-eligible wide receivers. After months of studying the big board, I believe this is how things will eventually shake out, and be prepared, there are a few surprises.
Track star speed. Basketball hops.

Whoever drafts @OhioStateFB WR @GarrettWilson_V is getting a special athlete. 🙌

📺: 2022 #NFLDraft — April 28-30 on NFLN/ESPN/ABC pic.twitter.com/ecIx8I0V79

— NFL (@NFL) April 20, 2022
Garrett Wilson (Ohio State) will be the first receiver selected, probably by the Jets at No. 10 overall. No team has been more aggressive in an attempt to find a legitimate target than New York. GM Joe Douglas also has the No. 4 pick, and it's widely expected he'll grab Oregon EDGE Kayvon Thibodeaux. The Ohio State star is the best receiver in the draft and will give QB Zach Wilson the playmaker he needs to take his game to the next level.
The Eagles also need a wide receiver and I believe they'll take the player with the most helium among this year's crop of wide receivers, Drake London (USC). London is a dual-threat who can play outside or in the slot and may have the best hands among any of his pass-catching cohorts. The Lions could throw a big positional monkey wrench at Philadelphia and anybody else looking to draft a potential WR1 if they select London at No. 2 overall, which is not as crazy as it may have seemed a month or two ago.
Right after the Rams beat the Bengals in Super Bowl LVI, Jameson Williams (Alabama) was universally acclaimed as the best receiver in this year's draft. That he'll be available when the Saints make their first selection is quite the coup. The combination of Jameis Winston and Williams could put New Orleans on a direct path to the postseason. We might also see our first trade of the evening because the Saints also own the No. 19 pick, putting them in a prime position to move down, still get an elite WR, and grab an extra pick or two in later rounds. Could the Bears trade up here to get someone like Chris Olave (Ohio State) or a top-five offensive lineman? It's possible but highly unlikely.
This is where the draft gets scary for most Bears fans. The Packers own the Nos. 22 and 28 picks and have a need for a WR1 after trading Davante Adams to the Raiders. Olave would seem to be the obvious choice and makes the most sense for Green Bay with this selection. That said, I believe GM Brian Gutekunst will choose George Pickens (Georgia) instead. Olave will be the bait to potentially trade down, but with so many premium wide receivers still available, I don't expect anybody to bite. Pickens will be the big, physical threat that replaces Adams and should develop instant chemistry with Aaron Rodgers.
What does @OhioStateFB WR Chris Olave bring to an NFL team? @InTheBleachers breaks it down in our Tape Don't Lie NFL Draft Profile Series! pic.twitter.com/lMqUuG4WrC

— Stadium (@Stadium) April 20, 2022
Olave won't make it past the Bills, who have this year's No. 25 pick, and Buffalo will pounce on the Buckeyes star. Going to a high-scoring offense led by Josh Allen will also make Olave the odds-on favorite to be named this year's Rookie of the Year.
In addition to having the No. 2 overall selection this year, Detroit also has the final pick of the first round. If they don't shock the world and take London with their first selection, I fully expect the Lions to grab a wide receiver at No. 32, and Treylon Burks (Auburn) seems like the likeliest candidate. There are better receivers available, but Burks, who had a poor showing at the combine but excelled in college, offers a perfect combination of size, speed, and toughness. He's arguably the best blocking wideout in the draft.
Jahan Dotson (Penn State) will be the next receiver to come off the board and the Texans will likely pick the Nittany Lions star at No. 37. As you can see, this position group is so deep that teams will be able to pick up first-round talent well into Round 2, and Dotson should be the first wide receiver selected on Friday. Once dubbed best in the class by ESPN's Mel Kiper, Dotson has since receded somewhat, though that doesn't mean he's no longer a potential all-star and first-stringer as a rookie.  Dotson would be a great get for the Bears if Houston passes on him.
https://twitter.com/PFF_Anthony/status/1517493147076603906
That brings us to the Bears, and if I had my druthers the pick would be Pickens. Since it's doubtful he'll fall this far, and because the only other beast of a blocker (Burks) is also unavailable, I believe Ryan Poles will select Christian Watson (North Dakota State) at No. 39 overall. It's entirely possible Chicago could select a defensive back such as Jalen Pitre or an offensive lineman here, especially if Zion Johnson is still available, but I believe Poles is too enamored with Watson to risk passing on him until the No. 48 pick. The rookie GM has interviewed the NDSU star at least twice, and with comparisons to Randy Moss, Watson has the highest ceiling of any pass-catcher on the draft board. He also has the lowest floor. This pick will make or break Chicago's draft, but I believe Poles will go WR here, and then take an OL, such as Abraham Lucas at No. 48, if he doesn't trade down.
The rest of the wide receivers should be ranked as follows, most should be Day 2 and 3 selections, and don't be surprised if the Bears take another with one of their later picks, especially if they are able to obtain another pick or two on draft day.
After the draft, keep an eye on Dee Anderson (Alabama A&M), a 6-6 Oklahoma State transfer with long arms, soft hands, and decent blocking skills. He would be a mid-round selection if he was just a little more elusive. Some teams may select Anderson as a UDFA, and move him to tight end after bulking him up.