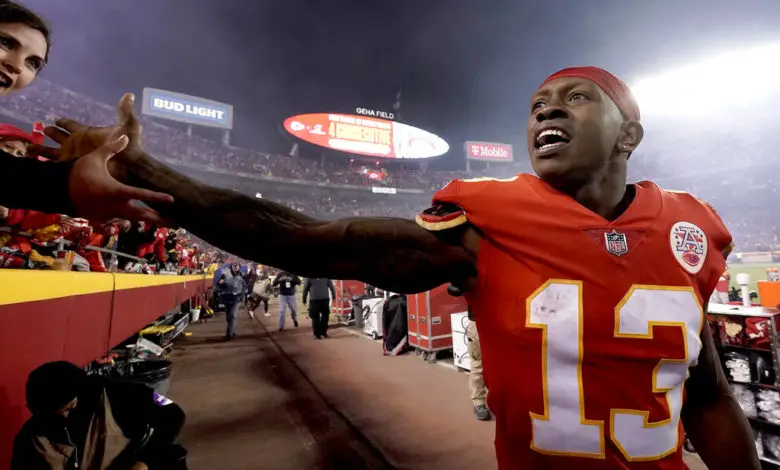 Bears WR Byron Pringle Arrested on Reckless Driving Charge
TMZ Sports reported that new Bears WR Byron Pringle was arrested on Saturday in Pasco County, Florida after police say they busted him doing donuts in his Hellcat on a suspended license, with his child in the car. The police report indicated Pringle was "verbally confrontational."
Pringle was taken into custody at 6:15 PM and transported to the county jail. He was arrested on charges of reckless driving and driving on a suspended license. The 700-horsepower Hellcat that carries a maximum speed of 200 mph was impounded. The police said Pringle was the driver of the vehicle. The car had two passengers … an adult male in the front passenger seat, and a male child in the back seat. We're told the kid was Pringle's.
In March, Pringle signed a one-year contract with the Bears reportedly worth $6 million ($4 mil guaranteed). At the time, the signing was one of the better moves that GM Ryan Poles, and some tabbed Pringle as a potential starter. The 28-year-old veteran was a depth piece for the Chiefs last year but he did get five starts.
Trouble with the law usually results in a suspension of two to four games by commissioner Roger Goodell, but with the draft coming up on Thursday, any disciplinary action will likely come after. That said, the possibility of Pringle missing time to start the season could alter Chicago's draft plans. Wide receiver is already a position of need, but yesterday's arrest puts even more pressure on Poles to provide offensive weapons for QB Justin Fields.
The Bears have two selections in the 2nd round and are widely expected to choose a wide receiver with one of the picks.