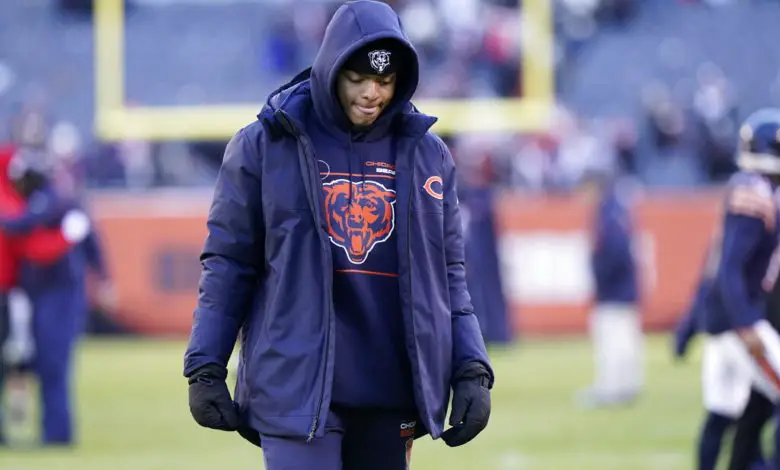 Justin Fields Isn't Going Anywhere
In what must be nothing more than an effort to garner clicks, a couple of our peers have mentioned in recent weeks that Ryan Poles might not be as enamored with his starting quarterback as he has said publicly on several occasions. One theory, suggested by many, is that the first-year GM has been hesitant to pull the trigger on any big free-agent signings because he'd rather defer to next year after he has a year to track Chicago's offense. Yes, the Bears need draft picks, but rest assured, Justin Fields isn't going anywhere.
.@justnfields ARE YOU SERIOUS?!? 🤯#SFvsCHI | #DaBears pic.twitter.com/o9vUGJL5h5

— Chicago Bears (@ChicagoBears) October 31, 2021
If anything, it's unfortunate to waste time talking about a potential trade. The gist of today's discussion comes from a quote by Kyle Brandt on the Rich Eisen Show, when Brandt was asked about the Bears' draft plans.
"If anything, from them, I feel like they'll be trading assets," Brandt said. "I think it's 'We have Fields. And anybody else come and get 'em. We are going full trade, sell, beg, borrow, deal, anything.' The Flus is Loose with the head coach. And it's like he's saying 'we're going to start this whole thing over. Anybody but Fields.' If anything, they'll trade back. If anything, they'll trade players."
The Bears have one goal this weekend, and it's to draft speed. It seems illogical that they would trade a starting quarterback with the wheels that Fields has.
"We will play at a high tempo, a high effort, attacking, physical style, built upon speed, quickness, and explosive athletic ability," Eberflus said when he was introduced to the Chicago press. "We will carry ourselves with an attitude of energy, passion, and intensity. We will play with maximum effort on every play.
Though the quote by Brandt clearly mentions that the Bears are willing to do anything and trade anybody in order to amass draft picks. Everybody but Fields, that is. That means that Robert Quinn may truly be available. A number of teams, including the Super Bowl Champion Rams, have contacted the Bears about Quinn's availability, though the defensive end prefers not to be traded.
"The only thing I thought of was hopefully my résumé or my production from last year gives me a little weight to keep my foot in the building," Quinn said Tuesday, via ESPN. "At the end of the day, it's a business. Again, you see Khalil Mack getting traded. Again, it's just a business. Don't dwell on it, too crazy. I didn't expect to go anywhere or want to go anywhere, but again, this is a crazy business."
The Bears traded Mack to the Chargers for the No. 48 pick in this weekend's draft plus an additional sixth-round pick next year. Los Angeles took on all of Mack's contract – three years at $63.9 million, in order for Poles to agree to trade the six-time Pro Bowl linebacker. To many, that signaled the rebuild had begun, though the organization almost certainly intended to make big changes starting with the end of the 2021 season.
Another possibility is David Montgomery, and if anything, he seems to be the likeliest of the current Bears to be traded. Montgomery is entering the final year of his rookie contract, Poles has no allegiance to him, and Khalil Herbert proved in limited action last season that he is a perfectly capable replacement. Herbert is probably a better fit for Getsy's offense, too.
Kenneth Walker III of Michigan State is the best running back in this draft and he has a Round 2-3 grade. Iowa State's Breece Hall is ranked just about the same. Dameon Pierce of Florida carries a late Round 4 grade. Poles might be able to find a team willing to give up a choice in that range for Montgomery, though it would have to be to a team that feels like adding the four-year veteran will potentially put them in the Super Bowl. Perhaps the Bills are that team.
Watching this on repeat all week pic.twitter.com/DVPVuWd85h

— Matt Eurich (@MattEurich) November 9, 2021
Getting back to Fields, the team has remained committed to building an offense that is tailored to the sophomore's strengths. They signed backup Trevor Siemian because his offensive profile is similar to Fields, and he's worked with Hall of Famer Peyton Manning. To think that this is a "buy year" for the front office because they didn't draft Fields seems absurd considering that Poles, Getsy, and head coach Matt Eberflus were hired with the clear task of taking Fields to the next level. Getsy indicated he took the job specifically to work with Fields.
"Super impressed with the man, the person," Getsy said at his introductory presser. "You can feel the determination, the will inside of him as he was communicating to me. He was super sharp with what they did at Ohio State. And then just again just the brief conversation that we were able to have together here the other day, the same exact thing just jumped back out at me again.
"I'm looking forward to getting to know him deeper, obviously. But I'm very optimistic about the type of person that he is and I think the will and the desire that he wants to be a great leader too, so I think it's a really cool opportunity with a young guy who I think has a really good drive."
"To me, it's about what you can do and how you can connect to the player and the player can connect to the coaches to create something special," Getsy added. "[As] I said, we're going to build this around [Fields], and then we're going to see what everybody else does best. But you don't know what anybody does best unless you can connect. So this offensive staff connecting with [each] player will be an important part of our beginning."
I'd expect a surprise or two from Poles over the next 72 hours, though I doubt it will be trading Fields unless the rookie GM is given an offer that is far too good to turn down.